What is it?
Avatr is an all-electric subbrand from Chinese manufacturer Changan, and the 11 is their very first model. Yes, it's pronounced "one-one," not "eleven." We've already reviewed Changan's attempt at a more affordable EV brand, Shenlan and their SL03 sedan. The experience was forgettable at best, and the Avatr 11 is significantly more expensive than the SL03 (47-63,000 USD before options). That puts it up against competitors like NIO. Could it possibly provide an experience that's worthy of that price?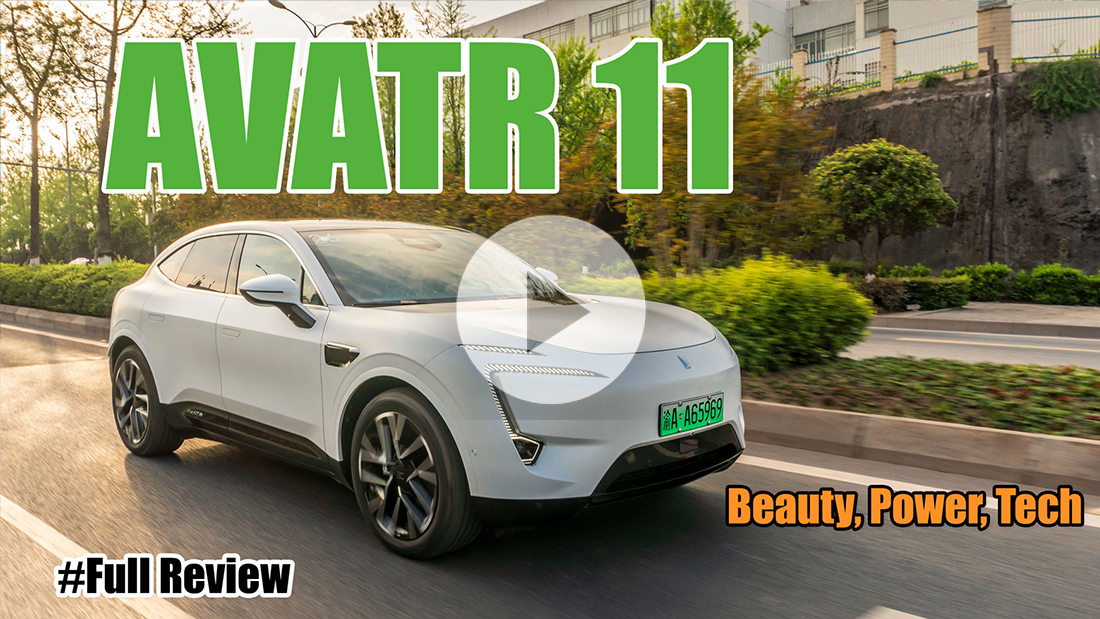 SUV meets sports car
To get consumers attention in the premium EV SUV space, you have to start with an eye-catching design. Avatr has check that box with one of the most interesting coupe SUV designs that I've ever seen. The front-end features LED daytime running lights and headlights that seemed to be folded into the creases of the bodywork. If that's not interesting enough for you, there's an optional LED panel below the windshield that can display messages and images when parked.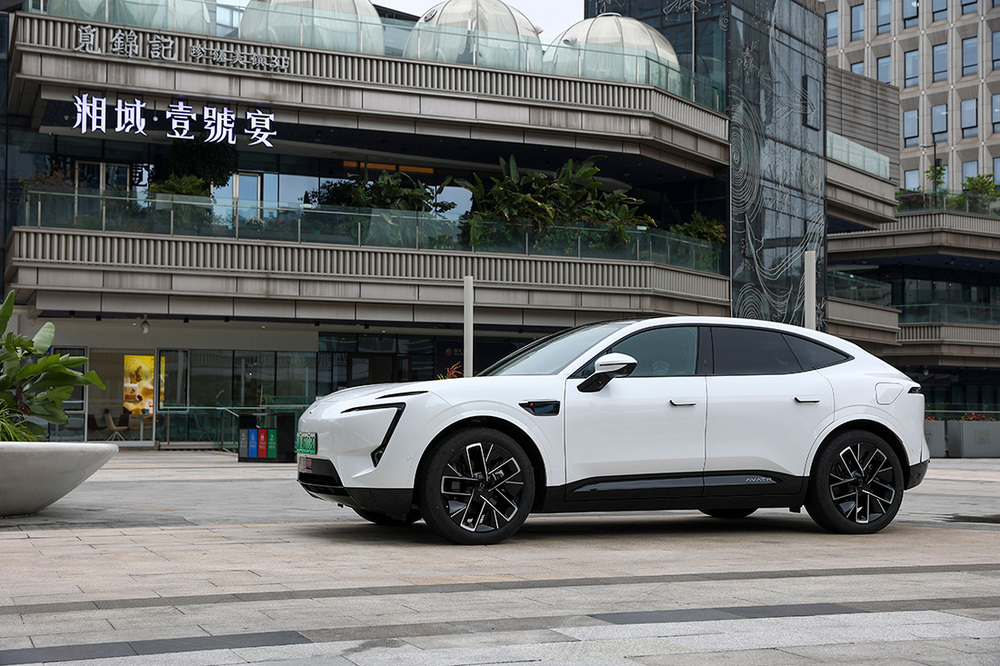 The front-end design flows nicely into the steeply raked roofline and wide haunches, but the best part of the design has to be the rear. The small, oval-shaped rear window is buttressed my thick D-pillars, and reminds me of traditional sports car designs. The nearly flat trunk lid is also very different from any SUV I've ever seen. Notice I said, trunk lid, not rear door. That's because this thing has a cargo compartment that's physically separated from the passenger compartment, more like a sedan than a traditional SUV. That cargo area, measures 394 liters, about 100 liters less than a NIO EC6. However, unlike the EC6, the Avatr 11 has a 95 liter frunk.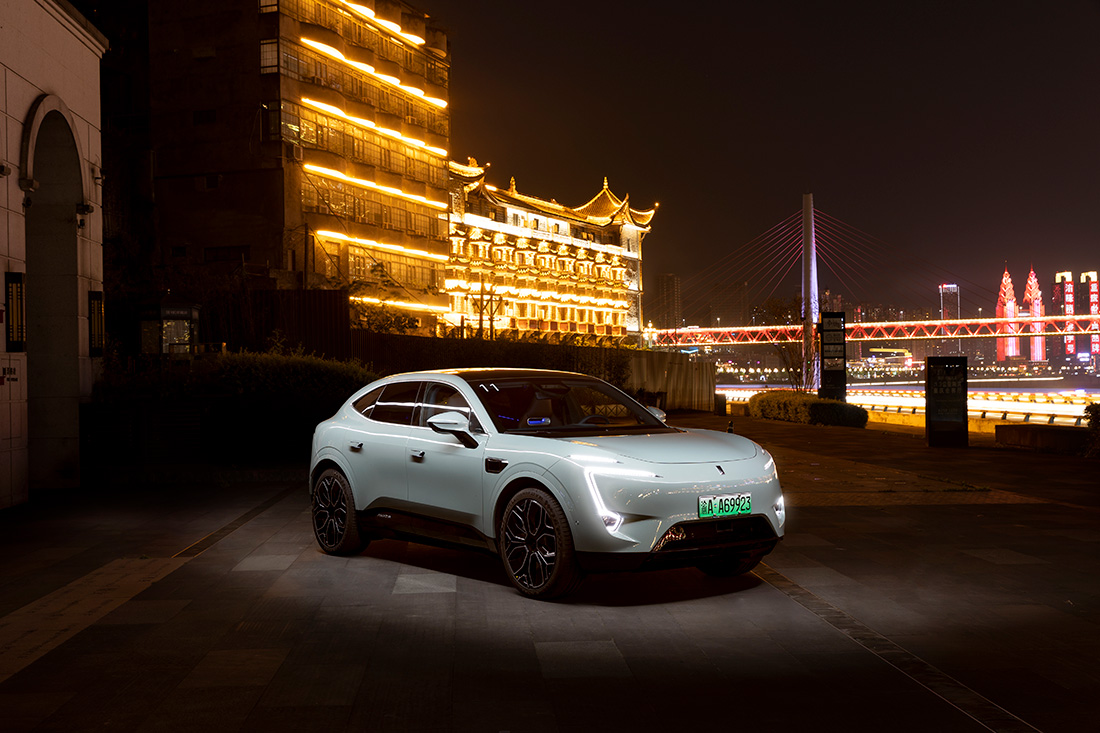 The only fly in the ointment when it comes to the design is the large black lidar unit mounted on the both front bumpers. This, and the lidar unit on the front bumper, are part of the Huawei Inside full stack driver assistance system. We used a very similar system on the Arcfox Alpha S that we previously reviewed, and we were pretty impressed with its performance. As we found out later that day, the Avatr was equally impressive when operating on Chongqing's complex roadways.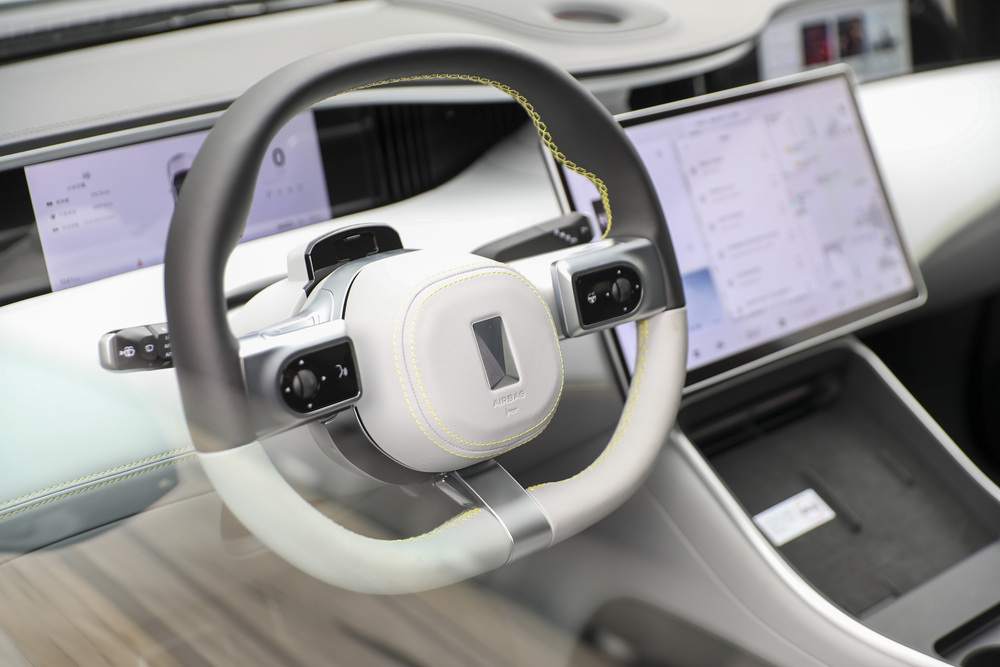 Not a weather control device
The Avatr's interior is built around four different screens: a 10.25-inch digital instrument cluster, a 10.25-inch passenger screen and a 15.6-inch center screen. The fourth screen? A digital rearview mirror necessitated by that tiny rear window. But what really gives this dashboard a sense of depth is the spiral-shaped thing behind the screen. This is not a weather control device, but rather the speaker from which the car's air voice assistant system emanates. When you talk to the system, it flashes to let you know that it's listening.
Unlike some other smart EVs that we reviewed recently, the center screen on the Avatr 11 doesn't flip, or spin, or extend, it's just a screen. It uses the Harmony OS we've seen on other cars before. Each different brands uses its own interface, and my favorite remains the AITO M5, however, the UI in the Avatr 11 is also very easy to use and navigate. Responses are very crisp, and I never had any problem using it during my time with the car. As for the passenger screen, it has all the functions you would expect, including movies, TV shows, and music, as well as navigation. The only issue I encountered is that it felt quite far away, making it difficult to control without leaning forward.
Apart from that weird tornado-shaped thing on the dashboard, none of this stands out as particularly groundbreaking, but it is well-executed. The material quality is good, with nothing that feels out of place for a premium vehicle. This was helped by the optional Nappa leather package.
The Avatr one, one comes in four-seater and five-seater variants, and while the five-seater is probably the more practical choice, the four-seater is certainly more luxurious. That's because it comes standard with features like massaging, cooling and heated seats, as well as a fixed center console that makes it feel more like a first-class cabin than a passenger vehicle. The center console also provides an incredible amount of storage.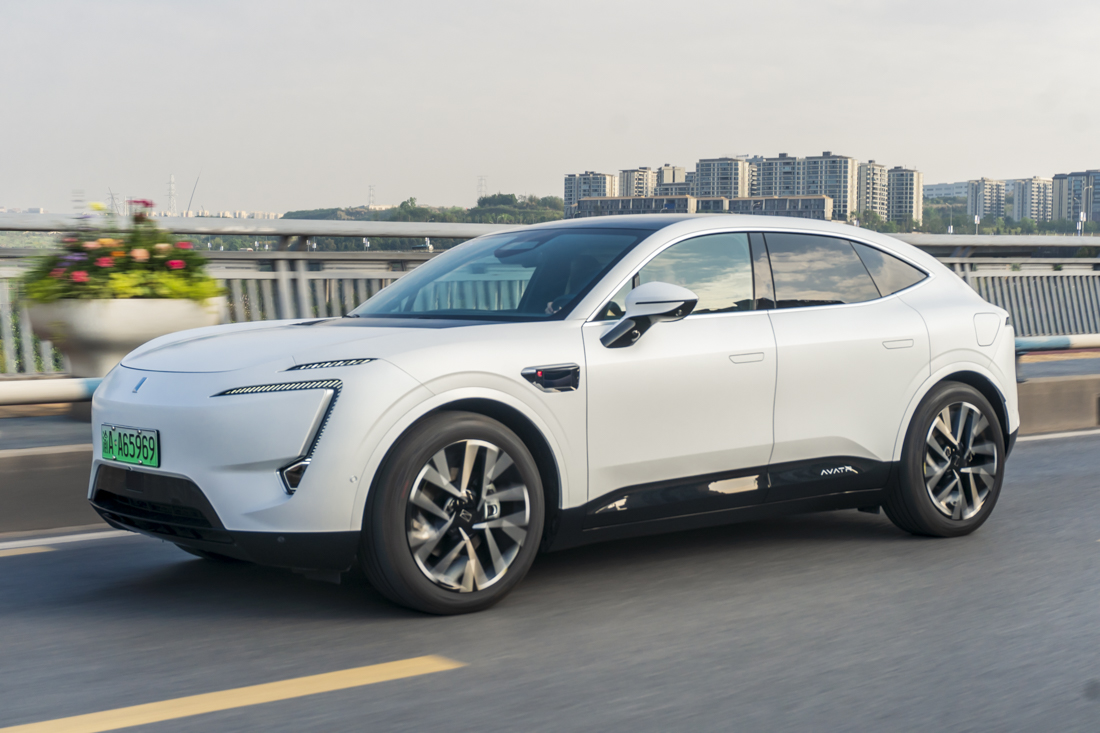 Huawei Inside impresses
The Avatr 11 come with your choice of two different powertrains: a single rear-mounted motor or a dual motor. That means up to 425 kilowatts and 650 Nm of torque (573 HP/481 lbs-ft). You also have two battery packs on the menu, measuring 90-kWh and 116-kWh. Range is a somewhat unimpressive 555 to 710 kilometers on the optimistic CLTC cycle. The 11 uses a 750-volt electric architecture, and the company claims that it can charge up to 200 kilometers of range in just 10 minutes on a 240-kilowatt charger. Of course, that's only in ideal conditions.
That's quite a bit of kit, but there's also something missing. It's not power, the 425 kW on tap results in a 0-100 kilometers per hour time of just 3.98-seconds. What's missing is the option of an air suspension. The Avatr uses a traditional a five-link rear and a double wishbone front. But while an air suspension would make this car feel like a more direct competitor to NIO, it hardly seems necessary once you've driven the 11. Not only does it ride well, it also feels surprisingly light on its feet for a such a large SUV. The only disappointment is the steering, which is low effort and not very communicative, even in its sportiest settings. Regen is also on the lighter side, and it can't do one-pedal driving.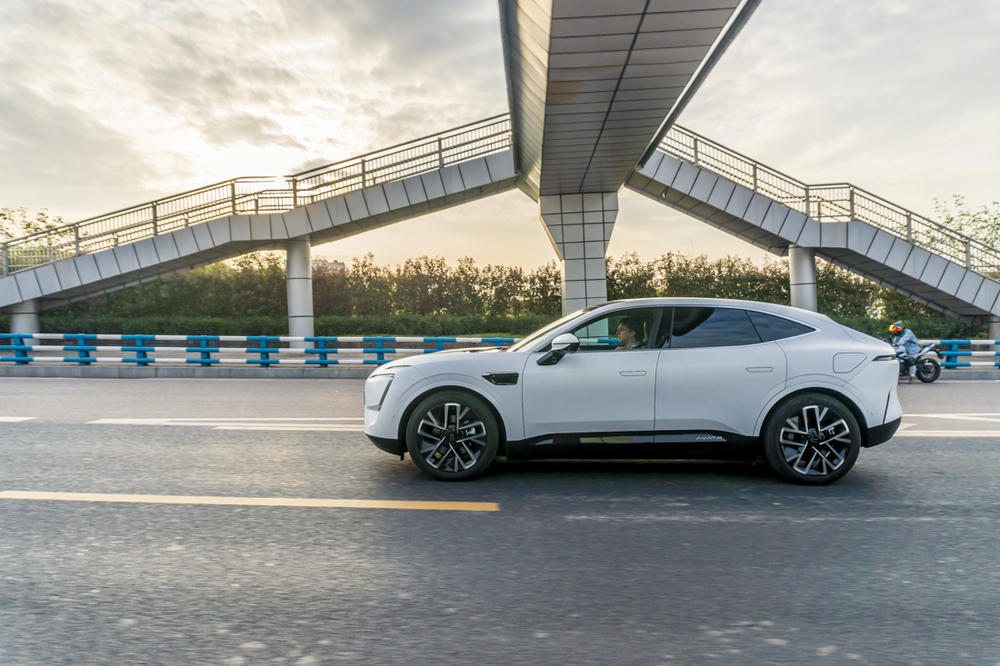 Once we knew what it was like to drive the car, it was time to see what it was like for the car to drive us by activating AVATRANS, the unpronounceable name for the company's driver assistance system, which is standard on the 11 and includes 34 sensors and 400 TOPS computing power. The system's biggest strength was apparent almost immediately; the smoothness of its inputs. Unlike previous systems we've used, which accelerated smoothly but applied the brakes like a nervous teenager, the Huawei system felt much more mature. Acceleration, braking, and steering inputs were well calibrated.

A good example would be overtaking obstacles. Whether it was scooters, pedestrians, or construction, the Avatr 11 applied just the right amount of steering angle and brake to let me know it would confidently avoid the obstacle, without having to swing well into the neighboring lane.
The 11 also has automatic valet parking, which was demonstrated to us in an underground parking garage. The first time you drive through the garage, the vehicle will use its lidar and cameras to create a map. The next time you enter the garage, it will offer to drive you straight to your saved spot on its own.
But unlike other systems, if it finds that the space is occupied, it will continue to search for open spaces until it finds one on the same floor. As of now, the 11 doesn't have a summon feature, though the company insists this is limited by regulations rather than technology.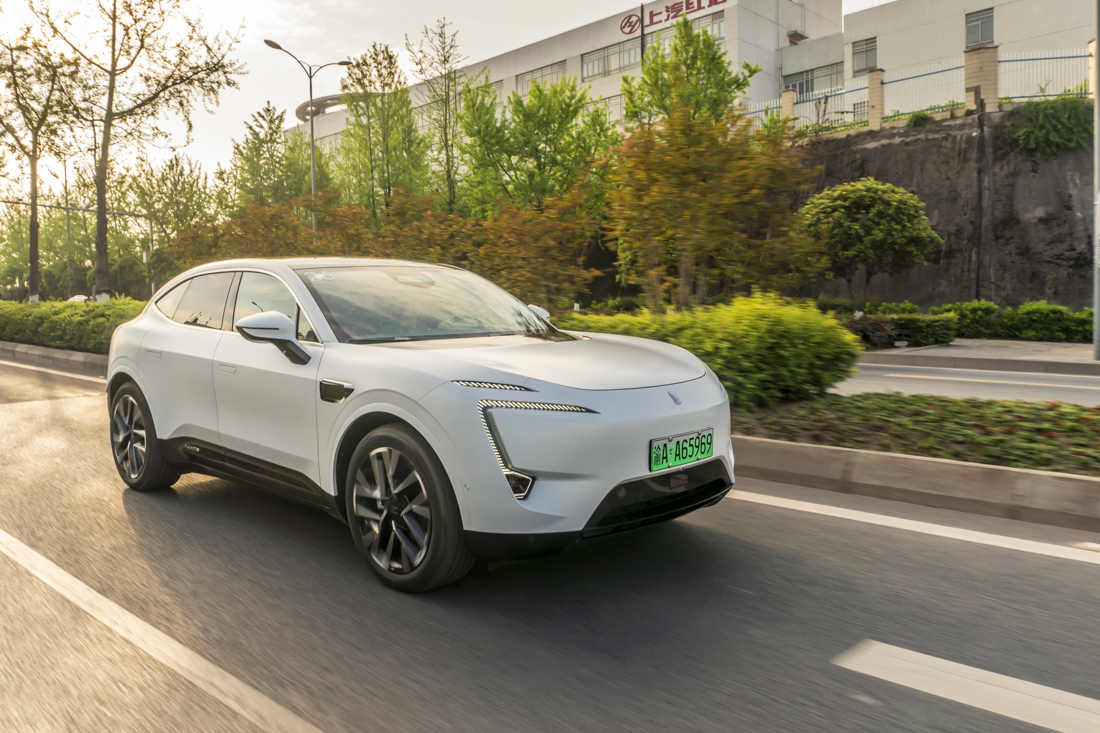 Takeaway
Despite my misgivings about Changan's ability to deliver a premium EV experience, the 11 did just that. The unique exterior design might not be the most practical, but it sets it apart from the competition. That's backed up by a driving experience that feels every bit as premium as the Nappa leather on the interior.
Specifications
Avatr 11 Performance 4-Seater
Motor: Front + Rear-mounted
Power: 425 kW, 650 Nm
Battery: 116-kWh
Range: 555 km CLTC
0-100 km/h: 3.98 seconds
Size: 4880*1970*1601
Wheelbase: 2975 mm
CDM Price: 56,000 USD