What is it?
While flashy startups like XPeng, NIO, and Li Auto tend to get most of the attention when it comes to Chinese EV markers, China's largest and oldest automakers have long been vying for a place at the table. SAIC, GWM, Geely, and many others have all started one or more electric brands over the past few years. The sole exception seems to have been state-owned automaker Changan. It wasn't until earlier this year that they finally debuted their entrant to the EV market, the Shenlan SL03. Did they use their extra time wisely and create something truly impressive, or is too little too late?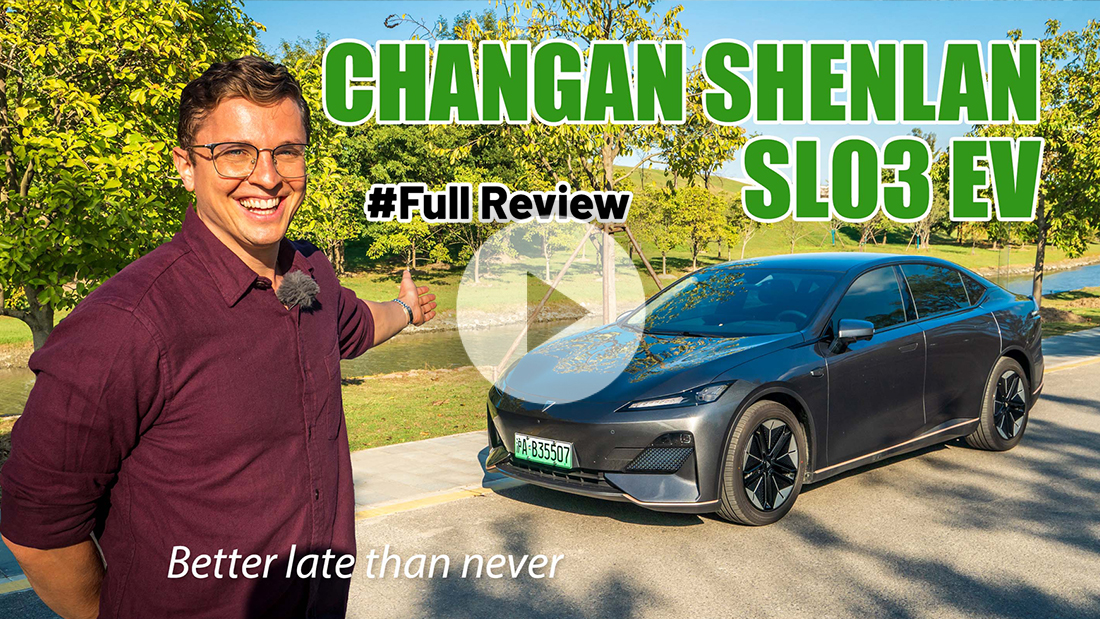 Shenlan, which translates to "Deep Blue," is actually one of two EV brands that Changan debuted this year. The other is a premium brand called Avatr. Hopefully we'll bring you a review of their first model, the Avatr 11, later this year. At a price of 25,000 to 30,000 USD, the EV versions of the SL03 undercut the base Tesla Model 3 by 10-15,000 USD here in China. It's also cheaper than the BYD Seal, which starts at 29,000 USD.
Designed for gamers
Styling is subjective, but I think the Model 3 looks like a potato when parked next to the more aggressively-styled SL03, and that's before we even discuss this LED daytime running light design that looks like gunsights, or perhaps the barrel of some alien plasma weapon.
Despite having a more aggressive design language, the overall shape of the SL03 is actually quite traditional. It's an honest to goodness liftback, but the way the beltline ends with a horizontal line gives it the profile of a traditional three-box sedan. The length of 4.82m makes it 10cm (4 in) longer than a Model 3.
The rear design pretty much abandons all attempts at subtlety, particularly the taillights, whose angular shape really emphasizes the "gunsights." This thing feels made for the "Counter Strike" generation here in China. The good news is, rear cargo space is abundant, and there's even a frunk, so you've got plenty of space to bring everything you need for a LAN party with your friends. God, that sentence made me look very old, didn't it…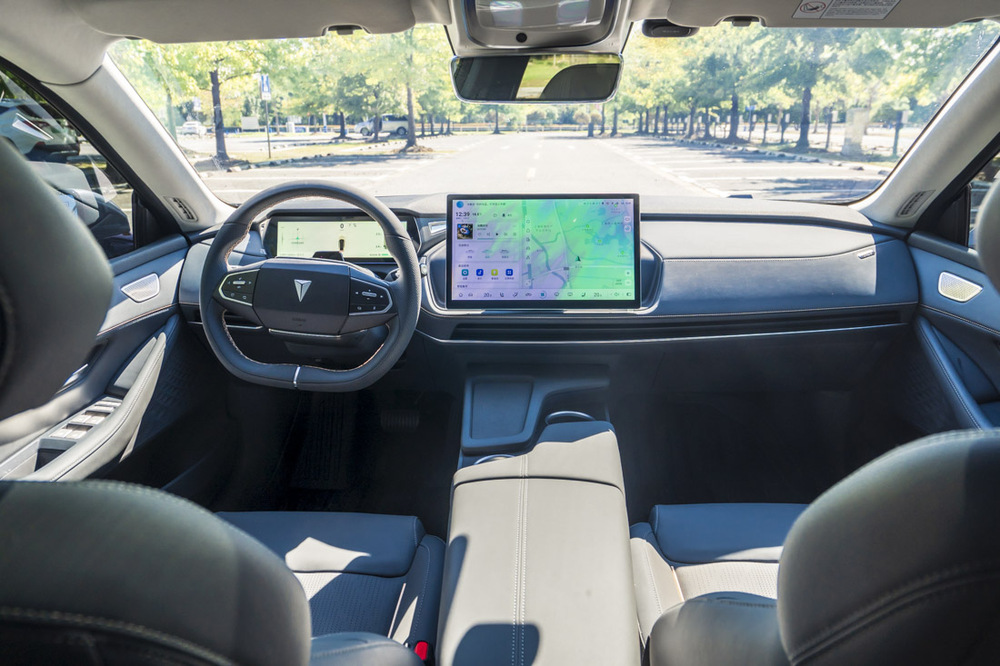 Nothing to see here
I'll be honest with you, there isn't much to talk about when it comes to the interior design of the SL03, because there isn't much going on to begin with. Unlike the somewhat over-styled interior of the BYD Seal, the Shenlan is incredibly minimalist, especially in the black color of our test car. It's just black on black on black on black. The only things breaking it up are some white stitching, silver speaker grills, and a tiny touch of pink-gold on the seats. Even the barren interior of the Model 3 has a bit of wood trim!
Of course, as we discussed while reviewing the Voyah Free, every new brand needs to have some party trick to set it apart from the rest of the pack. In the case of the SL03, it's a 14.6-inch screen that can tilt from left to right up to 15 degrees. You can accomplish this using a slider on the screen or with voice controls, and while it isn't as dramatic as other party tricks, it's also not quite as useless.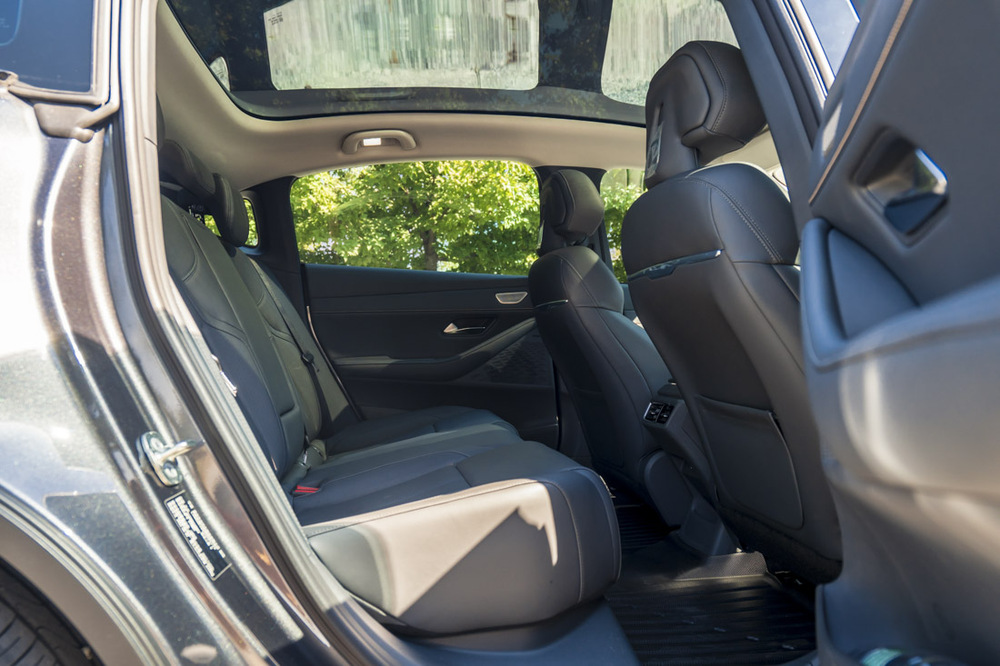 Once you turn the screen to your desired angle, you can enjoy snappy response times thanks to the Qualcomm Snapdragon 8155 processor, something we usually see on more expensive vehicles. The again, it had better be snappy, because everything is controlled through the center screen, from the windshield wipers, to headlights, to the glovebox.
Besides the window switches, the only buttons inside the SL03 are on the leather wrapped steering wheel, which is the only real leather in the car. The standard heated and cooled front-row seats are a soft faux leather, and the rest of the interior is, well, plasticky. But that's the price you pay for paying less.
The rear seats of the SL03 are undoubtedly the biggest weak point of its interior. It's not the legroom that's bad, but rather the headroom. I'm only 1.75m tall (5'9 inches), but I have a mere finger's worth of headroom. If you hit a bump, you will smack your head on the roof. I am forced to assume that Changan employed a team of Oompa Loompas to engineer this car. If you manage to remain conscious after that hit, you will realize there is only one USB port available for second row passengers. Overall, not impressed.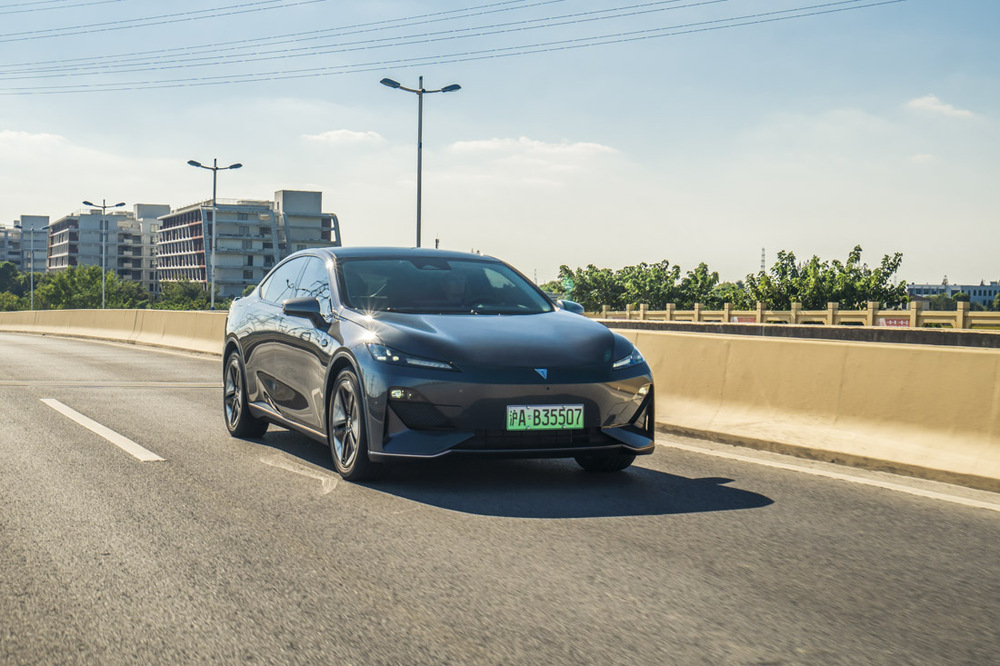 Fun, but compromised
The SL03 isn't just available as a pure EV, there's also an extended range EV model that costs 23,500 USD. It packs a 1.5L 4-cylinder generator powering a rear-mounted motor making 160 kW and 320 Nm of torque (215 hp and 235 pound-feet). It's 28.4 kWh battery pack gives it a pure EV range of 200 km on the CLTC cycle, but a combined range of 1200 km. That same electric motor powers the long range, pure EV version of the SL03, this time paired with a much larger 80 kWh battery pack for a CLTC range of 705 km.
The goldilocks model, however, is the 25,000 USD, standard range car with a 58.1 kWh battery pack and a range of 515 km. Most importantly, it has a more powerful, 190 kW (255 hp) rear-mounted motor. That means a 0-100 time of around 6 seconds, which is faster than the base Model 3 and BYD Seal.
That's just about the only place where the SL03 can outshine those two rivals, however. When compared to a Model 3, the steering feels less direct and less communicative. The Model 3 also feels more hunkered down than the SL03, whereas the Shenlan's seems to ride higher than its competitors, feeling more like a lowered SUV than a sporty sedan.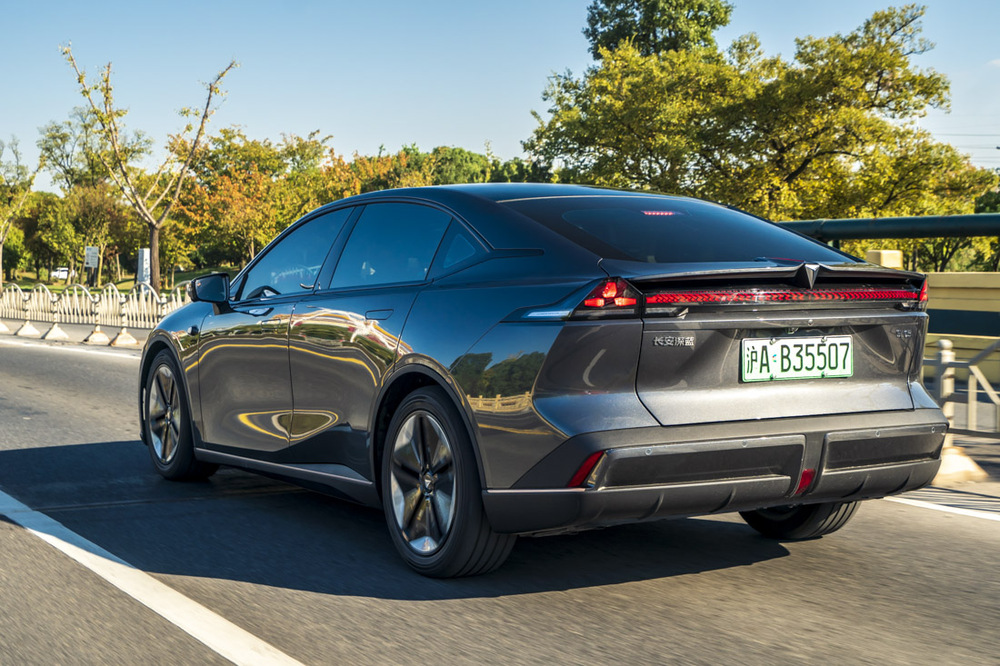 I think one reason for that is the fact that this car comes with so many different powertrain options. In addition to the extended range EV and the pure EV, there's also a hydrogen fuel cell EV that will set you back 103,000 USD. This model is almost certainly meant only to satisfy regulations or to qualify for subsidies, so we need not concern ourselves with who in their right mind would spend so much money on a $25,000 car. What matters is that when you have to design around so many different powertrains, there will be some compromises in the packaging. That could be where you put the battery or maybe the packaging of the suspension. But either way, I think it's a contributing factor.
But there is one thing that the SL03 can do that the Seal and Model 3 cannot, and that's slide. Unlike the base versions of those cars, which have pretty oppressive ESP, the SL03 is positively tail happy. If you're just trying to drive it like a normal human being instead of a complete hooligan, though, the SL03 is fine commuter EV. The camera-based ADAS system, comes with lane change assist, adaptive cruise control and automatic emergency braking, among other safety and comfort features. EV versions of the car also come standard with an augmented reality heads up display.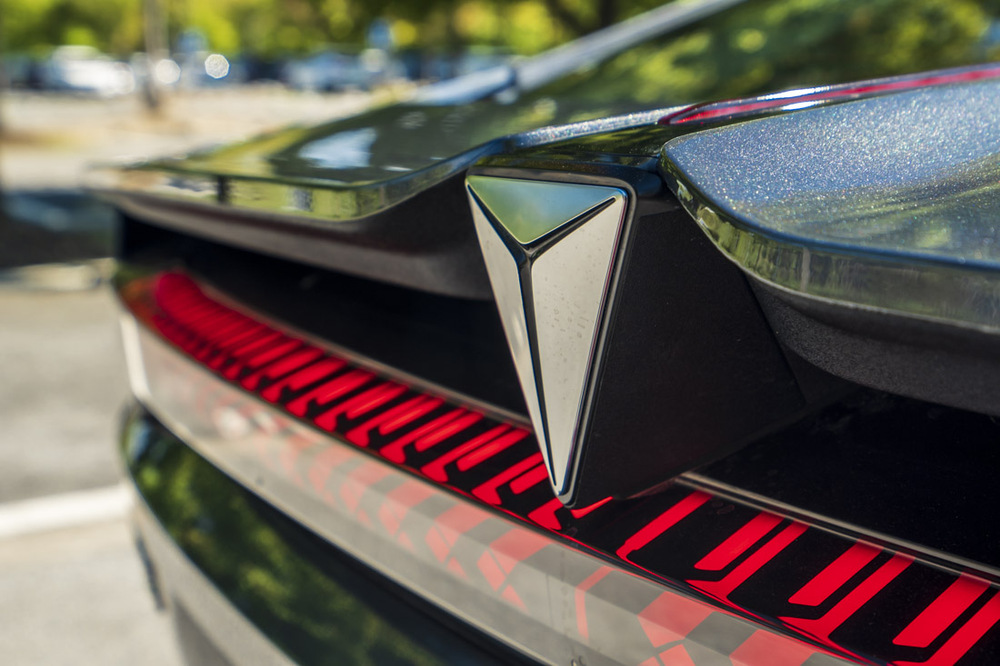 Takeaway
The Tesla Model 3 and the BYD Seal play firmly in the premium category, whereas the SL03 lands somewhere near the top of the mainstream category. It offers a lot for its price, but what it cannot offer is the premium driving experience of those other two cars. However, if you're living in China and you don't want to spend an extra $15,000 to get a Model 3, or wait six months to get a BYD Seal, this might be the EV sedan for you.
Specifications- Shenlan SL03 Standard Range
Motor: Rear-mounted
Power: 190 kW, 320 Nm
Battery: 58.1 kWh
Range: 515 km CLTC
0-100 km/h: 5.9 seconds
Size: 4820*1890*1480mm
Wheelbase: 2900mm
CDM Price: 25,000 USD