What is it?
Despite our best efforts, there are certain cars that we have a hard time getting ahold of for a review. One of those has been the Tank 300, which has avoided our grasp for the better part of two years. Sometimes, when you can't get the original, you have to settle for something a little…smaller. That's why we ended going to Beijing to review the Tank 100, a custom creation from the people at YiChe Garage.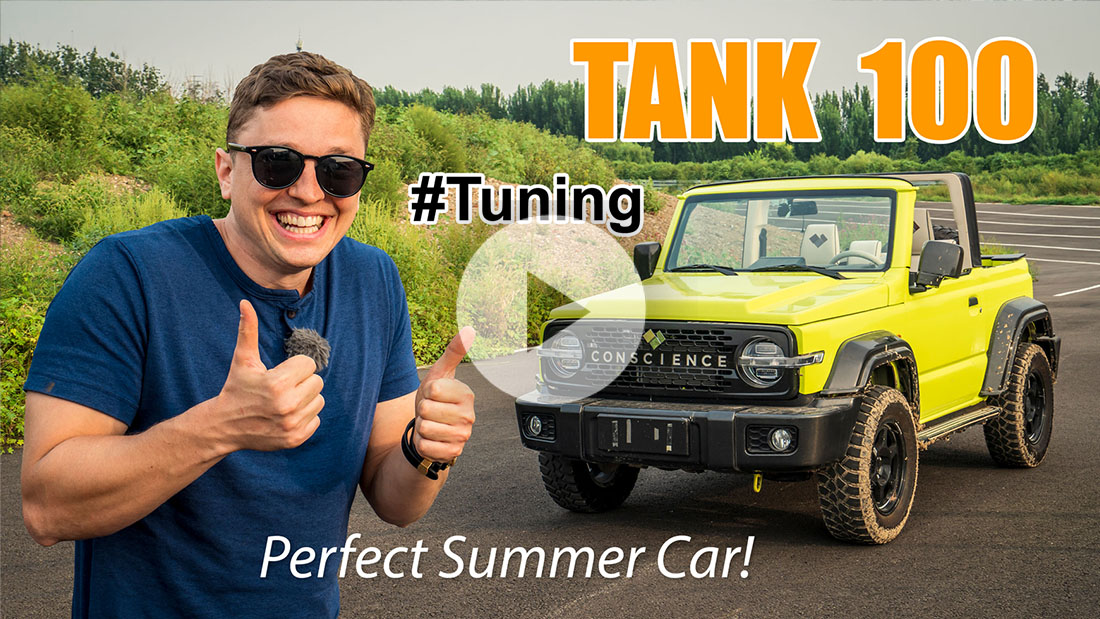 Perfect proportions
The Tank 100 is, in essence, a Suzuki Jimny that has been modified to look like a tiny, two-door Tank 300, with front and rear end styling that are obviously designed to mirror that of the original. The front-end design is nearly identical, including the LED headlights bisected by daytime running lights, and fog lamps build into the bumper.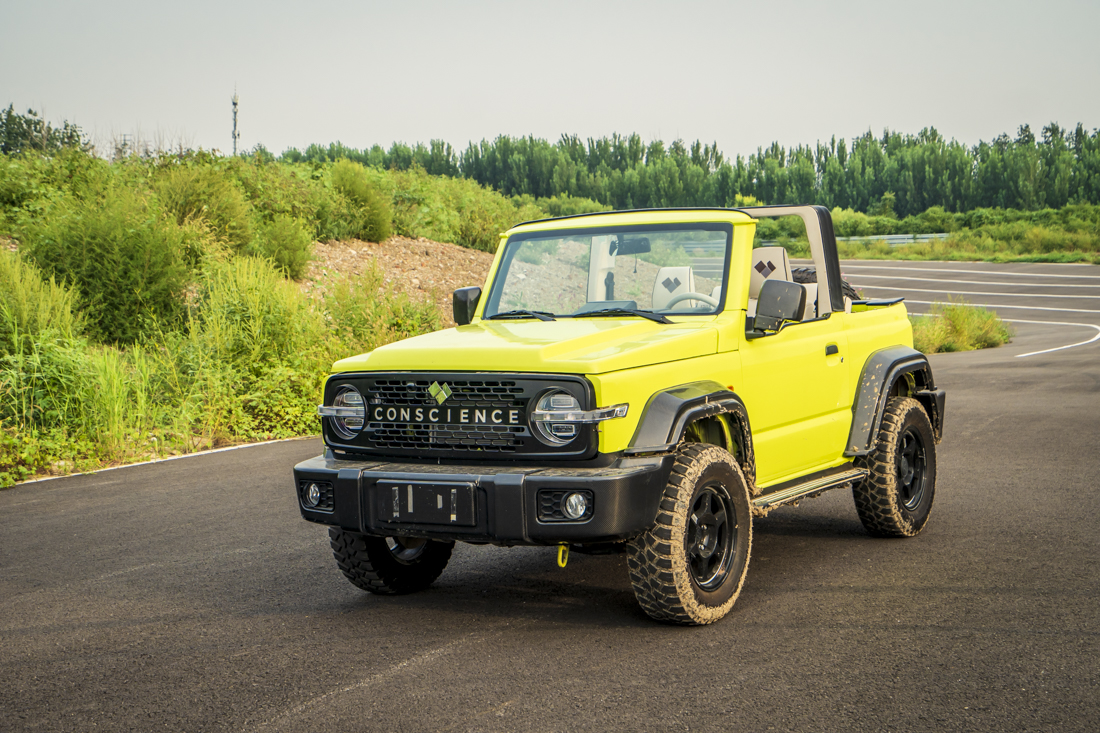 Of course, it's not an exact copy, and the differences are quite noticeable in certain areas. The Tank badge has been swapped for one of YiChe's own design, obviously to avoid any copyright issues. The new brand name, Conscience, is apparently a joke based on Chinese wordplay. A more subtle difference can be found in the bumper and fender flares, which have been replaced with real carbon fiber pieces instead of plastic.
Oh, and they chopped off the roof. Did we forget to mention that? That makes this the only fourth generation convertible Jimny that we've ever seen. Unsurprisingly, the legendary off-roader looks even better with just a single hoop hanging over the passenger compartment. It's tiny wheelbase and boxy proportions are just perfection.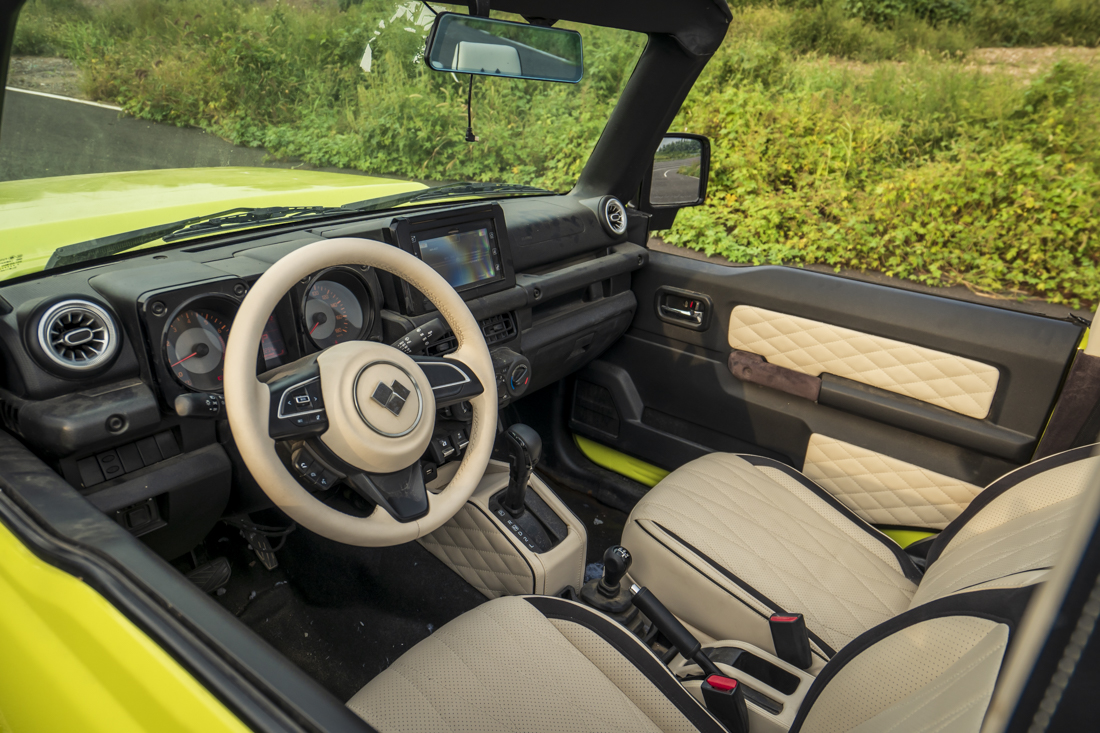 Luxury spec
The Jimny is not officially available here in China in any form, so the team at YiChe had to import one on their own, to the tune of 60,000 USD. They then spent another 60,000 USD to modify it into what we drove in Beijing. Those modifications weren't just limited to the exterior, as the interior also received its fair share of attention.
That mostly took the form of a serious upgrade of the cabin and its material quality. Gone were the cloth seats of the Jimny, and in their place was a leather (or at least faux leather) interior in a pleasant black and white color combo. We've never had the pleasure of sitting in a stock Jimny, but we feel safe in saying that this is a cut above.
The use of higher end materials only serves to emphasize the bargain basement quality of the original Jimny interior parts. The quality of the plastic is on par with a tractor, but that's perfectly fine, since this interior was intended to be used off-road, and therefore very easy to clean. You're probably starting to see the contradiction here.
The Tank 100 does come with a soft top, but it's apparently so finicky to install that the team at YiChe decided just to throw a tarp over it the night before we arrived. Then the tarp leaked, meaning the interior of the Tank 100 was pretty well soaked when we drove it, with standing water in the passenger-side footwell. Luckily, the electronics on the interior remained unharmed, including the original Jimny infotainment screen, which is hilarious outdated.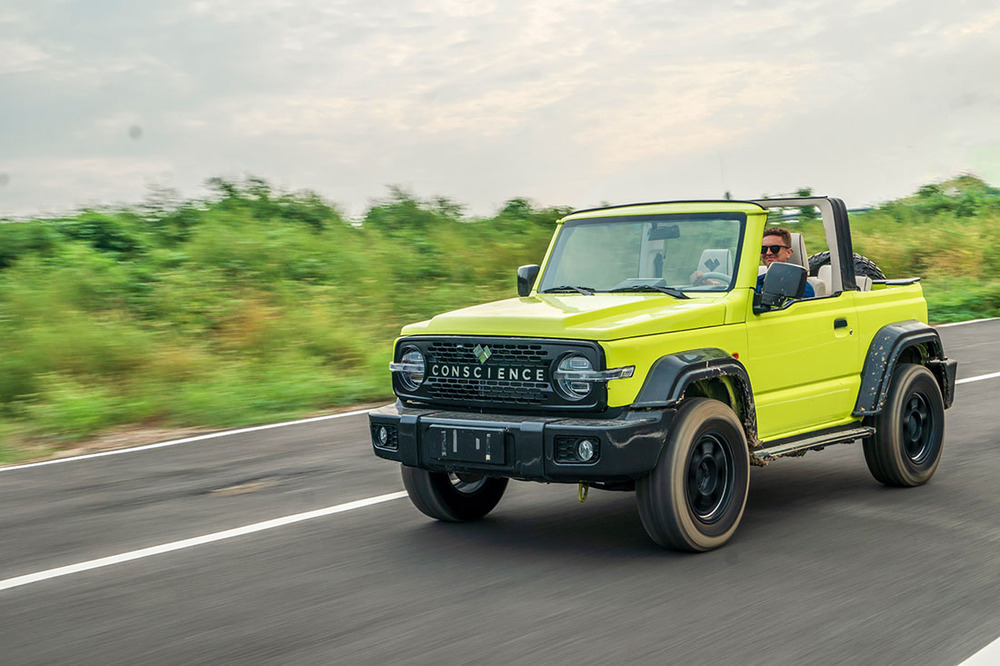 The greatest car we've ever driven
Our initial fear when driving the Tank 100 was that it would be about as rigid as a wet paper bag. YiChe Garage assured us that the shop responsible for converting this car has also produced concept cars for big OEMS, but as people that have spent a lot of time climbing around concept cars at auto shows, that wasn't as reassuring as maybe they hoped it would be. At least we knew that the powerplant, a naturally aspirated 1.5L four cylinder making just 75 kW (100 hp), wasn't going to be enough to twist the chassis like a pretzel.
So, did it flex? We couldn't even tell you, because we were having way too much fun to pay attention to such mundane issues. Our test drive took place on an amazing fall day in Beijing, and we quickly lost all ability to complain about things like wind noise, turtle-like acceleration, or cheap interior material qualities as we basked in the sheer glory of driving this marvelous creation. There was something almost magical about the Tank 100's ability to put a smile on your face.
Our one regret is that we didn't get a chance to actually drive it off-road, the closest thing being the occasional mud puddle between the race track and the straight-line testing area. Then again, that probably would have pushed the convertible body beyond its limits, so perhaps its better that we stuck to slowly lapping a race track and cruising back and forth.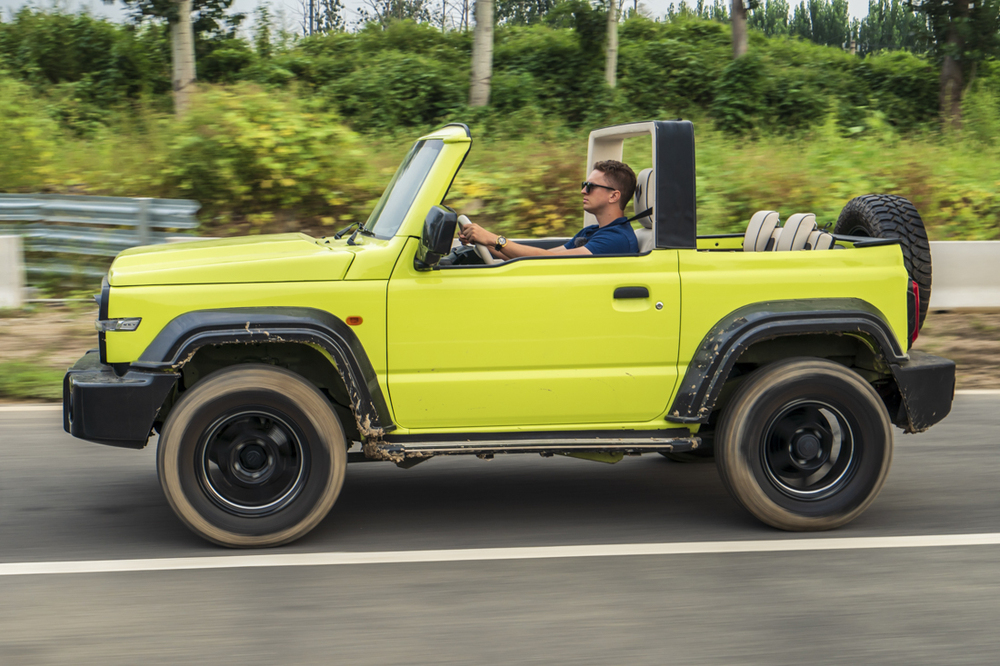 Takeaway
The Tank 100 is hands down our favorite car we drove from the crazy YiChe Garage fleet. It might not have been as flashy as the Big EV 6x6, or as mind-bending as the Lamando 5XL, but unlike those other two, it's a car you can actually drive. It might very well be our favorite car that we've ever reviewed. It's a darn shame that it costs 120,000 USD to build and can't even be driven on public roads.