What is it?
We recently headed to Guangzhou, China to get behind the wheel of the G9, XPeng's fourth model and their most expensive yet. The G9 is going to be very important in pushing the brand farther upmarket, and the company has been making a quite a few claims as to its sporting character, which we put to the test.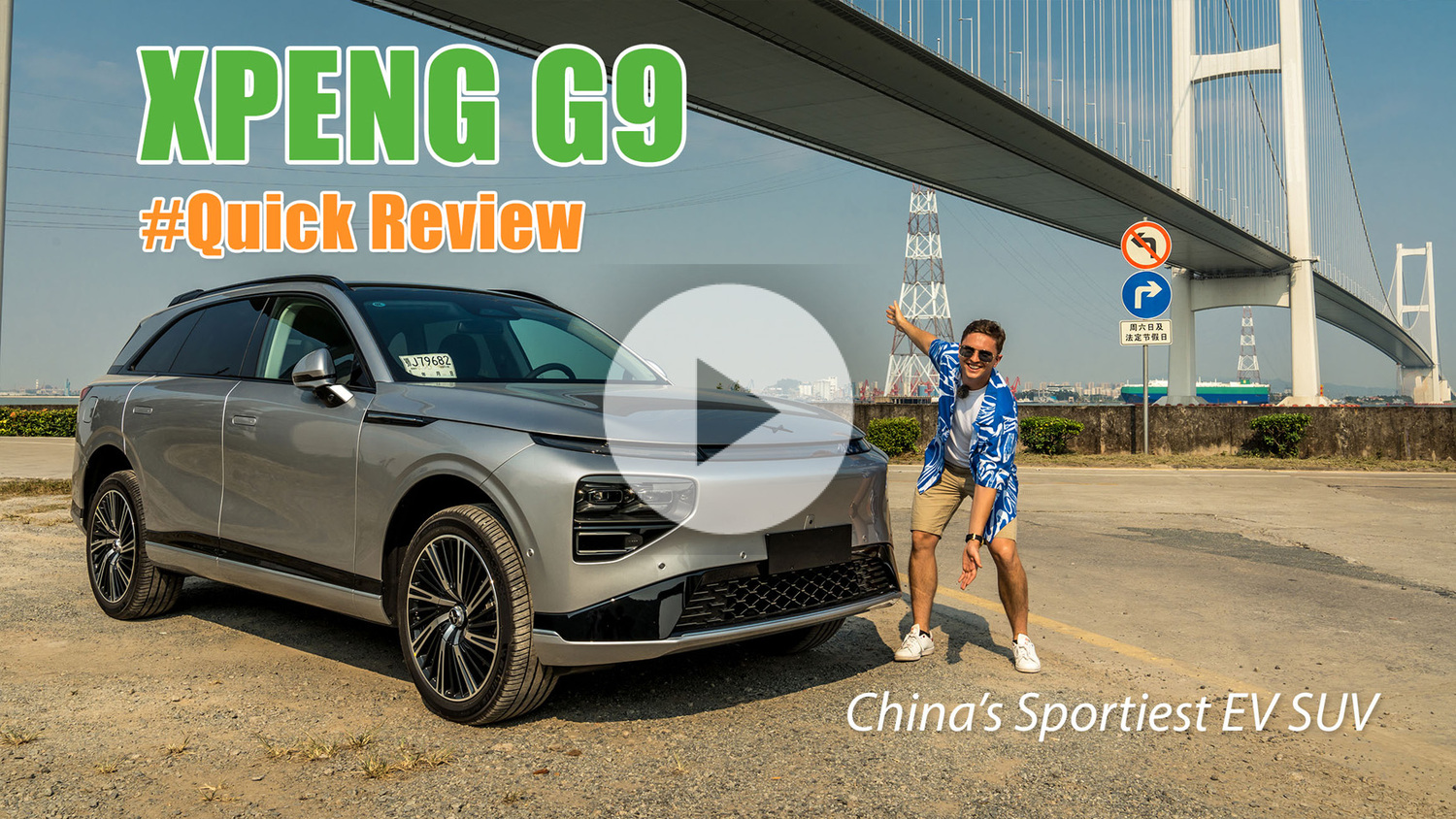 The price of the G9 has become a bit of a headache for XPeng. The first round of prices received considerable pushback from customers who felt the company was asking too much for certain models. In response, XPeng announced a new pricing and specification structure which kept the base model's price at 44,000 USD, but lowered the price of the top spec AWD Performance model to 59,000 USD, a decrease of 5,000 USD. Those prices put it in competition with both the NIO ES6 and ES7, not to mention the Li Auto L8 and L9. We haven't driven the L8 yet, but we have tested the L9, even putting it up against a BMW X7. Needless to say, the G9 is entering a highly competitive segment.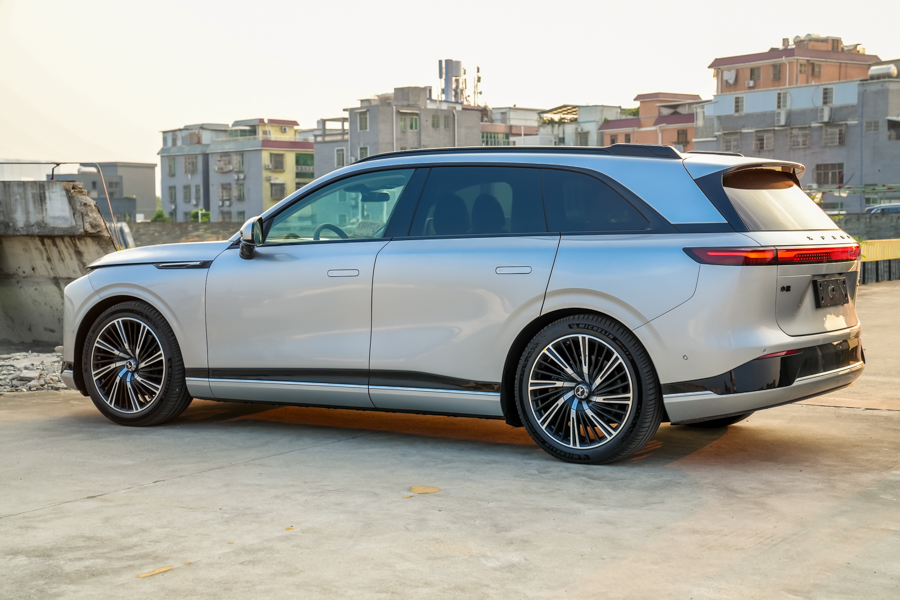 The same, but different, but the same
It seems to us that XPeng's design language is in a pretty weird place right now. They're model lineup is like one of those families with four kids, three of which look exactly the same, while the fourth looks to have been adopted. The adopted one is certainly the XPeng P5. All their other models, the G3i, P7, and the new G9, all share a distinct design language, it's just the P5 that's out there on its own. It's not an unattractive car, it's just not quite as striking as the other three.
The P7 is one of the most impactful designs of the past five or six years, and the streets of China are littered with vehicles that clearly took inspiration from its dramatic LED daytime running light. Being an SUV, the G9 gives the designers a much larger canvas to work with, and it gave engineers space to include two LiDAR units mounted on the lower bumper.
We described the P7 as looking like a river rock that had been tumbled smooth. That equally applies to the G9, which shares the same sculpted sides and seeming allergy to flat surfaces. The black railings seen on top of the car are not used for storage, but rather purely as a design element. The large bumps that appear at the termination of the railings are in fact the 5G antennas.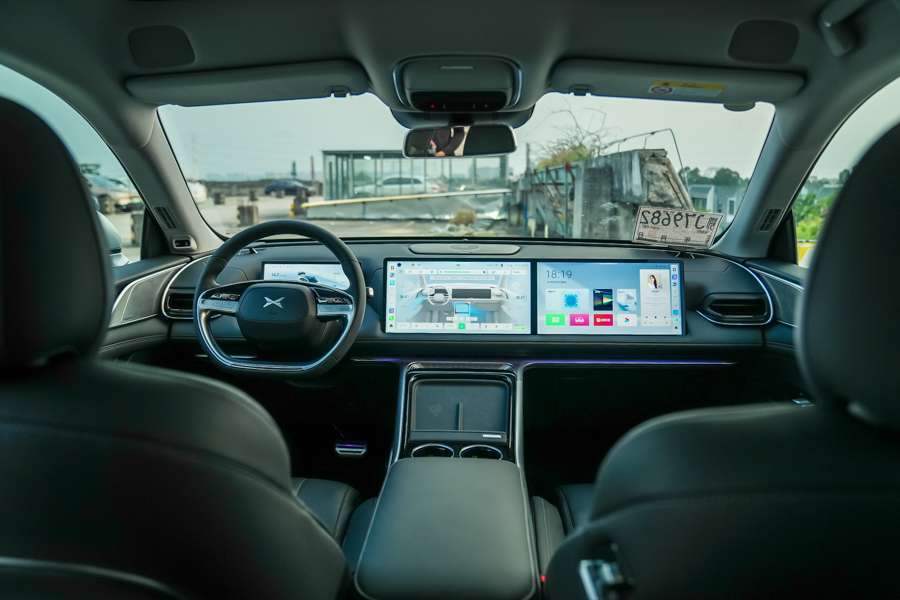 XPeng goes upmarket
Sitting inside the G9, you quickly realize that it is the most luxurious interior that XPeng has produced so far. In terms of material quality and ergonomics, it's a serious step up from their next most expensive model, the P7. The interior of the G9 retains some of the styling cues from that car, but the use of dual 15-inch screens and a Qualcomm Snapdragon 8155 chip definitely reminds us of the Li Auto L9. One thing we very much appreciated about the dual screens of the G9 is that the passenger screen is not visible from the driver's seat, making it less of a distraction. Don't worry, you can also watch movies on the center screen.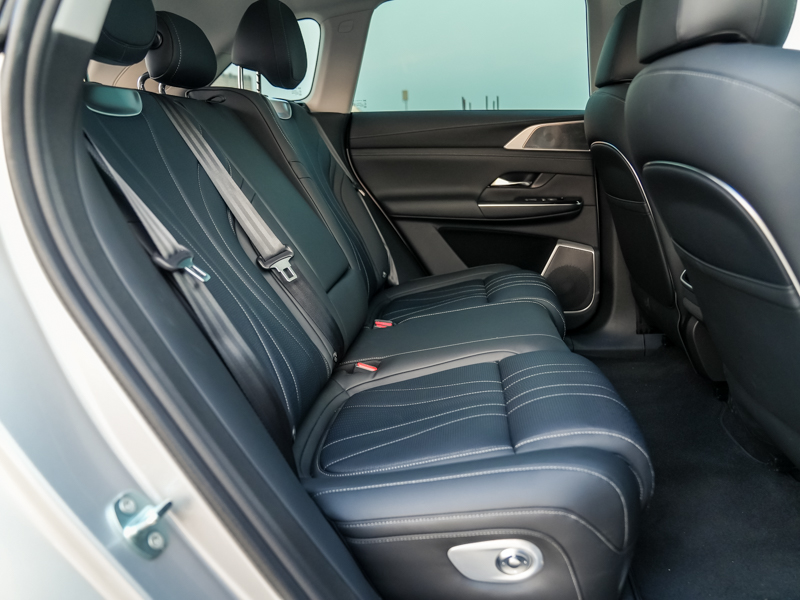 The technological highlight of G9's interior is definitely Xopera, its 28 audio unit, 2250-watt sound system. That 28 "audio units" includes more than just the many speakers spread throughout the interior, it also refers to the speakers embedded in the front seats. When you're watching a movie or listening to music that is compatible with the system, those speakers vibrate along with it. It's similar to the system found in the second row of the Li Auto L9, though that system uses electric motors instead of speakers. We found the Li Auto system to be a bit better, as the vibrations felt deeper and less tinny.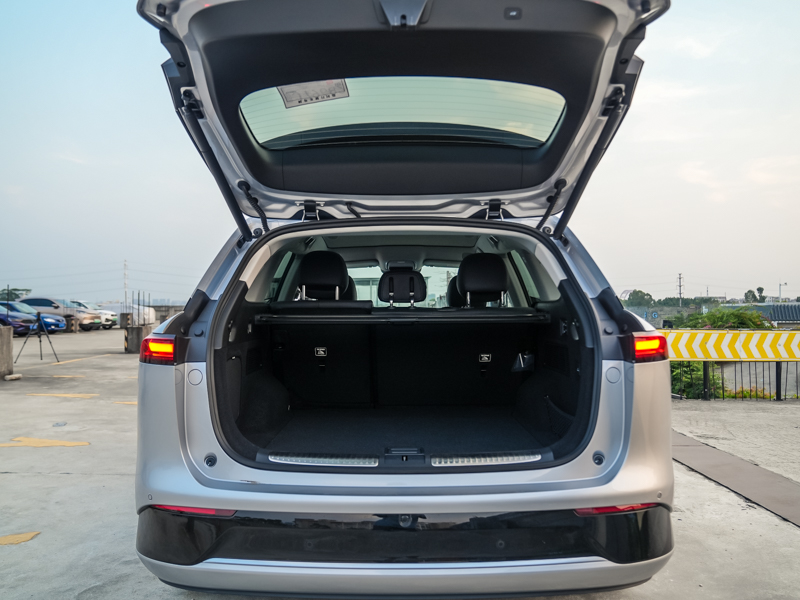 It's not often that we get to say this, but the rear seats in the G9 are very nearly as comfortable as the front. Not only does the wheelbase of 2.998 meters (118 inches) mean you have plenty of leg room, you also have adjustable rake and thigh bolsters. Higher spec models are also equipped with heated, cooled and massaging front seats, with heating and massaging in the rear. Behind the second row is a very large cargo area with a hidden compartment underneath for even more storage. Not satisfied? There's also a decent-sized frunk.

It's not a Cayenne, but it's still good
The G9 is available with two different battery packs. Entry-level models come with a 78.2 kWh LFP pack delivering 570 km of CLTC range. However, buyers can choose to upgrade to a 98 kWh lithium ion pack that delivers 702 km of CLTC range on RWD models. There are also two different powertrains. Option 1 is a single, rear-mounted motor that delivers 230 kW and 430 Nm of torque. That's 310 hp and 318 pound-feet. Option two is the AWD, dual motor Performance version that makes 405 kilowatts and 717 Nm of torque (550 hp and 530 pound-feet) that we drove for our test. There's no official zero to 100 kilometers per hour time as of yet, but we're told it should be under 4 seconds. Having driven the G9 for a full day, we find that number very easy to believe. The CLTC range on the Performance model is 650 kilometers.
Straight-line speed is nothing new in electric cars, even in big SUVs like the G9. But XPeng isn't just making promises about speed, they also claim that the dynamics of the G9 were benchmarked on the Porsche Cayenne, one of, if not the best handling SUVs available today. That is a very lofty target, and one that we don't think the G9 quite reaches.
The thing is, when you drive a Porsche, even a big SUV like a Cayenne, the vehicle encourages you to drive it in a sporting manner. The G9 does not. Its inputs, especially steering, are lighter and less communicative than the Porsche's. Even the accelerator pedal is very softly sprung. That's great for a commuter car, but it makes it a bit more difficult to modulate when driving hard. In fact, the G9 just drives like a lifted version of an XPeng P7. In all honesty, that's not a complaint, because we quite like the way the XPeng P7 drives.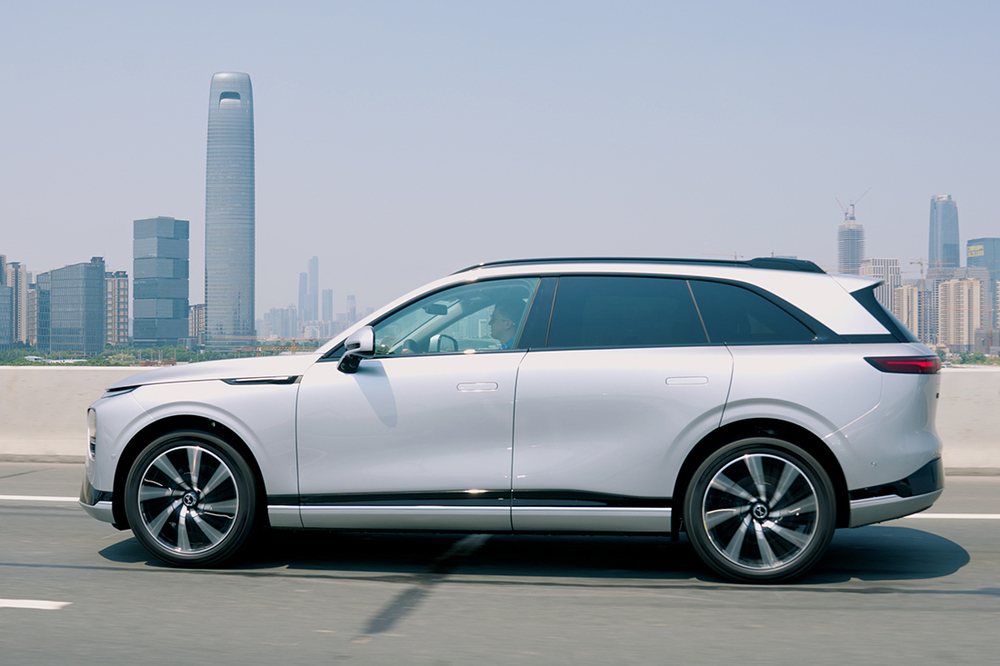 XPeng comparing this car to a Porsche Cayenne does it a bit of a disservice, because it sets you up for disappointment. Ultimately, it doesn't handle anything like a Cayenne, but if you consider it based on its own merits, it's a comfortable and competent SUV. The driving inputs don't feel like that of a Porsche, but they do feel better than any other Chinese EV SUV we've ever driven. Compared to the floating barge feeling of the L9, for example, the G9 feels positively aggressive and engaging.
Not only that, the G9's adjustable air suspension means it is supremely comfortable, though we recommend that you avoid putting it in Sport mode, which results in a very bumpy and unsettled ride. Regardless of the driving situation, NVH is kept well under control, allowing you to better enjoy that 2250-watt sound system.
One area where the G9 should outdo more traditional SUVs like the Porsche Cayenne is in terms of its ADAS. The pre-production vehicle that we drove for our test wasn't even equipped with standard cruise control, but when the G9 hits customer hands, it will be equipped with XNGP (note that XPeng has ditched the XPILOT and NGP branding in favor of this new, unified terminology).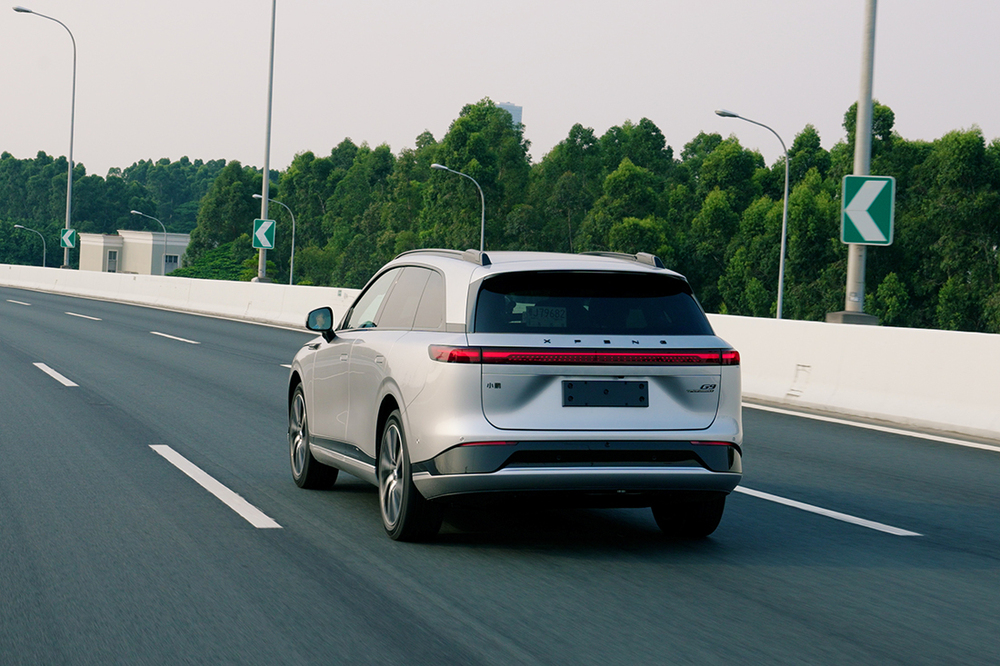 The issue arises when you realize that this system has essentially the same capabilities as the highway navigation on autopilot that we demonstrated on the XPeng P7 back in February 2021, and doesn't appear to take advantage of the G9's greatest innovation over that car; its LiDAR units. XPeng's last model, the P5, also had LiDAR units and was supposed to debut XPeng's NGP 3.5, a system that would utilize them to achieve greater levels of autonomous driving. That system wasn't ready when we test drove the P5 back in September 2021, nor did it debut in Q1 of 2022 as XPeng said that it would. To this day, the XPeng P5 only uses its LiDAR units to achieve greater levels of autonomous parking, not for on-road driving.
All versions of the G9 come standard with China's first 800-volt mass-production Silicon Carbide platform. However, Performance models can be optioned with a 4C supercharging pack for an extra, 1,400 USD. When plugged into XPeng's S4 charging station, the company says these models can add up to 200 km of CLTC range in as little as five minutes. S4 chargers are currently only available in Guangzhou, but XPeng says it will begin deploying them across other major cities in China, including Beijing, Shanghai, and Shenzhen, by the end of the year.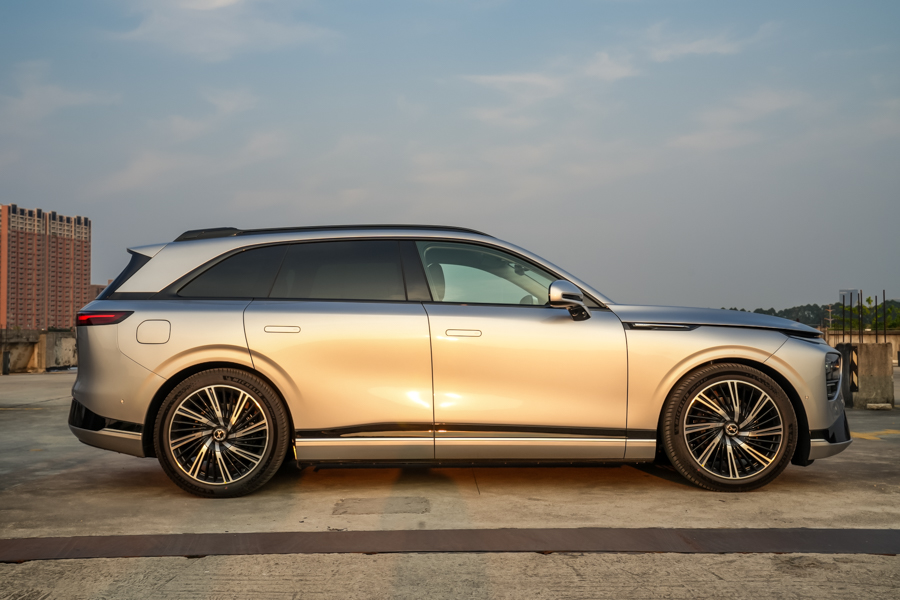 Takeaway
While comparing the G9's driving experience to that of a Porsche Cayenne is a bit unrealistic, it is still the best handling Chinese EV SUV we've ever tested, and one that's worth considering, even in a very competitive price category. We also hope that XPeng delivers on their promises of LiDAR-powered autonomy soon, as we've waited quite a while already.
Specifications
Motor: Front + Rear-mounted
Power: 230-405 kW, 430-717 Nm
Battery: 78.2 kWh LFP or 98 kWh lithium ion

Range: 550-702 km CLTC
100 km/h: 3.8 seconds (est.)
Size: 4891*1937*1680mm
Wheelbase: 2998mm
CDM Price: 44,000-59,000 USD