What is it?
We headed to our local ORA dealership to check out the Ballet Cat, a retro style EV that is specifically aimed at female buyers. If it looks familiar, that's because it's a smaller version of the ORA Punk Cat that debuted at the 2021 Shanghai Auto Show. The Punk Cat is also going into production, but it will be marketed more towards male buyers.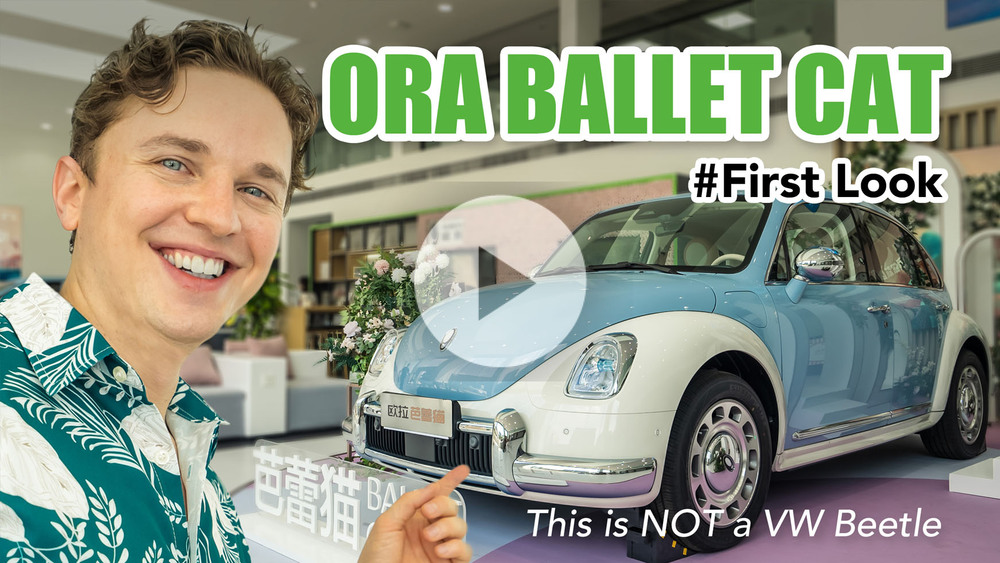 It's a Big, 4-door Beetle
The Punk Cat was basically a 4-door VW Beetle with an electric powertrain, and the Ballet Cat is only slightly less shameless in its aping of that classic design, simply replacing the round headlights with more squared-off ones. Smaller is a relative term, however. It's hard to tell how big the Ballet Cat really is when you look at it in pictures, but once you approach it in person, you realize it's the size of a compact SUV, with dimensions that are closer to that of a VW Tiguan rather than a VW Beetle.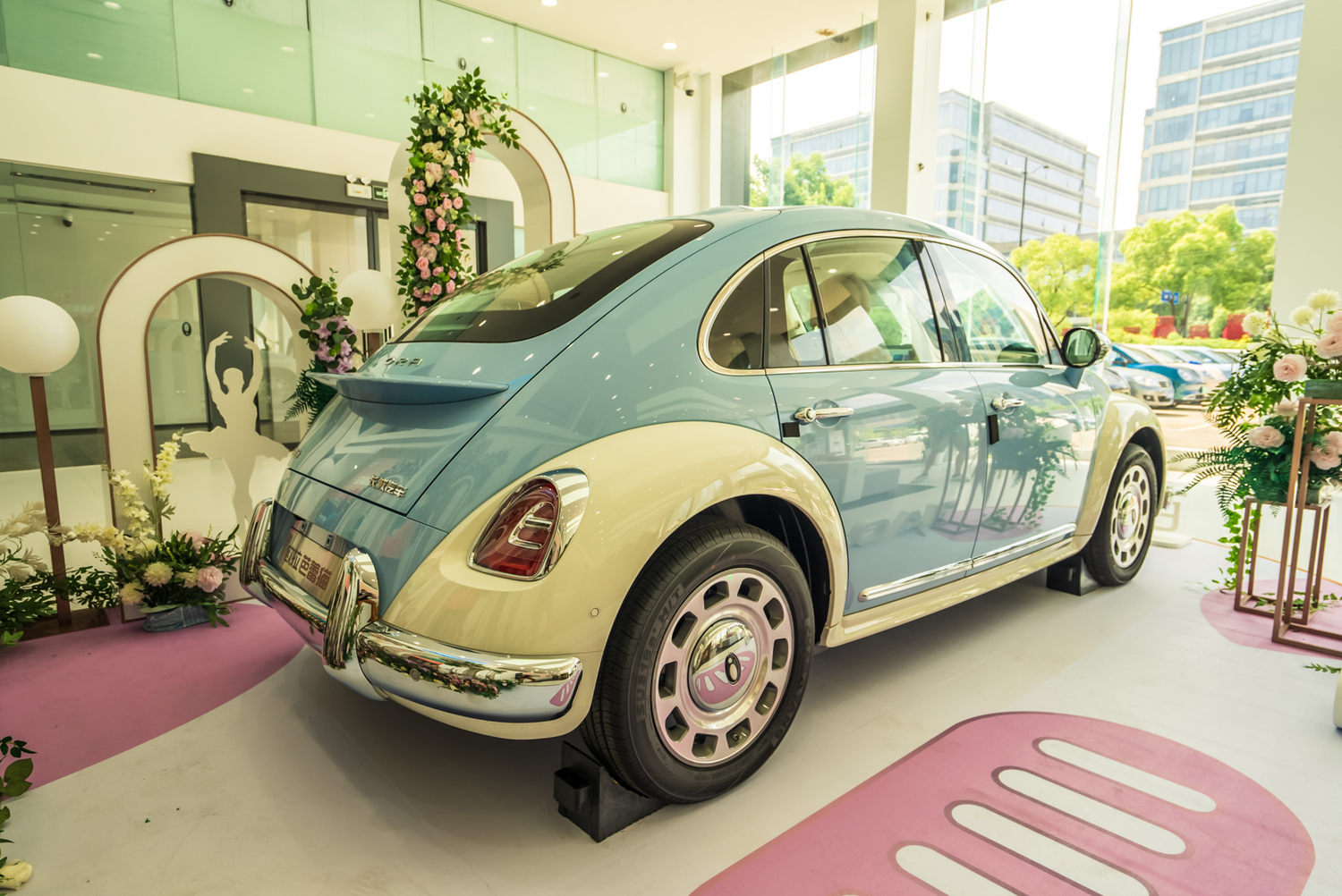 Copyright issues aside, the design is really fun, with tons of retro elements, like the chrome-colored bumpers, door mirrors and other trim pieces. It even has a traditional keyhole on the driver side door, something we haven't seen on an EV, well, maybe ever. The door handles also have a throwback look to them, and ORA says they were mounted lower on the door to make for better ergonomics for female drivers. Retro designs are often let down by their choice of wheel, but thankfully that's not the case with the Ballet Cat, which features a cool "steelie" style alloy wheel.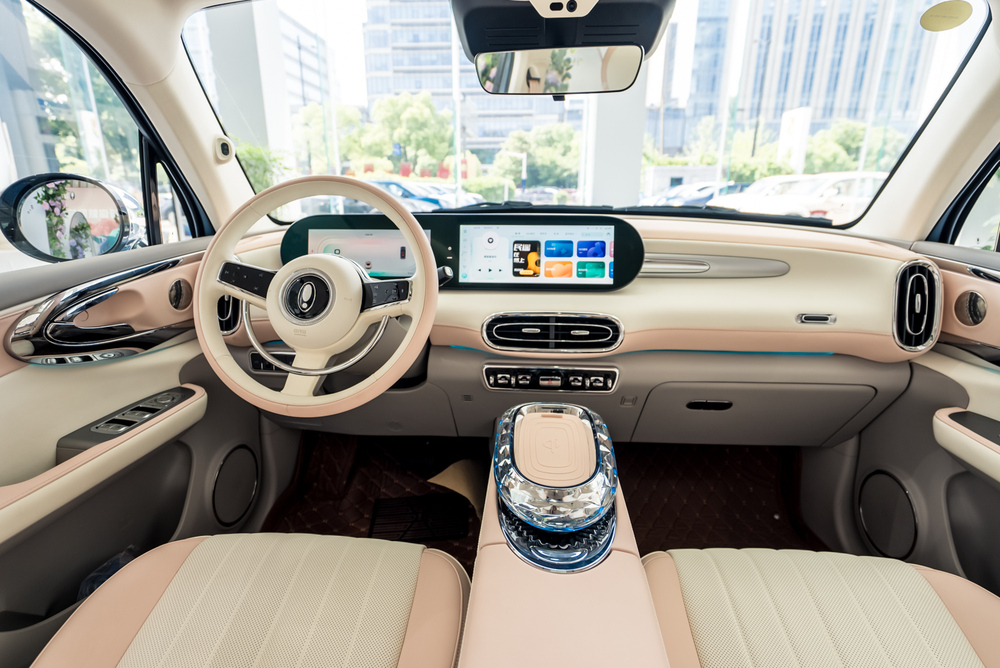 Crystals and Goddesses
The vintage vibes continue on the interior of the Ballet Cat, but you'd be hard-pressed to confuse it with a VW Beetle. The steering wheel looks large in photos, but ORA says it's actually 3cm smaller than an average steering wheel. The rim is also said to be slightly thicker, making it easier to grip. Again, these features are supposed to make it easier to use for female drivers. The chrome ring on the bottom half is the horn, much like you would see in a car from the 50s or 60s.
Then, of course, you have the rather boldly designed faux crystal center console trim that surrounds a not so retro wireless charging pad. The instrument cluster and infotainment screens are tucked into a single panel, and surprisingly, don't completely ruin the retro look.
While most of the elements that have been specifically designed for female buyers are relatively subtle, such as the height of the door handles or the shape of the steering wheel, one not so subtle on can be found in the drive modes. In addition to Sport and Eco modes, there is also a mode called 女神 (Nǚshén), which translates to goddess. Apparently, it lowers the steering effort, but we won't know what that feels like till we test drive it later this year.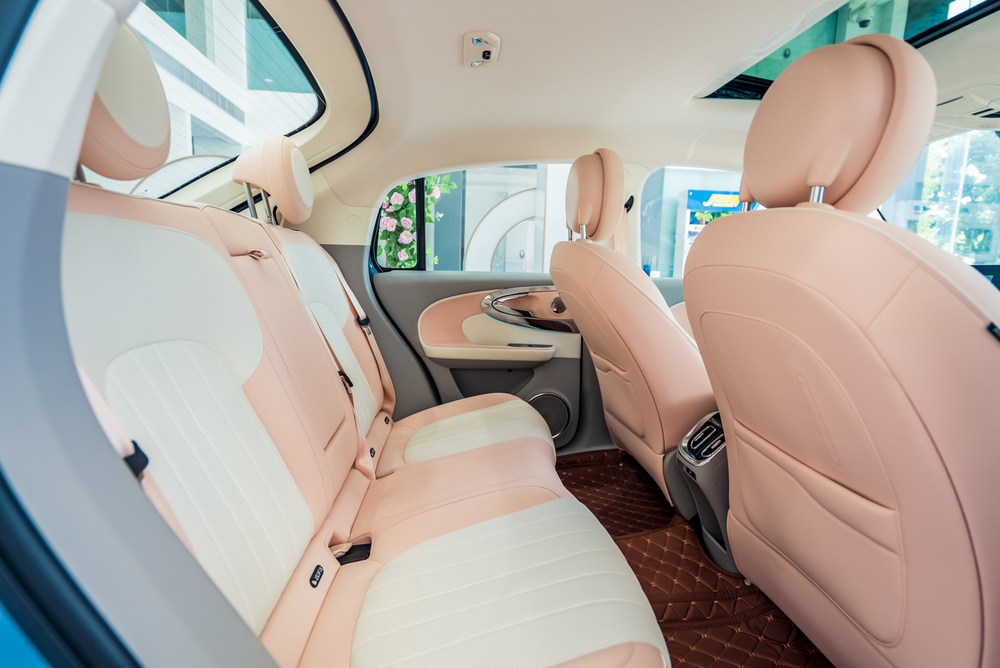 One of the advantages of being the length of a VW Tiguan is that you also have the space of a vW Tiguan as well. The rear legroom on the Ballet Cat is plentiful, though headroom is a bit on the tight side. There are no official numbers for rear cargo capacity, but while the liftback opening is huge, space feels compromised due to the sloping roofline.
Retro Show, but Modern Go
There is nothing retro about the powertrain of the Ballet Cat. Under the hood is a front-mounted electric motor making 126 kW and 250 Nm of torque (170 hp and 185 pound-feet). There are two battery pack options, 49.9 or 60.5 kWh, delivery 401 and 500 km of CLTC range, respectively.
Takeaway
With the Ballet Cat, ORA is basically offering an electrified, retro VW Beetle for 29,000-33,000 USD. Legal issues aside, that seems like a pretty fun way to spend your money. We'll find out if the driving dynamics can keep up with the looks when we get it on the road later this year.