What is it?
The BYD Dolphin is an EV hatchback that has proven to be a hot seller here in China, and will soon be headed to foreign markets, including Australia. The Dolphin will likely be called the Atto 2 when it goes on sale besides the Atto 3 (BYD Yuan PLUS) in the Australian market. Prices here in China range from 14,000 to 18,000 USD, while the starting price in Australia is expected to sit around 35,000.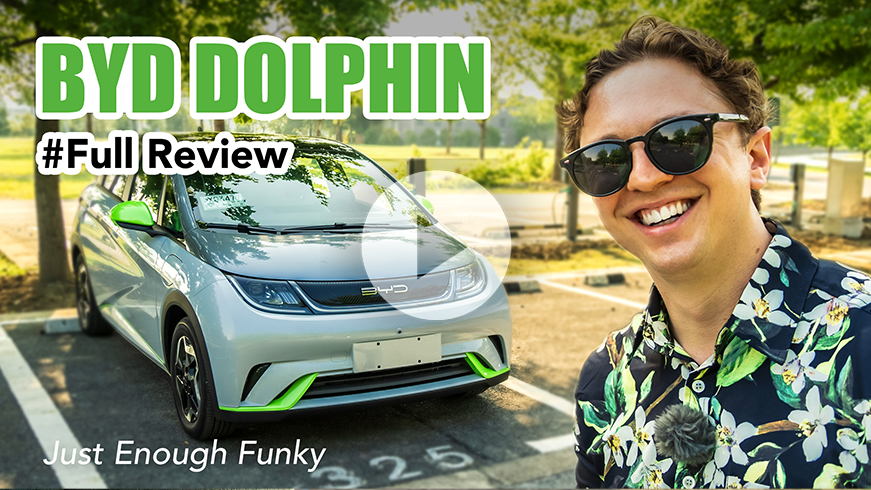 All Sorts of Funky
One look at the Dolphin and it's clear that BYD is aiming for younger buyers with this vehicle, or at least those who are young at heart. Almost all versions of the Dolphin come with a two-tone paint job with a dark grey up top and lighter tone down below. The shape is compact, with a sloping front end and grill/headlight combo that gives the car distinct personality.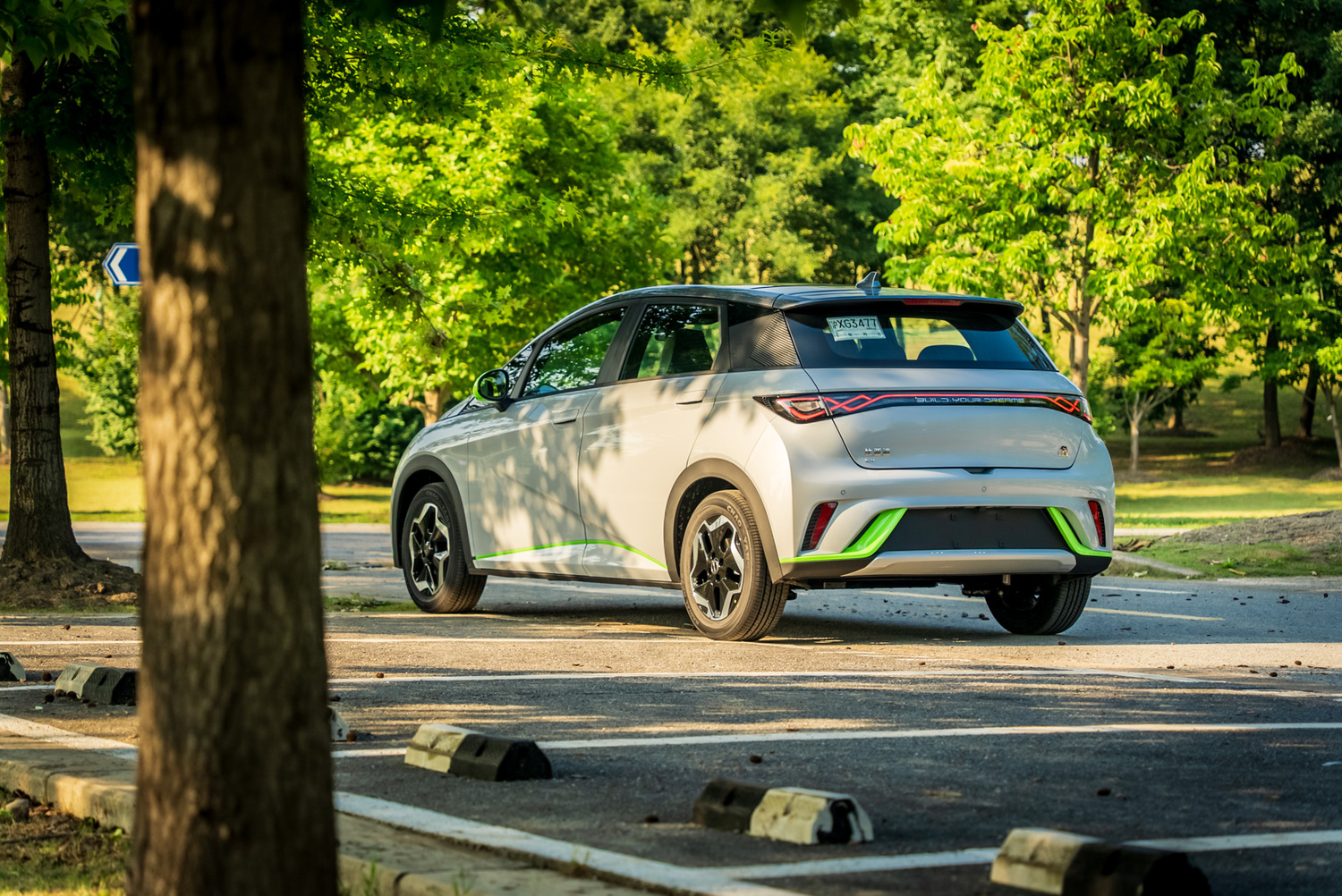 Despite a length of only 4.1m, the Dolphin manages to pack in a lot of style, including many different details and patterns throughout the exterior. Whether or not they all manage to work together is debatable, but you'd be hard-pressed to call it boring. One thing that isn't up for debate is the taillight design on the Dolphin. Inspired by traditional Chinese knots, it is intricate and very distinctive.
A Little Bit of Whimsy and a Touch of Practicality
True to its name, the Dolphin's interior is ocean-inspired, with door handles shaped like fins, a flowing, wave-shaped dashboard and even a fish scale pattern on the seats. Hope you liked the colored accents outside, because you get matching ones on the interior.
Of course, this expressive design will come as no surprise to anyone who's seen the Dolphin's sister vehicle, the Atto 3 electric SUV. But while the Atto 3 probably took things a bit too far, the Dolphin strikes a better balance between whimsy and practicality. There are plenty of funky touches on the interior, but BYD seems to have gotten the basics correct.
Things are laid out very simply, with a majority of the action taking place on the 12.8-inch touchscreen. There is, however, a nicely integrated row of wheel-shaped buttons below the screen that includes the gear selector, as well as buttons for adjusting things like the driving mode, regen settings, AC and volume. This whole design is very compact and space efficient, but the low positioning and similar feel of each button means it can hard to figure out what you're adjusting without taking your eyes off the road.

The rear passenger area of the Dolphin doesn't have quite the same charm as the front, with just a single cupholder and USB port to keep you company. Space is more than adequate, at least in terms of legroom. Headroom is a different story, and passengers over 1.80m tall will likely be a bit cramped. At 345 liters, boot space is adequate, and expands to 1310 liters with the rear seats folded down.
Warm Hatch Power, Commuter Car Handling
The Dolphin was the first model from BYD to utilize their new e-platform 3.0, featuring the company's LFP Blade battery tech. The entry-level model comes equipped with a 30.7kWh battery pack with a claimed NEDC range of 301km. Higher trim levels feature a 44.9kWh pack with 405km of range. All Dolphin models have a single, front-mounted motor, but there are two different power levels available. The lower output version makes due with 70 kW and 180 Nm of torque, around 95 hp and 135 pound-feet.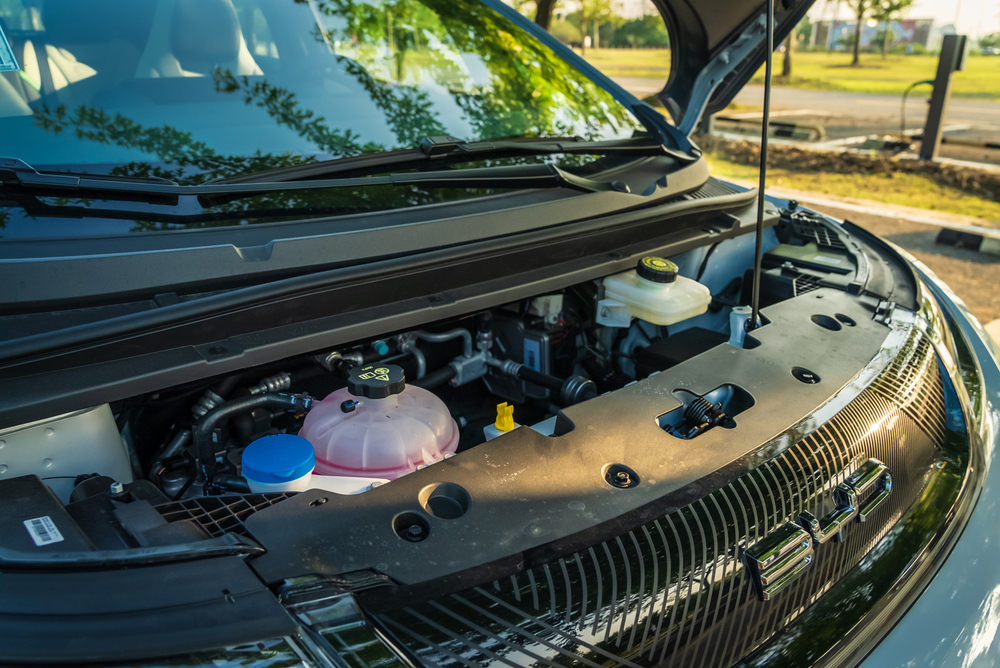 Our test car was a top trim model, which makes 130 kW and 290 Nm of torque (175 hp and 215 pound-feet). That extra power allows it to shave a full three seconds off the base car's 0-100 time, getting there in 7.5 seconds. Acceleration isn't exactly neck snapping, but it's more than enough to get the job done.
The driving dynamics of the Dolphin are…fine. BYD seems to consistently improve the driving experience of their vehicles with each generation, and theDolphin is definitely an improvement over something like a BYD E2. It's not, however, a hot hatch, even in its more powerful trim. It's very softly sprung, with pretty noticeable body roll. But if we're being honest, that makes it a more ideal commuter car for most people.
Takeaway
The BYD Dolphin's styling might not be for everyone, but it offers a compelling combination of range, practicality, and plain old funkiness for a low price. How well it will compete in other markets remains an open question, but here in China, it's a very strong option for those looking for an EV commuter.
Specifications
Motor: Rear-Mounted
Power: 70-130 kW, 180-290 Nm
Battery: 30.7 or 44.9 kWh
Range: 301-405 km NEDC
0-100 km/h: 7.5-10.5 seconds
Size: 4070*1770*1570mm
Wheelbase: 2700mm
CDM Price: 15,300-19,500 USD