What is it?
The L9 is a three-row, extended-range EV from Chinese startup Li Auto, and the founder of the company claims it is the best family SUV available for less than 5 million RMB, or 750,000 USD. That's a bold statement, made even bolder by the fact that the L9 costs around 70,000 USD. After poking around this static display model, we think he might have a point.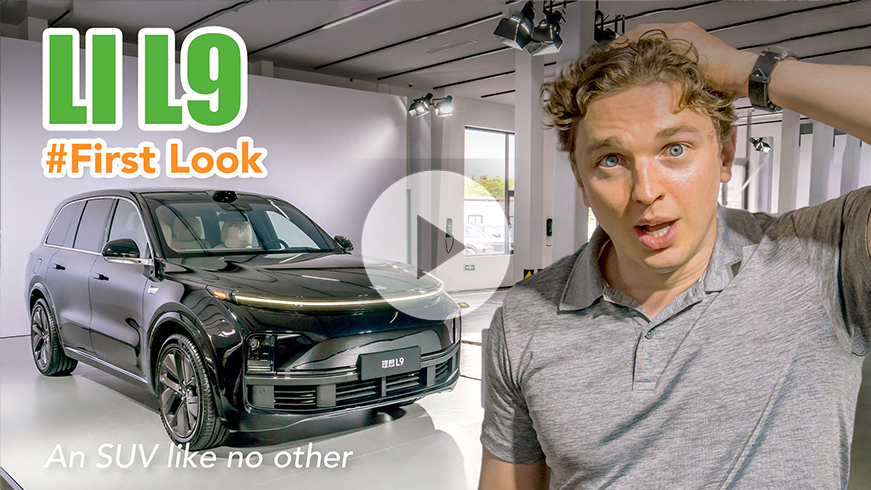 Li has not achieved the same level of global recognition as other US-listed Chinese startups like NIO or XPeng, in part because they still haven't begun selling cars abroad and probably because they sell extended-range EVs instead of pure electrics. Still, their first model, the Li One, was a major sales success here in China, and we gave it a positive review when we drove it.
As you read this first look review, keep in mind that the Li L9, like the Li One before it, has only one trim level. That means everything we talk about, inside and out, is a standard feature.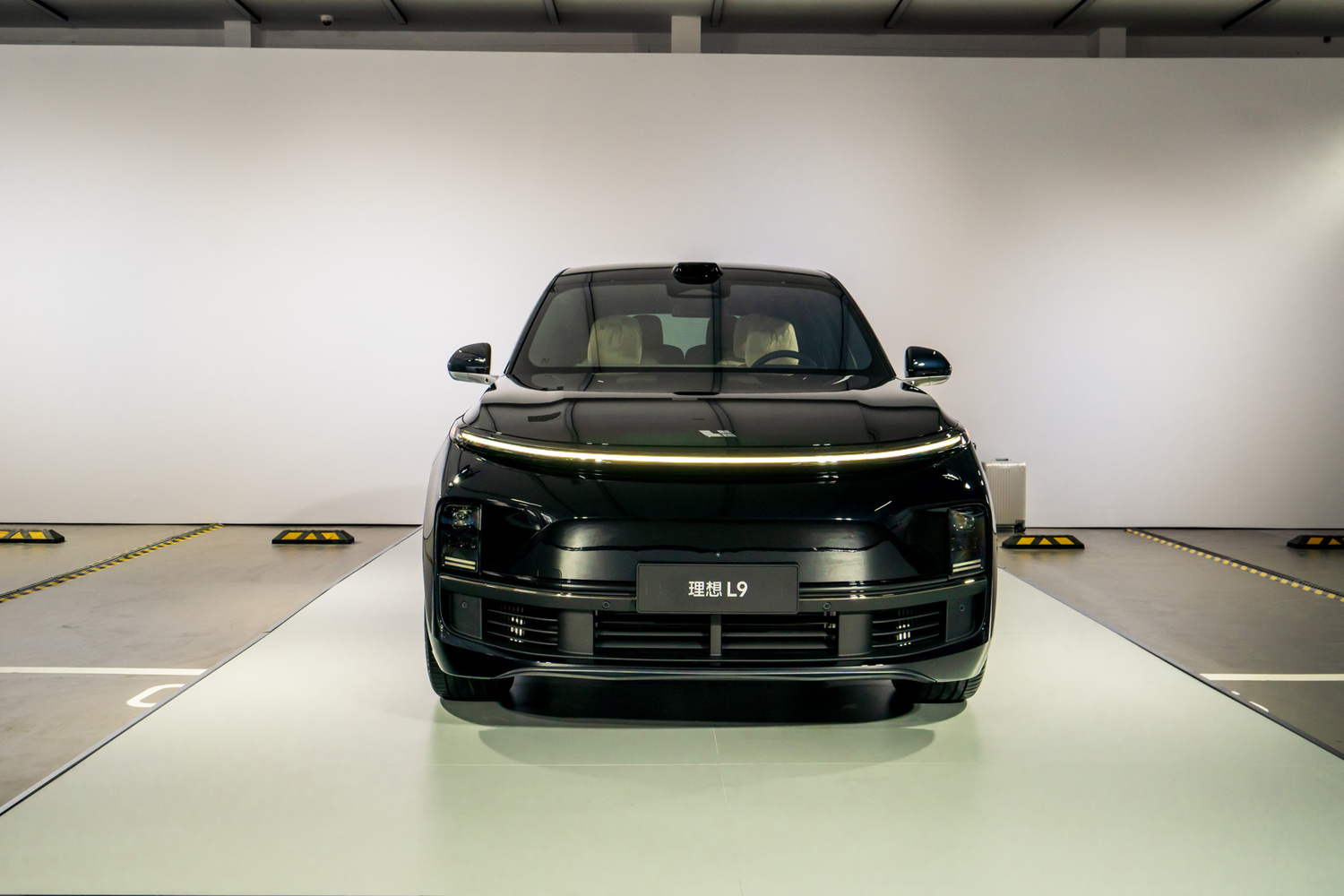 Smooth and Simple
LED light bars are nothing new in automotive design, but the L9's in unlike any we've seen before, because it is a single, unbroken piece stretching over 2m in length. Closer observation also reveals that it is convex in shape, rather than flush with the body surface. This causes it to "float" over the front bumper.
The amber-colored light at the end of the light bar doesn't indicate that this car will be sold in the US (sorry US readers), but it does have an interesting use. When you activate the vehicles self-parking function, the light changes from amber to a blue-green color, indicating to other drivers and pedestrians that the car is in control. This is also true of the small light below the headlight, as well as one integrated into the rear taillight.
Apparently, the Chinese government is considering making these indicator lights a requirement for all cars with ADAS and other semi-autonomous systems, so while the lights currently only change when you are using the self-parking function, Li says that they

can make software updates in response to new policies.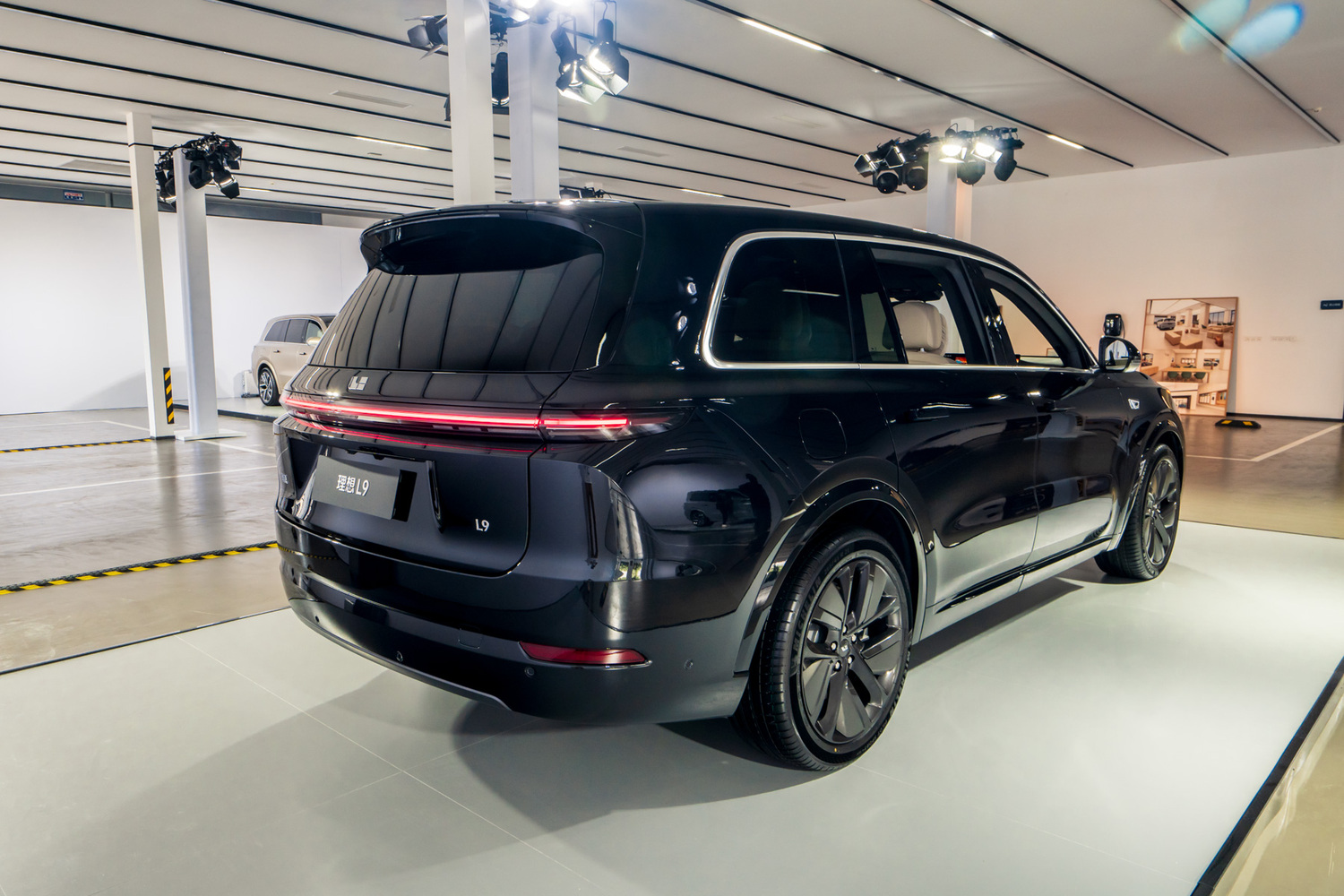 The L9's ADAS system is called AD-MAX, and can operate purely using the 11 HD cameras that are spread around the car. There is also a LiDAR system above the windshield, but Li says that will only be used as a backup for when the cameras cannot function optimally, such as in heavy rain, heavy snow or harsh sunlight conditions.
The side profile of the L9 is very traditional, with smooth surfacing and a very straight and upright greenhouse. There's none of the sloping roofline you see on some SUVs. The rear design is equally simple, with a single LED strip for a taillight.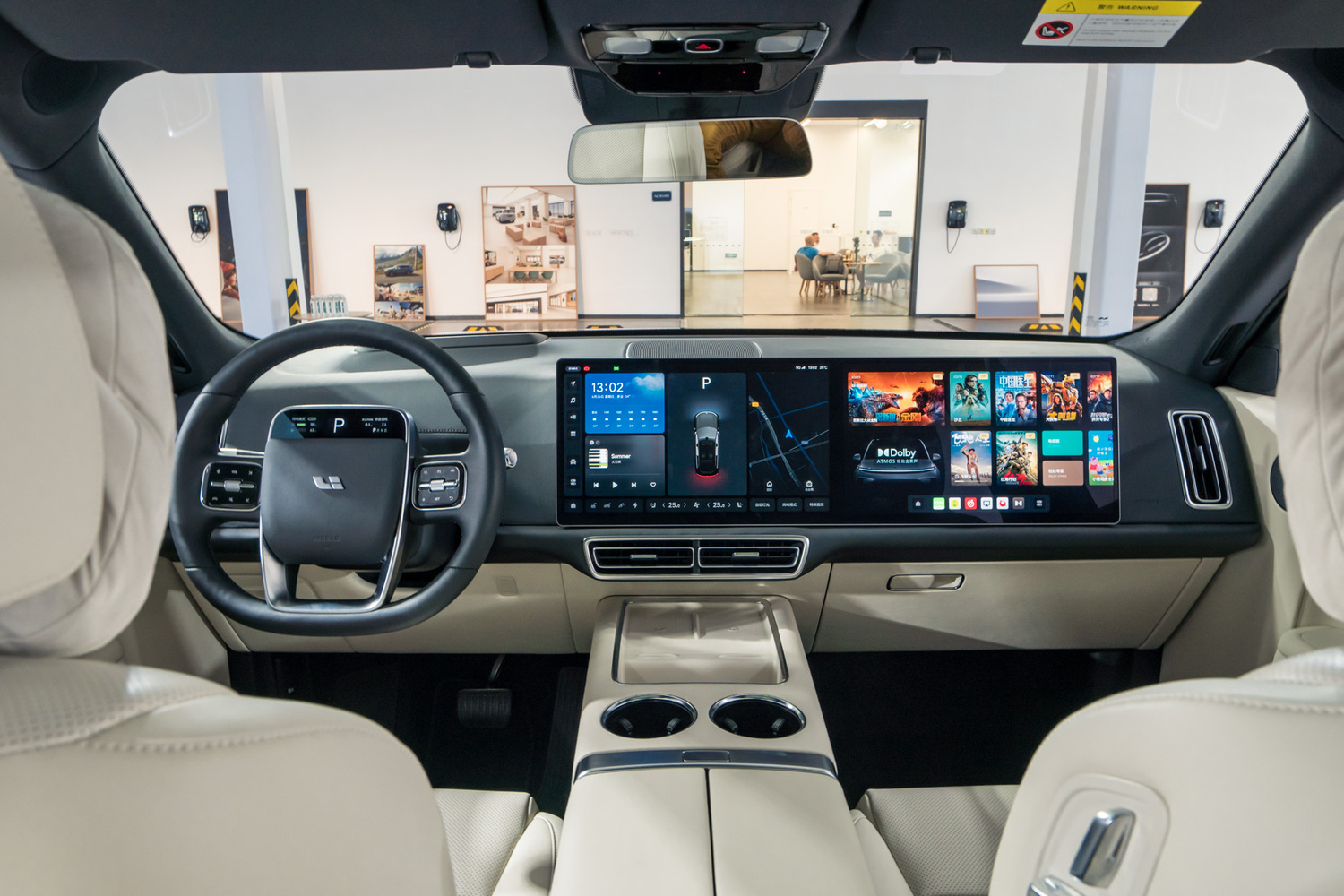 Where do we even begin?
The front row of the L9 is all about duals, including dual 15.7-inch OLED 3K screens, which Li says are the thinnest available in a car today at just 4mm thick. They also have very fast refresh rates thanks to dual Qualcom Snapdragon 8155 processors. You also have dual 5G SIM cards from two different telecom providers, which should increase your chances of having a strong signal wherever you go. Underneath the dual screens are dual wireless charging pads.
In lieu of a traditional instrument cluster, Li has chosen to divide the driver's info between a heads-up display and a small touch screen attached to the top of the steering wheel. The HUD provides the driver with more dynamic information, including current speed and speed limit, ADAS settings, and navigation prompts. The lower screen also has current speed, as well as passive info like your current electric and petrol range and driving mode.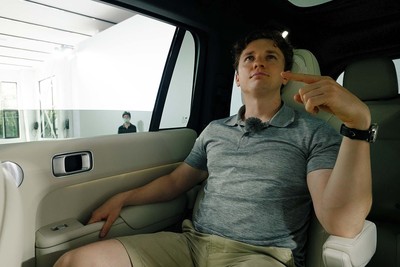 Voice and gesture controls are nothing new, but we've never seen them combined in the way that Li does it. You can point at a window or sunroof (there are two) and simply say "open this" or "close this". Li says this was designed to be easier for children and the elderly to operate, because it doesn't require the use of complex voice commands. The microphones can be disabled for each individual seating position, in case you're worried about your child opening the rear windows while you're driving down the highway.

While parents usually ride in the front seats in western countries, here in China, the mother will typically ride in the second row, where they can attend to the child. For this reason, the second-row passenger-side seat on the L9 was given extra features, including a fold-down table and electronically adjustable leg rest. All first and second row seats in the L9 come with heating, cooling, and massage functions, while third row seats have heating only.
On the back of the center console, you will find a storage compartment that can store up to ten soda cans or one wine bottle. It's also fridge that can keep food and drinks between 0 and 7 degrees Celsius. Not only that, it can be used as a heater that keeps food or drinks at 35 to 50 degrees. Even if the car is locked and off, the heating or cooling function will continue to work for 24 hours.
Rear occupants can combine voice and gesture controls just like those in the front seats, but they can also use gesture controls to operate the rear entertainment screen. That starts by opening it with a flick of the wrist. Then, you can use your hand much like a mouse to scroll, select content, pause, fast forward, and more. Of course, you can also use it as a touch screen as well.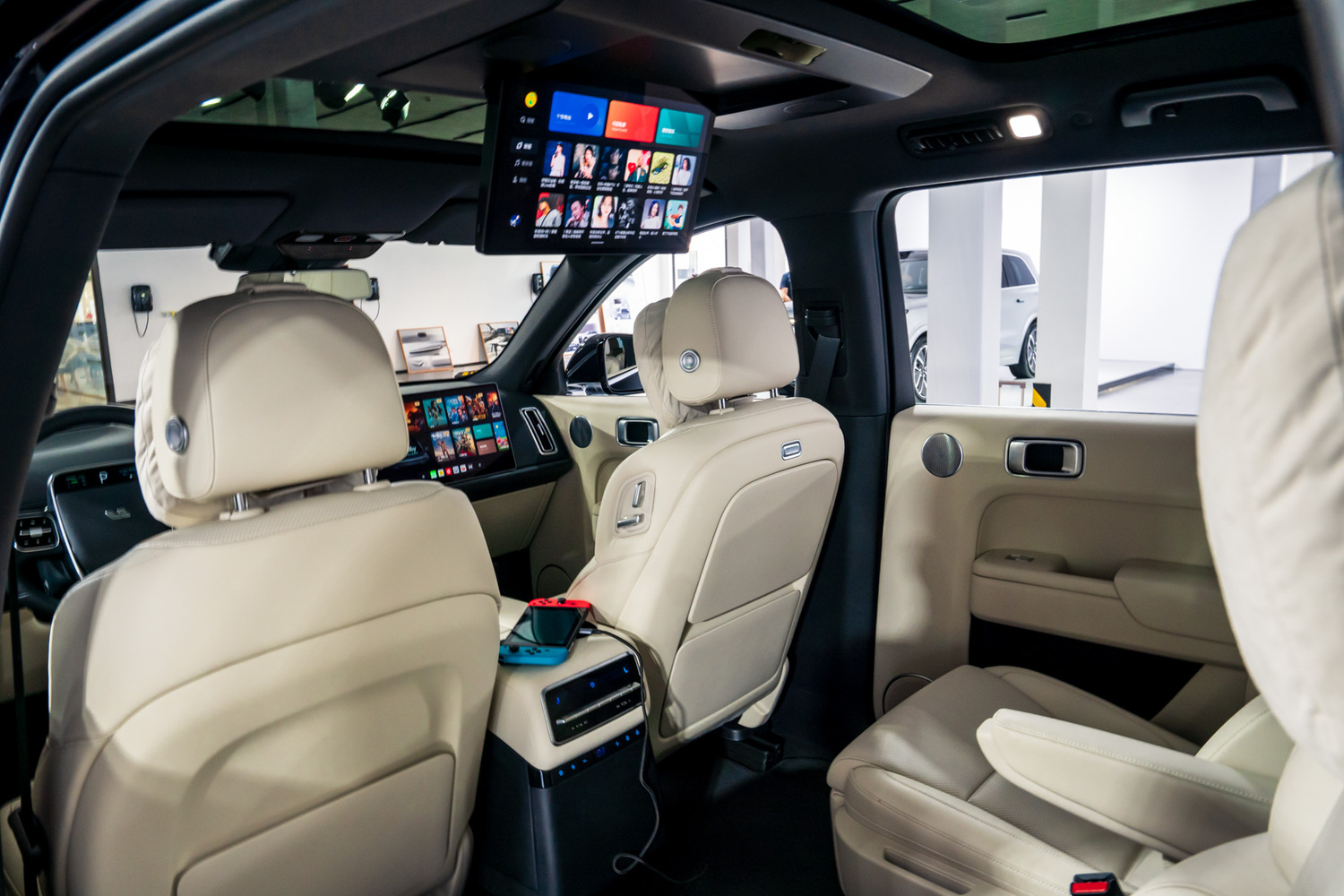 Once you select your movie, you can enjoy it using the 21-speaker, 2160w sound system Dolby 7.3.4 surround sound. Not only that, but the seats vibrate along with the movie, like in one of those 5D theaters. Sadly, Li didn't see fit to include one of little nozzles that sprays mist at your face, but hopefully they'll include that in their next model.
More Power and Range than the Li One
While we can't speak to how the L9 drives quite yet, we do know that it has a 1.5L 4-cylinder range-extender that charges a 44.5 kWh battery pack. That pack feeds front and rear-mounted motors that make a combined 330 kW and 620 Nm of torque, that's 449 hp and 459 pound-feet. Pure electric range is 180 km on the WLTC cycle.
Takeaway
Li will begin deliveries of the L9 in August of this year, and you better believe that we will be borrowing one for a full review, because there is still so much that we haven't talked about when it comes to this car. Is it really the best family SUV available for less than 750,000 USD? We won't know for sure until we spend time with all this new technology, and most importantly, before we take it for a spin, but it's certainly left a good first impression.