What is it?
The Renault K-ZE is a fully electric A-segment car from that takes aim at the entry-level electric car market in China, but Renault has announced plans to export the K-ZE to Europe within the next few years. With a price starting around 9,000 USD here in China, this is one of the cheapest ways to get an electric car.
In essence, the K-ZE is a Renault Kwid with an electric powertrain. For those you who are unfamiliar with the Kwid, it is Renault's very popular small car that it sells in markets like India and Brazil. Renault has decided to bring the K-ZE to the Chinese market, where electric cars continue to be a popular option for consumers.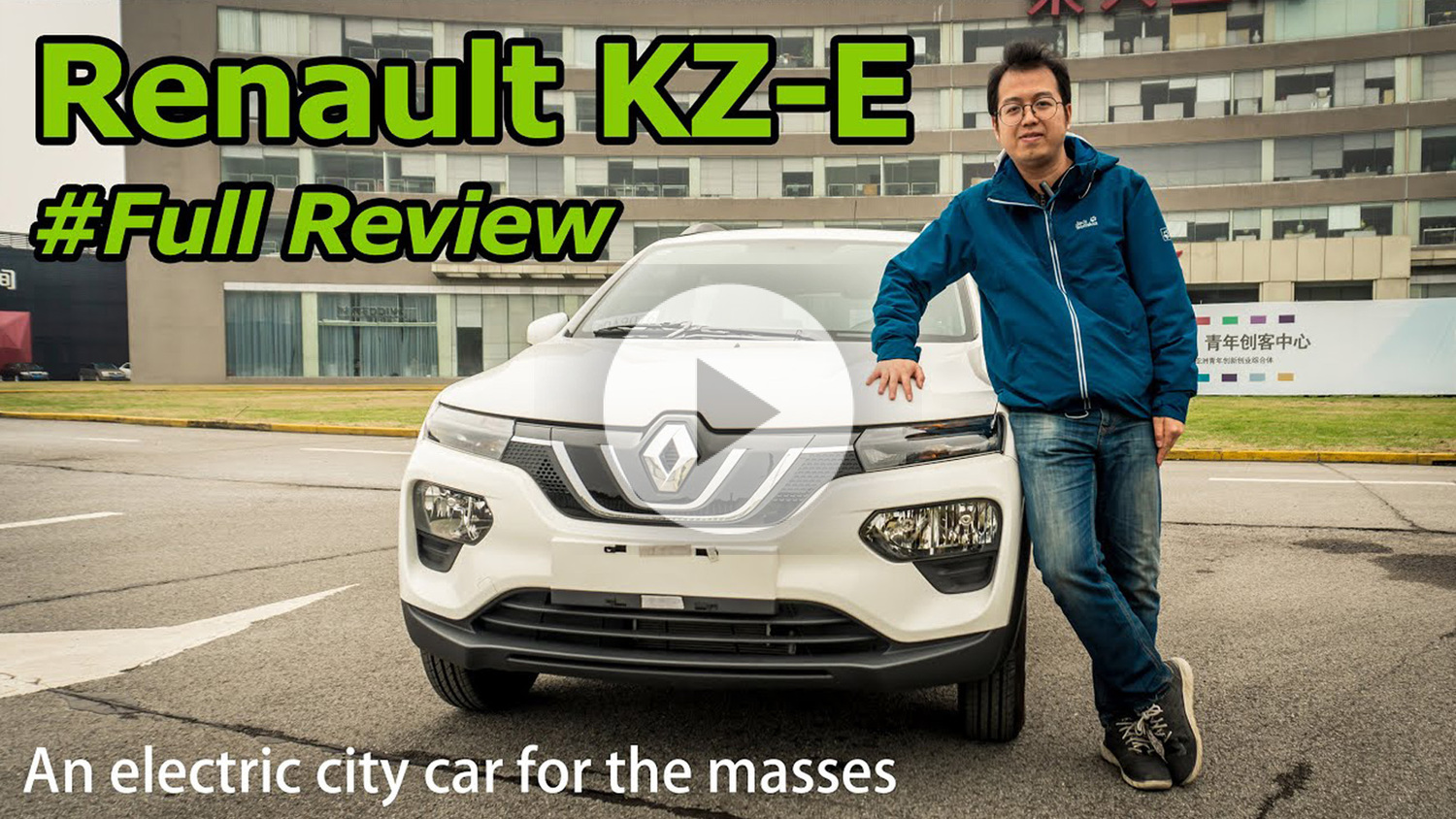 SUV styling cues, A-segment size

Up front, the exterior styling of the K-ZE is an evolution of the Renault design language that we've been seeing for years. Our biggest takeaway is that it manages to do something that is very difficult, and that is make a very cheap car look much more premium. The highly stylized headlights and grill, as well as the large fog lamps down below, give this car more presence than you might expect.
It's hard to get an idea of just how small the K-ZE is till you're standing right next to it. This thing competes in the A-segment or city car segment, so it's comparable in size to something like a Volkswagen Up!. It's even smaller than a Renault Zoe.
Unlike other A-segment cars, however, the K-ZE has cleverly adopted some of the classic design elements of the SUV, particularly in the very upright front end. On the side, there are even more SUV styling cues, including large fender flares and black plastic cladding along the lower body. In terms of proportions, however, this thing screams, "I am a hatchback!"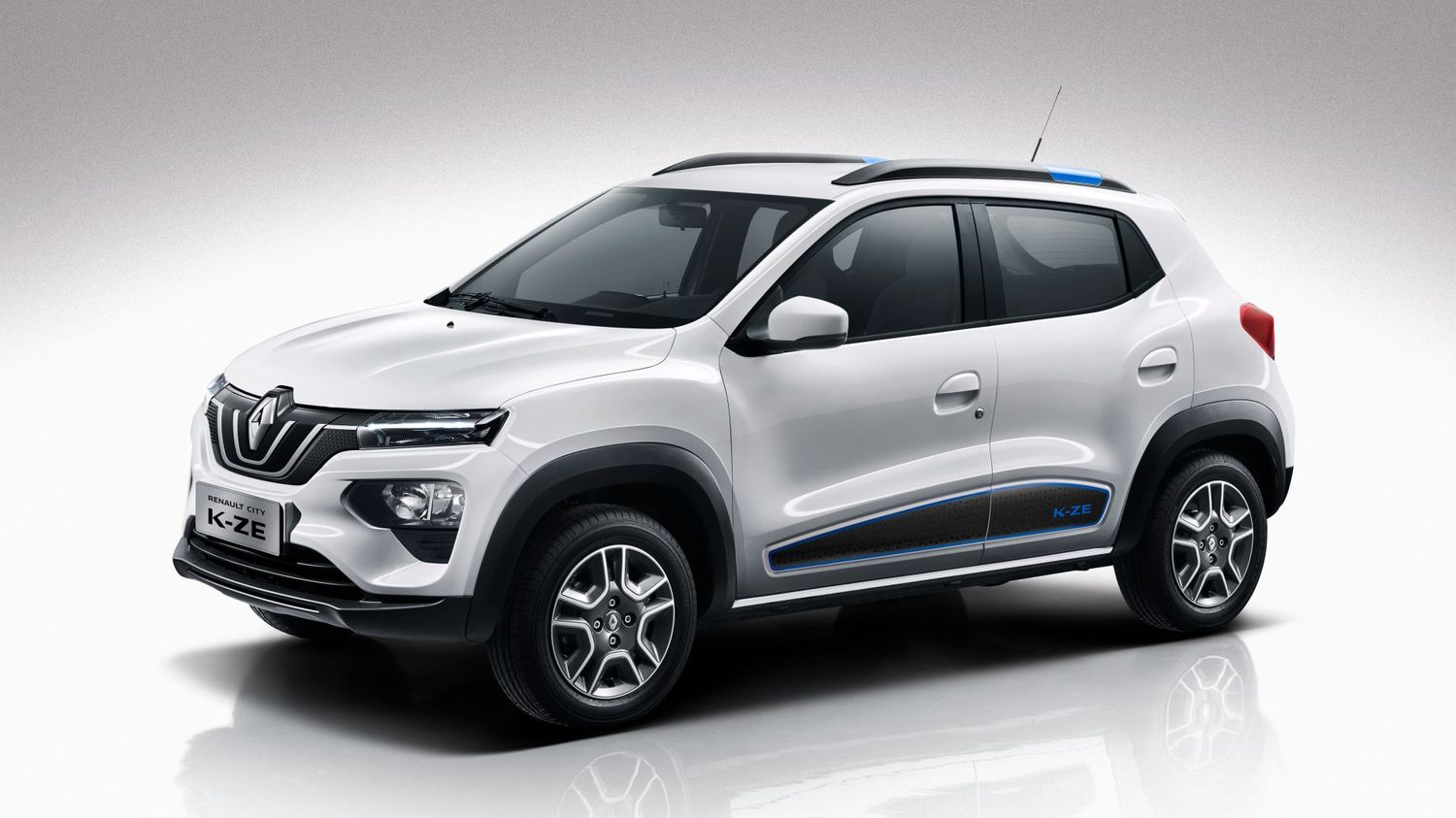 Simple and well built
Thanks to their experience with the successful Dacia brand, Renault is no stranger to producing solidly built cars at a surprisingly low price. That shows on the interior of the K-ZE, where the fit and finish are quite good. You are surrounded by hard plastic, there is no doubt about that, but it still feels well put together. Probably the most surprising thing about the interior of this car is the unexpectedly large infotainment screen.
Other than that, there isn't much else to look at inside the K-ZE. You have some simple controls for windows, door locks and HVAC, and between the seats, you'll find a knob for the transmission. No sport mode or paddle shifters here, folks, just Drive, Neutral, and Reverse.
In terms of space and practicality, there is a large cubby below the center console, featuring the ever-important USB port. We would have preferred an armrest and storage area between the seats, but that's not going to happen in a car this small. Interior space here is certainly at a premium, and while there is plenty of headroom, things can get a little too cozy if you've got two large adults in the front seats.
The rear passenger area is just as cramped, if not even more so. Even with the driver's seat adjusted well forward, the back-seat passenger will still have to cram their feet under the front seat just to be able to stretch out a bit.
Opening up the hatch reveals a 300L rear cargo area, a very considerable amount of storage space for such a small car. The rear seats can be laid down for extra storage space, but they won't lay completely flat.
Quick on its feet
The Renault K-ZE comes equipped with a 26.8kWh battery attached to a single-speed transmission. The electric motor that drives the front wheels is good for 44bhp and 120 nm of torque, and while that isn't much, the K-ZE weighs a somewhat astonishing 921kg, allowing it to hit 60kmh in less than 7 seconds, and on to a top speed of 105kmh. A major issue when it comes to exporting this thing to Europe is the distinct lack of safety equipment, with no side airbags or ESP available in this Chinese example.
Estimated range is 271km, but Renault claims that if you stay below 60kmh, you can stretch that to about 350km. Considering the kind of traffic this thing will see in major Chinese cities, we think it's safe to say that it won't be seeing speeds over 60kmh very often anyway. In order to keep the weight and the price low, Renault decided to forgo any kind of regenerative braking system. They also say that on a fast charge, it will take about 50 minutes to go from a dead-flat battery to 80%. Slow charge will take closer to 4 hours.
The instant torque of the electric motor perfectly matches the light weight and small foot print of the K-ZE. It's immensely satisfying to pin the accelerator pedal and squirt into small gaps in traffic. The light weight and small size also do wonders for this car's handling. There is certainly plenty of body roll to be found when you really throw it into a corner, but it changes direction very willingly, even on incredibly skinny 165 width tires that would look more at home on motorcycle.
The K-ZE really excels between zero and 60 km/h, where you can just ride the initial wave of torque. Anything over 60kmh, and this baby starts to run out of breath. That isn't a problem in the morning traffic of downtown Shanghai, but we found ourselves wishing for a little bit more oomph when out in the less populated suburbs.
Takeaway
So, is the Renault K-ZE ready for the European market? The answer is, not quite yet. While we do think this is a compelling package, with its SUV-inspired design, solid built quality inside and out and decent electric performance, Renault will need to make some major upgrades before sending this thing overseas. First and foremost, it will need to make sure the safety equipment is up to snuff. That means the addition of side airbags and ESP. If it manages to address those things while keeping the price low, they will have a genuine competitor in the burgeoning small electric car market.‍‍‍‍‍‍‍‍‍‍‍‍