What is it?
If there's anything the Chinese EV market is good at, it's taking features once thought to be out of reach and making them attainable. Case in point, the Hyper GT, an electric sedan with scissor doors that costs less than 35,000 USD. But before we discuss the GT, let me acknowledge that this probably isn't the Hyper model that you were hoping I'd review. That would be the wild Hyper SSR electric super car, which goes from 0-100 km/h faster than I can say, "0-100 km/h." I'm still patiently waiting for an invitation to drive one...
While the Hyper SSR is the halo model, this Hyper GT, which costs 30-46,000 USD, is the one that your average Joe might actually be able to afford. But worry not, because the GT is a fascinating electric car in its own right.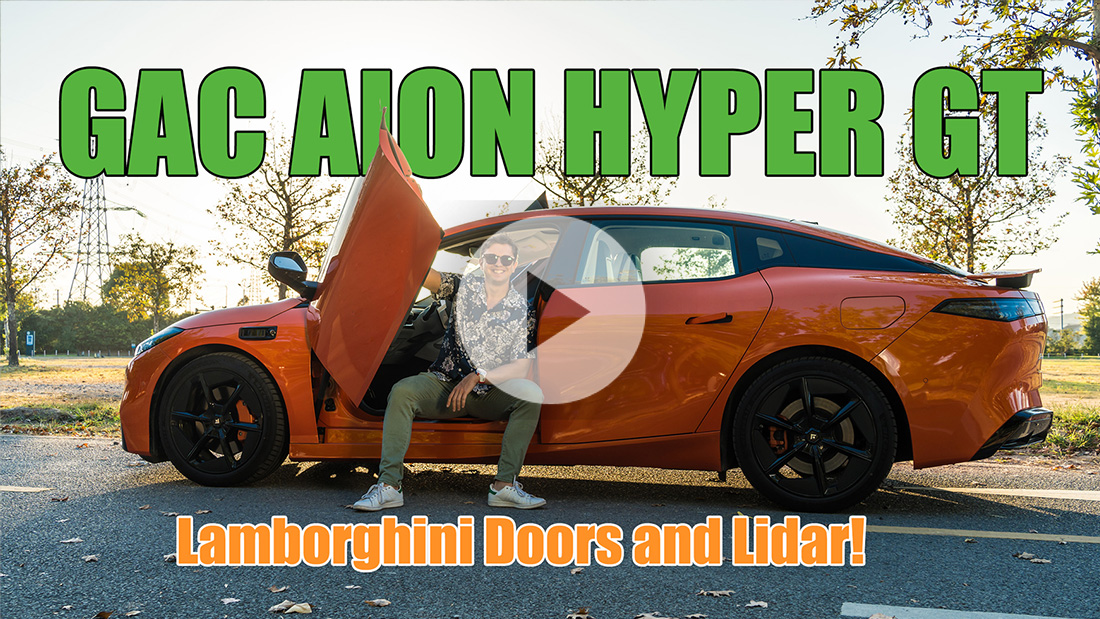 Slippery doesn't mean handsome
The Hyper GT's crowning achievement is a claimed drag coefficient of just 0.197, making it the world's most aerodynamic production vehicle. Thing is, great aerodynamics don't necessarily translate to great looks, just ask the Mercedes EQS. The GT might be smoother than a baby's bottom, but that doesn't leave much room for character. The headlight design, for example, is very generic, and would fit on any number of EV sedans.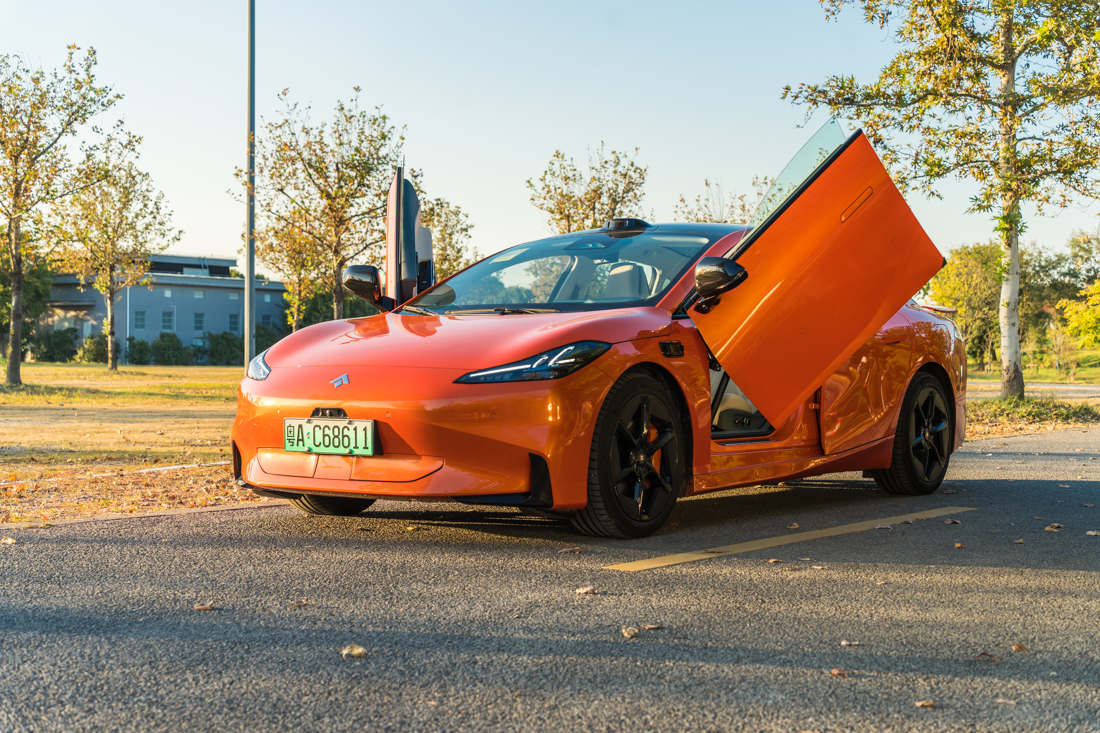 Thankfully, things start to heat up once you come around to the side of the GT, where a flowing flank rises up to meet a steeply raked roofline. The rear end deserves its own accolades, particularly the rear taillight design, which looks properly sci-fi. The problem is, none of this would seem to justify a name as dramatic as Hyper GT. I think the folks over at Hyper recognized that fact, which is why they started throwing curve balls.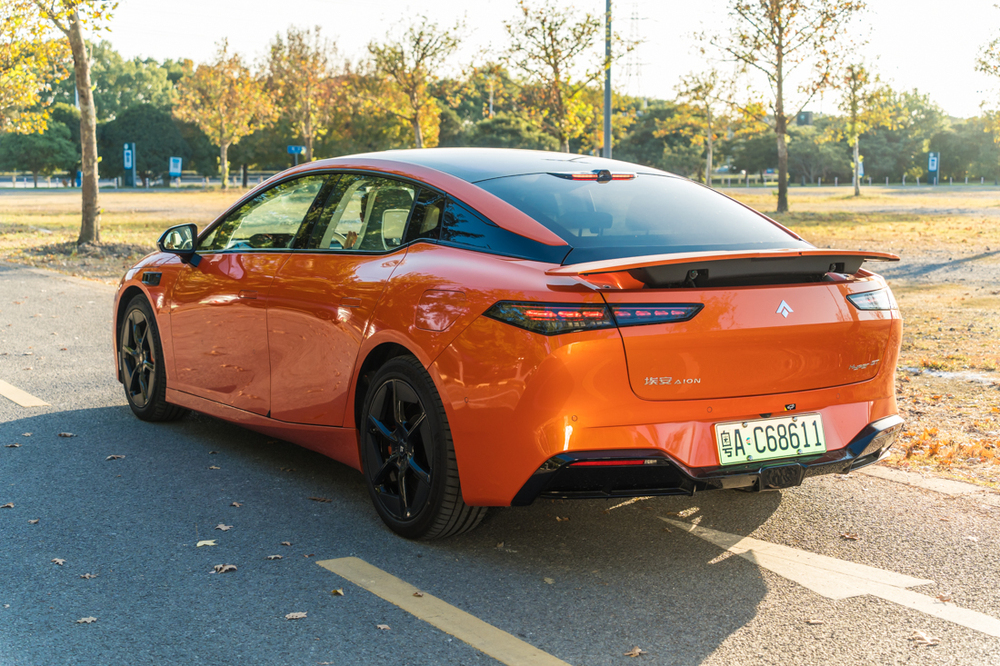 That starts with the electronically deploying, multipart rear spoiler much like the one on the Porsche Panamera. It costs an extra 1,600 USD to option. But when it comes to turning heads, that spoiler pales in comparison to the electronically operated scissor doors. Optioning those costs a little under 3,000 USD, and they do a great deal to make up for the deficit of drama. In combination with the traditional rear doors, it also basically gives this sedan a reverse mullet. Instead of business in the front, party in the back, it's party in the front, business in the back.
Here's some useless information that I found interesting. If you look closely at the corner of the front door, you'll see a small rubber cap. That was necessitated by Chinese regulations, which state that you can't have sharp corners above a certain height. Hyper could have design a whole front door specifically for the scissor door models, complete with softer radius corner, or they could install a rubber cap so the door doesn't slice you like a stick of butter if you run into it. Both would work, but one costs millions of dollars and one costs about 2 cents.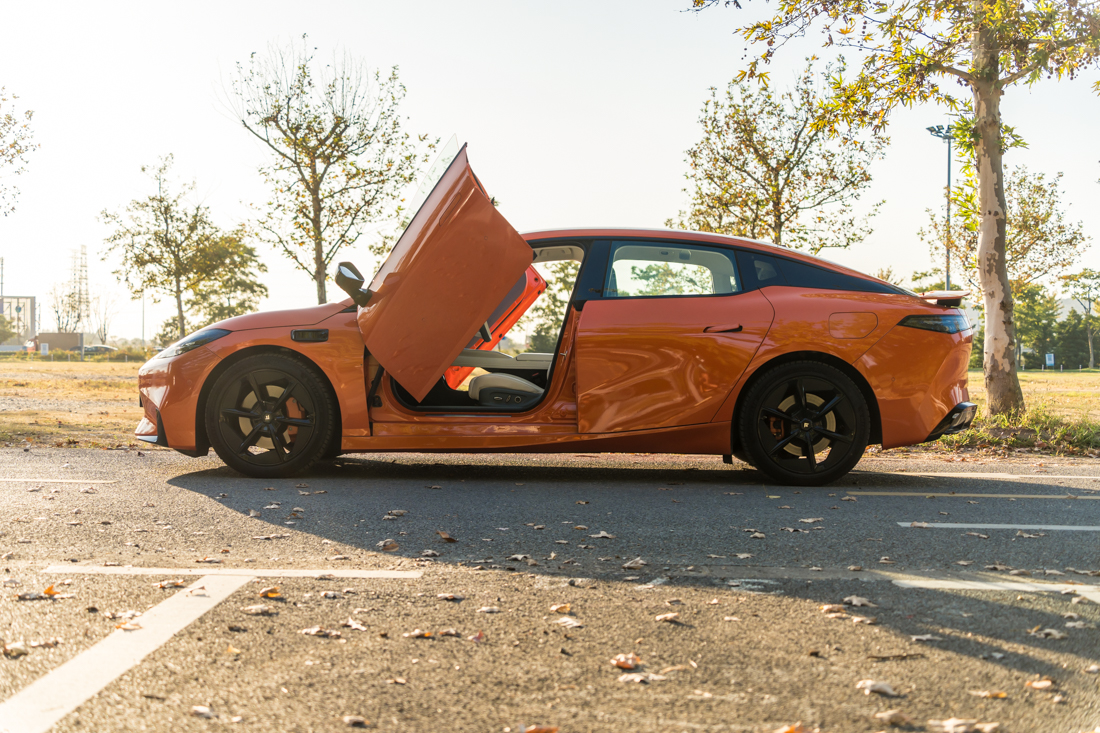 Spaceship ergonomics
The combination of a steering wheel shaped like a lunch tray and an instrument cluster that seems to be mounted multiple meters away from you makes the interior of the Hyper GT feel very "space shippie," but neither of these things make for a particularly ergonomic experience. The ovular steering wheel, while nowhere near as stupid as a yoke, still feels less convenient to use than a round wheel.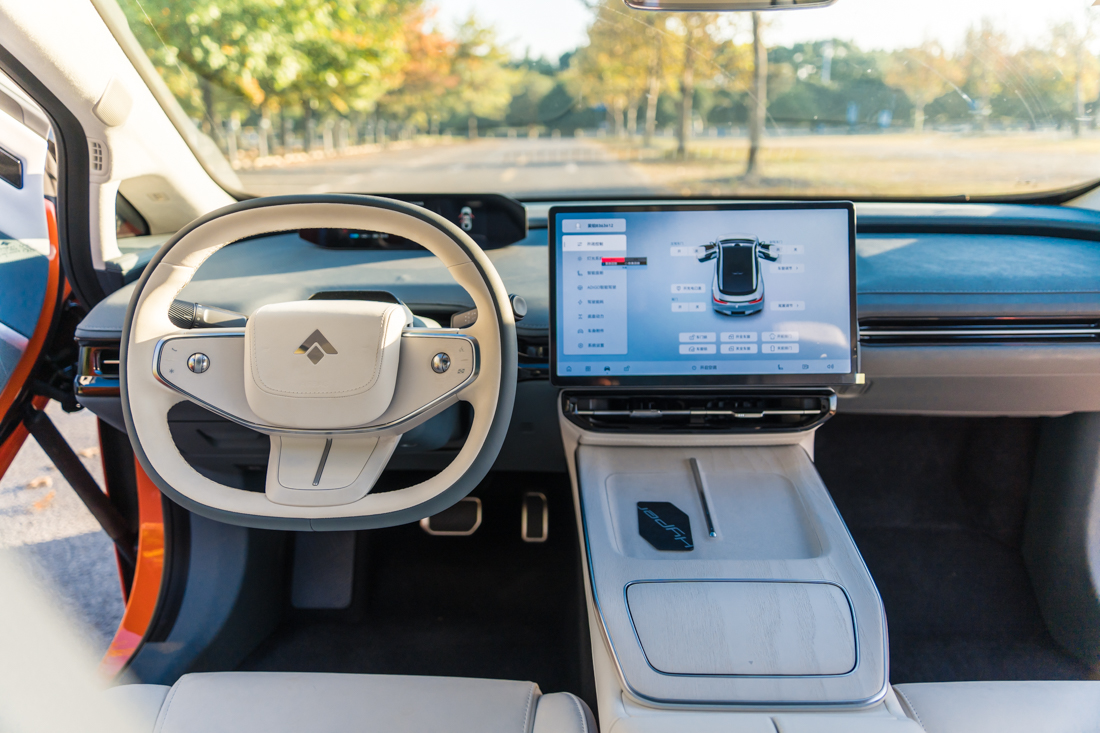 The issue with the instrument cluster should be obvious. At 8.8-inches, it's too small and too far away. Vital info like your speed and gear are displayed clearly, but information like your tire pressures, range, or even the song current track you're listening to are hard to parse at a glance. Being able to absorb information at a glance so you can spend more time focused on the road ahead is the very definition of a good instrument cluster, so this design gets only a passing grade.
The Hyper GT does earn a better score when it comes to the UI and UX on its 14.6-inch center screen, which is both functional and visually appealing. Not only can you download a large variety of apps, you can also but the layout of the main screen means you can easily access a great many functions without having to dive into sub menus.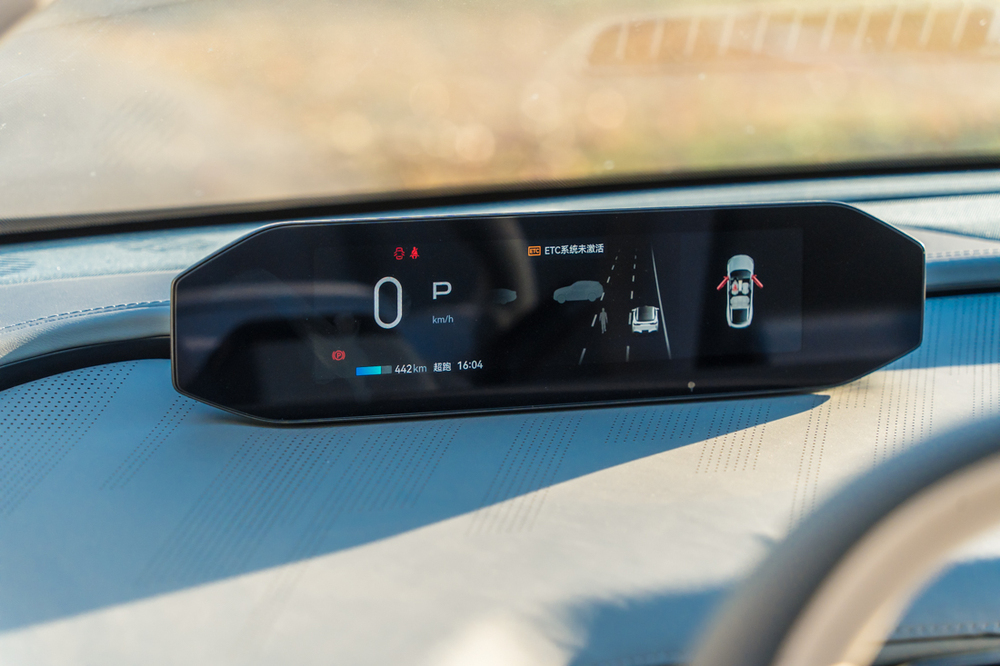 There are a couple of funny things about it though. For example, there's a menu that's supposed to correspond to the suspension and power, but when you open, you'll find buttons for the autohold, the emergency brake, and the comfort braking systems. Not exactly sure what any of those have to do with suspension and power.
My biggest compliment, however, must go the sound system, which has 23-speakers and Dolby Atmos surround sound as standard. Even the cheapest Hyper GT also gets heated front row seats, but every trim level above that adds a cooled front row and massaging driver seat.
Material quality, including the optional 1,000 USD leather seats, is on-par with the likes of the XPeng P7i or Tesla Model 3. Nice, but not fancy. The rear seats are among the most comfortable I've experienced in this segment, though I wish there was more than one USB port back there. Hyper has declined to issue any specific info about trunk of the GT, but based on its length and depth, I'd say it's more than a match for its competition.
Is one motor enough?
While most EV sedans in this entry-level premium segment offer single and dual motor models, the Hyper GT is rear-wheel drive only. It does have two different power levels, either 180 kW and 355 Nm of torque (240 hp/262 lb-ft) or 250 kW and 430 Nm of torque (335 hp/318 lb-ft). That's enough to make it the quickest RWD vehicle in this segment, with a 0-100 km/h time of just 4.9 seconds.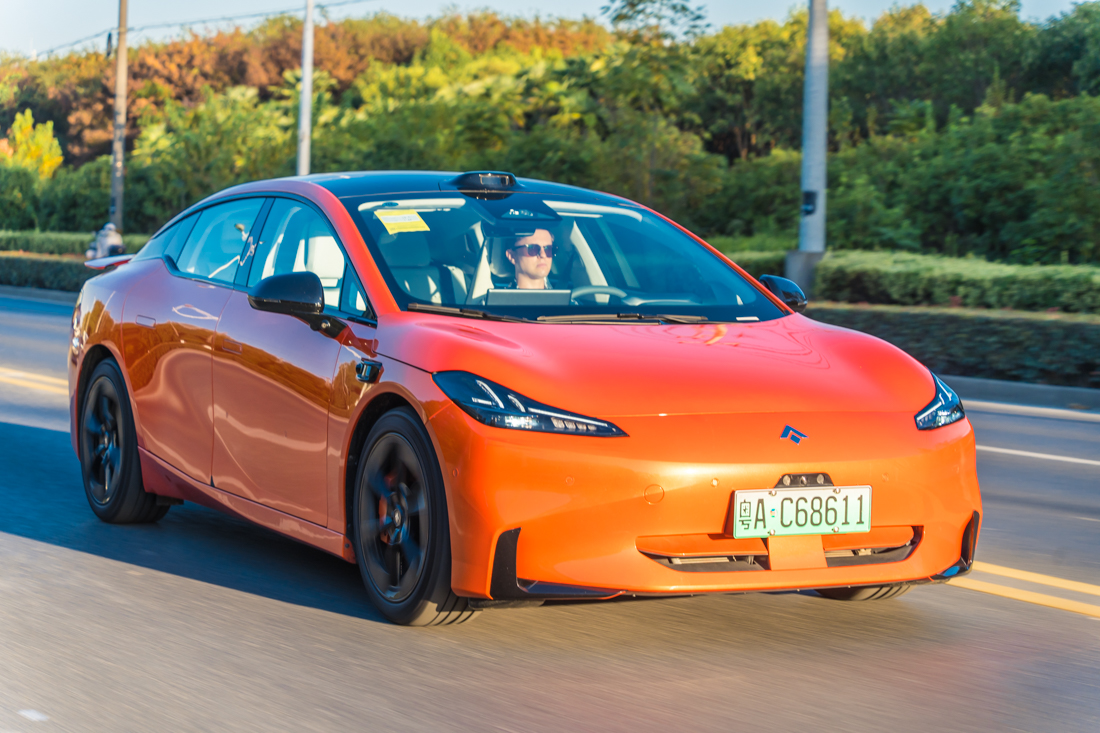 With less weight over the front wheels, the GT feels more precise and maneuverable than most of the dual motor EVs that I've driven. The steering doesn't have as much feedback as a BYD Seal or Model 3, but it's at least a match for the XPeng P7i, which I did not expect. The GT stays flat in the corners and composed over bumps, but when you really hit the accelerator, it's more than happy to wag the tail in a way that's much livelier than other rear-motor EV sedans that I've driven.
There are some other advantages to this RWD platform and slippery design, particularly when it comes to range. The GT can be had with a 60, 70, or 80-kWh battery pack, with ranges from 560 to 710 km on the CLTC cycle. To get close to that 710 km range on a BYD Seal, you'd have to buy the rear motor long range version, which is a full second slower to 100 km/h.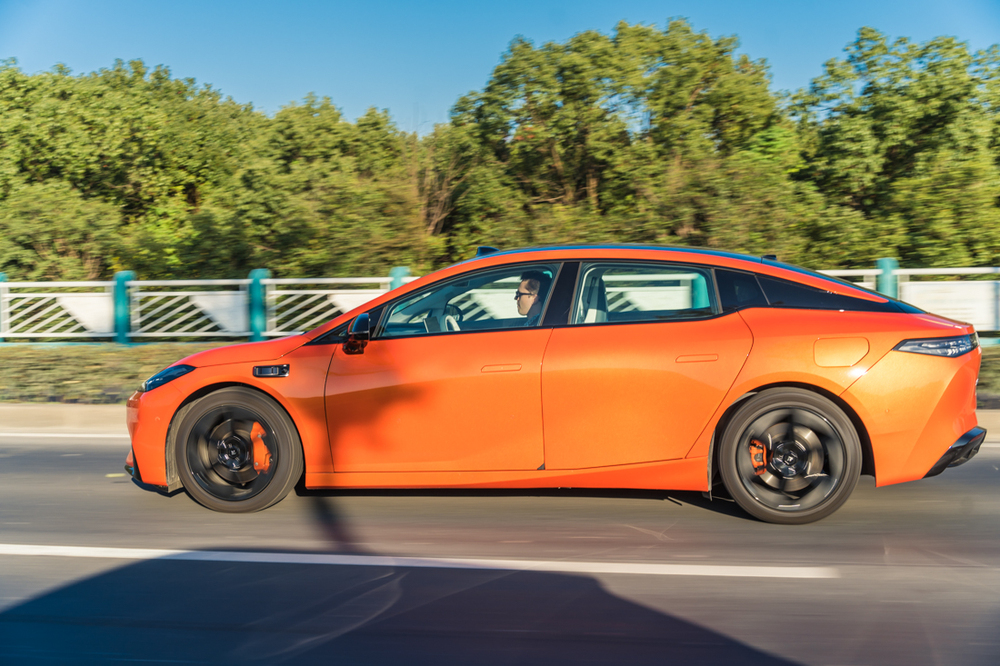 I'm afraid that a lack of a dual motor model does start to make me question it as a value proposition, however. Not because I think that 4.9 seconds isn't fast enough, but because once you start ticking options boxes for things like the wing, the scissor doors, and the real leather seats, the price can get even higher than the dual motor versions of competitors. I think many customers will feel like they are getting less for their money.
If you get a top trim level car like we tested, which adds a lidar-based driver assistance system, the price jumps even more. Granted, the only other EV sedan with scissor doors and lidar is the XPeng P7i Wing Edition, which costs exact same amount. It also has a more powerful dual motor powertrain, and an even more advanced driver assistance system from a company that's actually known for its driver assistance. As a new brand, Hyper isn't known for anything, including driver assistance.
Takeaway
If what matters to you most is impressing everyone when you roll up to the party and open your doors, then buy a Hyper GT. Just make sure to save your money and skip the lidar.
Specifications
Hyper GT 710 Max
Motor: Rear-mounted
Power: 250 kW, 430 Nm (335 hp/318 lb-ft)
Battery: 80-kWh
Range: 710 km CLTC
0-100 km/h: 4.9 seconds
Size: 4886*1885*1449
Wheelbase: 2920 mm
CDM Price (as tested): 46,000 USD
More Pics