What is it?
Another day, another new Chinese EV brand. Qiyuan is the brainchild of Chinese automaker Changan, and the Qiyuan A07, priced at 21-24,000 USD, is their first model. With so many Chinese EV brands already out there, including Changan's own Avatr and Deepal brands, what could possibly justify the existence of yet another EV brand? We borrowed an A07 to find out.
Straight down the middle
It feels like the mission given to the designers of the A07 was, "Try to make something that won't offend anyone." I've spent a long time looking at this car, both in pictures and in person, and I honestly can't find anything that feels distinctive about it. If this design dropped 4-5 years ago, it would have been a revolution, but in today's Chinese EV market, it struggles to stand out from the one million other electric sedans that are roaming the streets.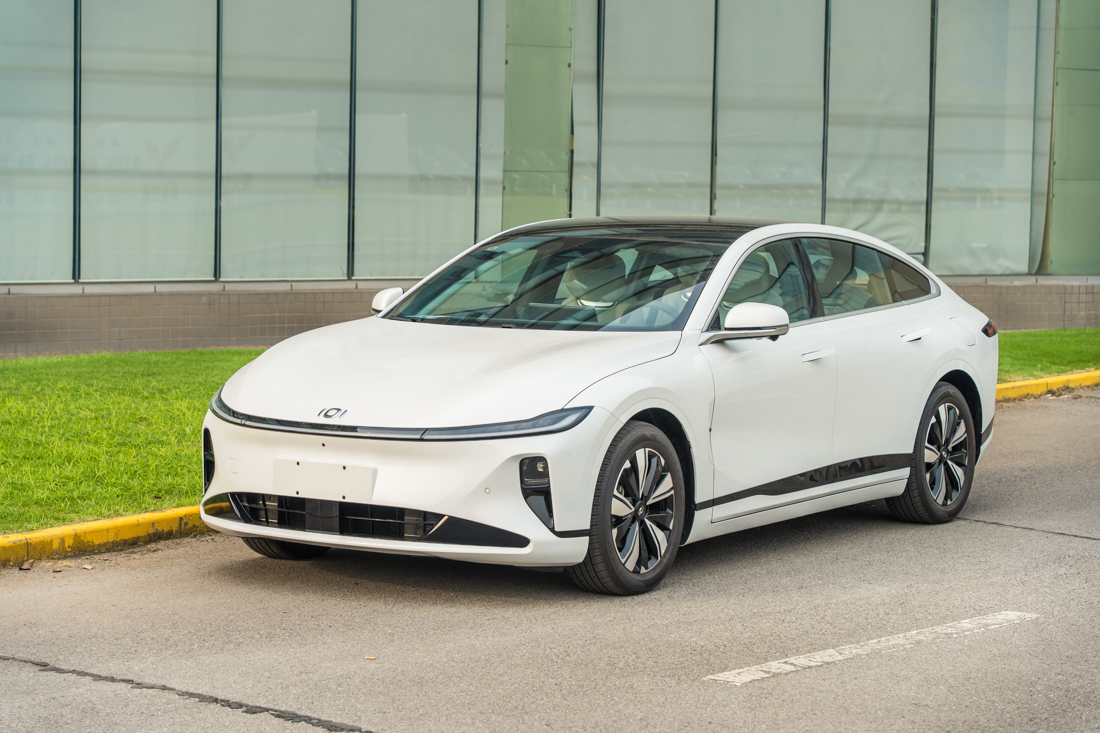 This isn't a problem limited to the A07, not by a long shot. The recent wave of the Chinese electric sedans all suffer from this malady. No one can seem to get away from the LED light bar look pioneered by the XPeng P7, so we end up with a whole slew of similar designs. I cannot deny that the A07 is a handsome sedan, with very attractive proportions, but I can't help but yearn for something new.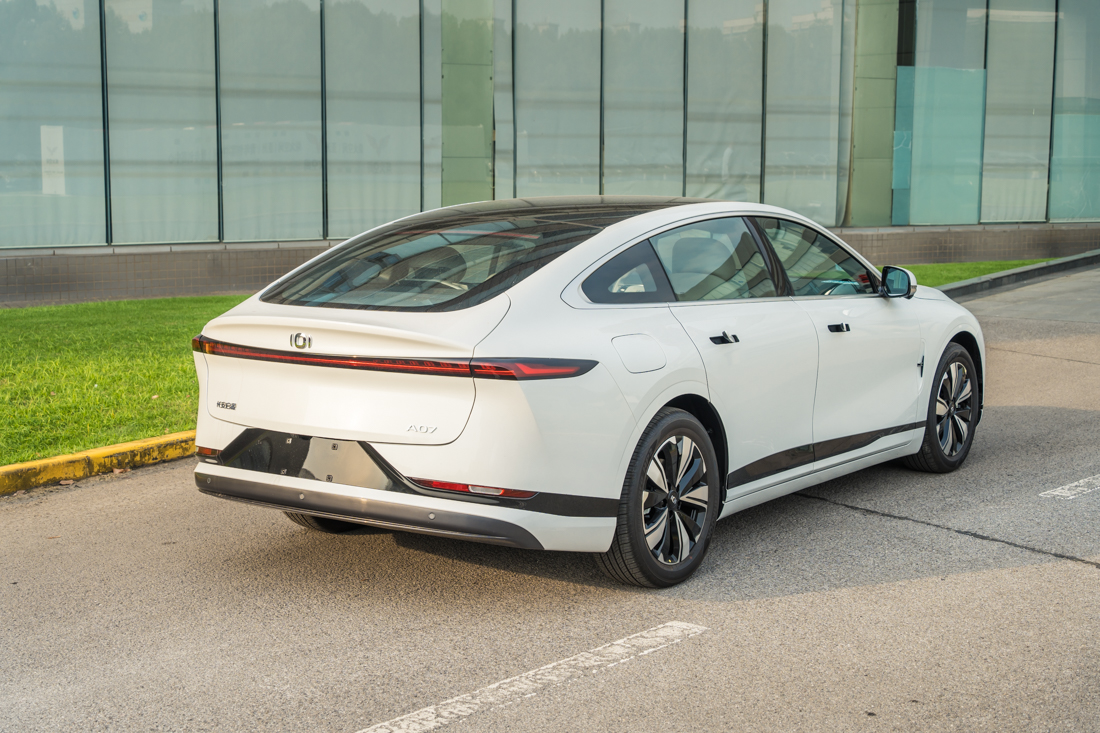 Just classy enough
The Qiyuan brand is positioned as a more luxurious alternative to another line of Changan EVs, called Deepal, with which this A07 shares a platform. That positioning is represented in the exterior design, which is far more restrained, but the interior is where the difference is most apparent.
Despite the fact that their price ranges are only separated by a few thousand dollars, the interior of the A07 is noticeably more premium than the SL03 in terms of both style and material quality. The former splits the difference between the Tesla-esque interior of the SL03 and the Scandinavian minimalism epitomized in this segment by NIO. That includes the use of a more flowing dashboard design and a greater diversity of materials. There is still plenty of hard plastics, but the microsuede headliner alone is enough to give one a more premium impression.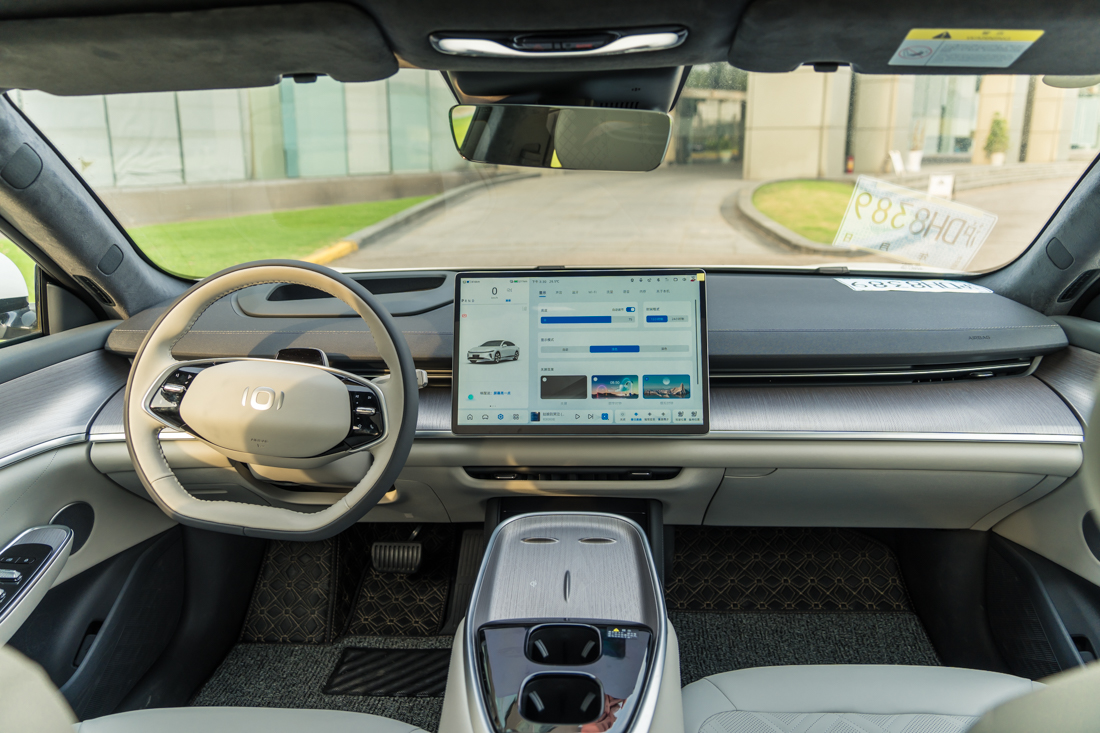 The A07 foregoes an instrument cluster in favor of an HUD, which is available on all but the cheapest trim level. That entry-level model makes due with the driver information that's available on the left side of the very Tesla-style UI. South of that you will find my favorite part of the interior; a fragrance dispenser. It doesn't earn that distinction due to it's scents, though they are delightful, but rather the way it is integrated into the center console. While most brands shove the fragrance dispenser into the glove compartment or some other difficult to access corner of the car, Qiyuan puts its front and center, complete with a nice LED glow to each individual fragrance stick.
Sharing a platform with the Deepal SL03 means it also shares some of its compromises, particular in the back seat. As in the SL03, headroom is at a premium, and there's only one USB port. The A07 is less than 10 cm longer than the SL03, and none of that is wheelbase, so rear seat space remains good, but not great. Despite the extra length, the A07's trunk space is actually smaller than the SL03 (450 vs 473).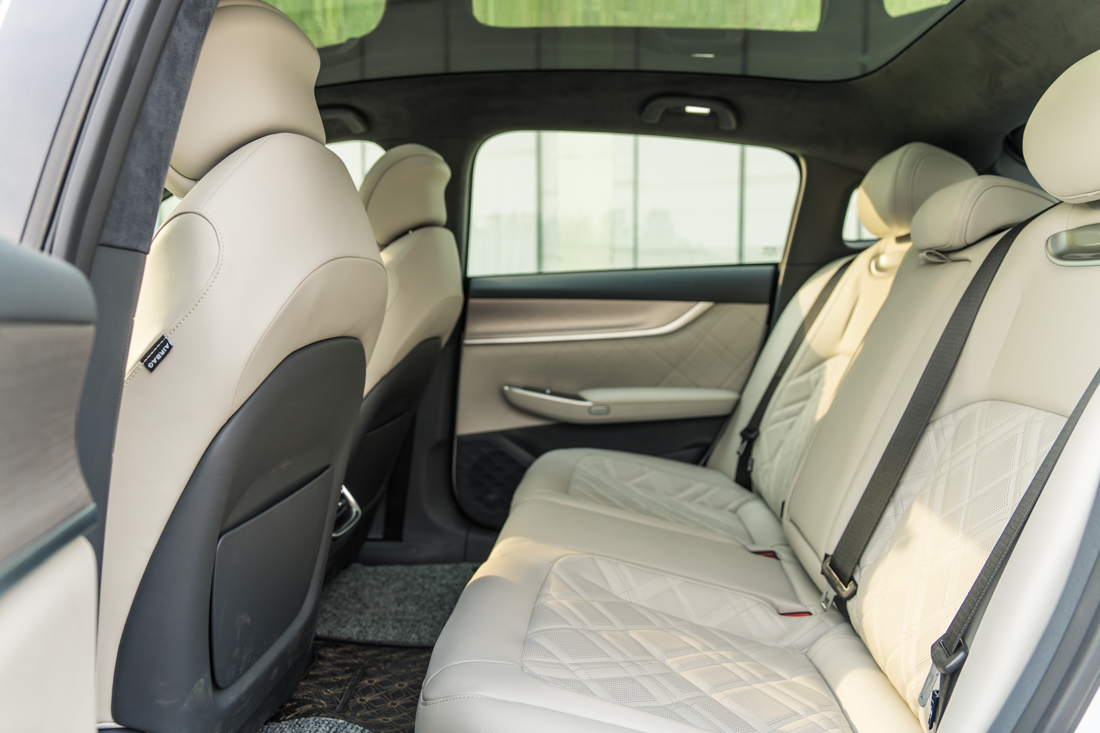 Sense of purpose
The A07 is available with extended range EV or pure electric powertrains, with our test car being the latter. That means a 1.5L, naturally-aspirated four cylinder matched to a rear mounted motor and a lithium iron phosphate battery pack measuring 28.4 kWh. Range on the CLTC cycle is claimed to be 200 km. Pure EV models have a 58.1-kWh lithium iron phosphate pack and a claimed range of 515 km. Both EREV and EV models have fast charging, with the latter able to go from 30-80% in about 25 minutes.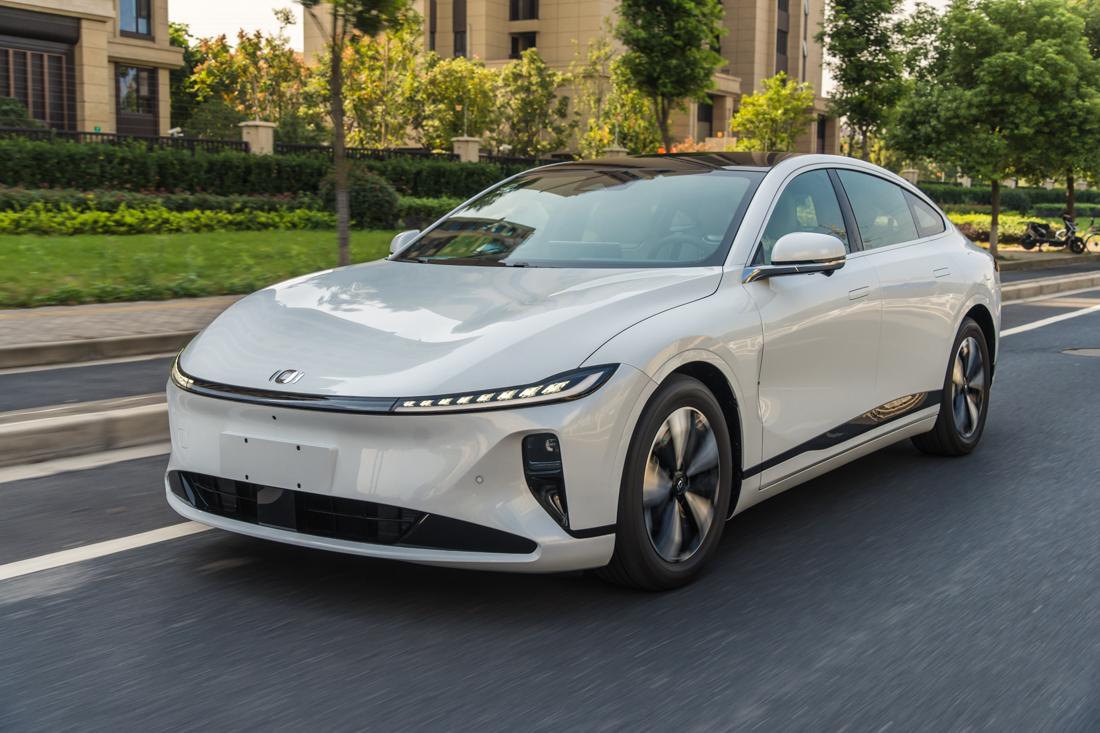 This is not a car that's about the performance numbers, but just to cover my bases here, the EREV models makes 160 kW and 320 Nm of torque, and gets to 100 km/h in 7.8 seconds. Not the type of speed that will light your hair on fire, but you don't buy cars in this segment for that, now do you? If that's your prerogative, then consider the pure EV. Its rear mounted motor makes an extra 30 kW, but the same torque, and manages to do the 100 km/h deed in just 6 seconds flat.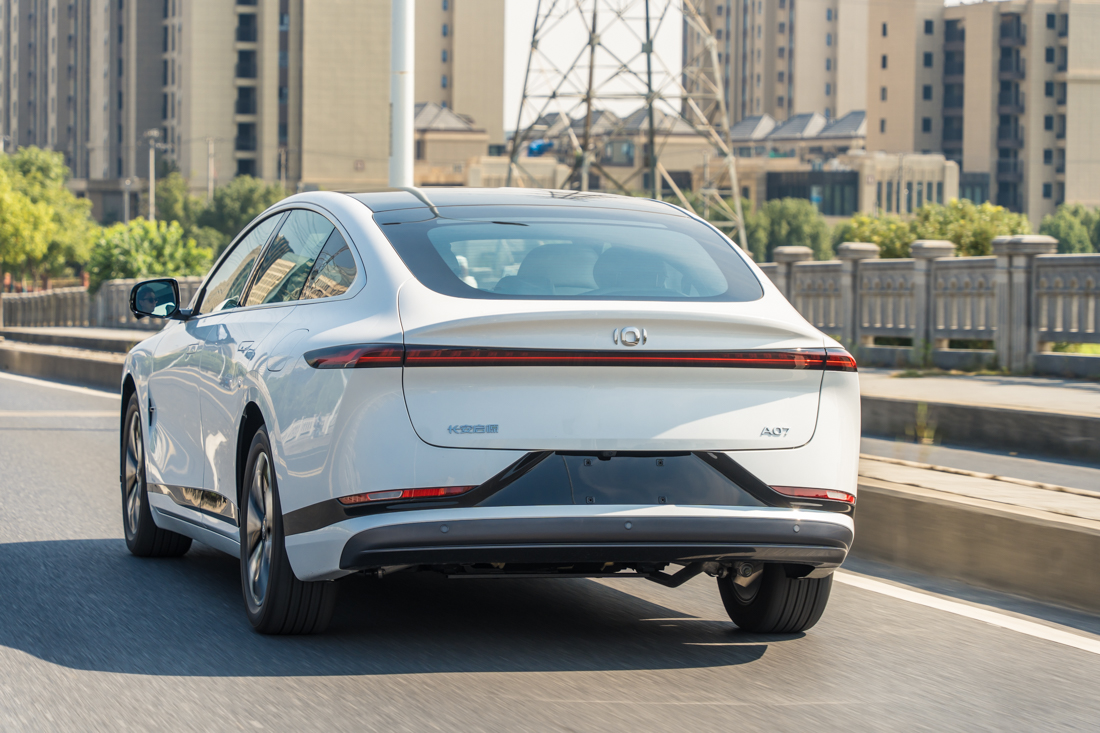 The Deepal SL03 isn't my favorite EV sedan, if I'm being honest. It feels compromised by that it has a seating position more akin to an SUV than a sedan, and a suspension that is at once too hard to be comfortable, but too soft to be sporty. The A07 has no such issue, because it has a one-track mind. Comfort, just comfort.
This is actually the type of vehicle that I really love, one that knows exactly what it's supposed to be; a big soft sedan that will get you comfortably from point A to point B. Think of this as a Chinese Toyota Avalon. Unlike the SL03, it has no pretensions of sportiness, which is a relief, as it rolls over like a dog in the corners. The steering isn't as bad as some Chinese EVs, whose steering has about as much feedback as trying to high-five someone through a mattress, but it's definitely on the soft, comfortable, easy to drive end of the spectrum.
The A07, with its softly damped suspension, low NVH, and big trunk, would make an ideal highway cruiser. It also comes standard on all trim levels with L2 ADAS, as well as automatic emergency braking and a variety of other safety systems. It lacks automatic lane changes, but I trust most drivers will be able to manage on their own.
Takeaway
When I first learned about the Qiyuan brand, I saw it as nothing but a misstep. After all, Changan already has the Deepal brand for selling affordable EVs, why add another brand to a crowded market? But the A07 is more than just a Deepal with a different badge, it's a more comfortable, more premium experience.
Specifications
Changan Qiyuan A07 200 Max
Motor: Rear-mounted
Power: 160 kW, 320 Nm (215 hp/237 lb-ft)
Battery: 28.4-kWh
Range: 200 km CLTC
0-100 km/h: 7.8 seconds
Size: 4905*1910*1480
Wheelbase: 2900 mm
CDM Price (as tested): 24,000 USD