What is it?
The mad minds over at the joint venture between China's SAIC and America's General Motors have produced some of the most interesting and compelling tiny electric vehicles, including the Wuling MINI EV and Baojun Yep. Now, they've set their sights on something a bit larger in the form of the EQ100, also known as the Yunduo or Cloud, a fully-electric, compact MPV that costs 13,500-18,500 USD.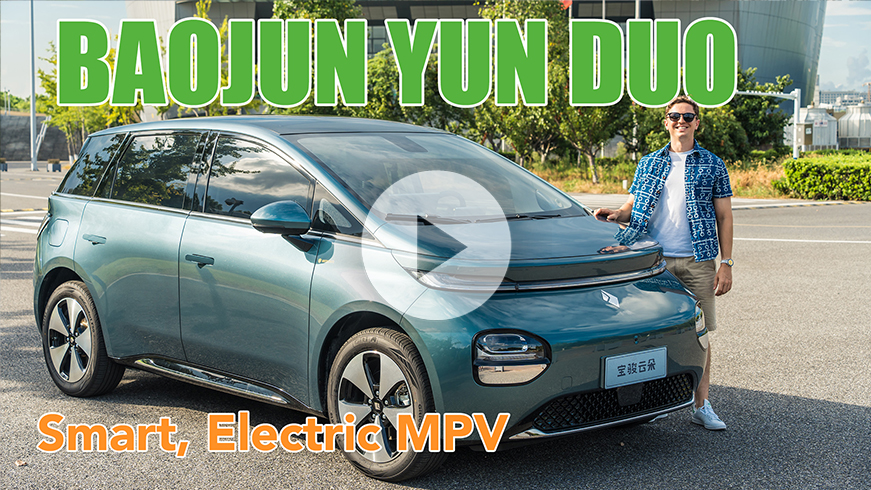 French-inspired
Perhaps it's because I'm from America, a nation where compact MPVs are hardly commonplace, but I feel there is something distinctly European about the design of the EQ100. It has an almost cab-forward look, with the front bumper neatly integrated into the front-end in a way that looks positively French. I would find it very easy to believe this thing came from Citroen or Peugeot. Or is it a alternate reality electric Fiat Multipla?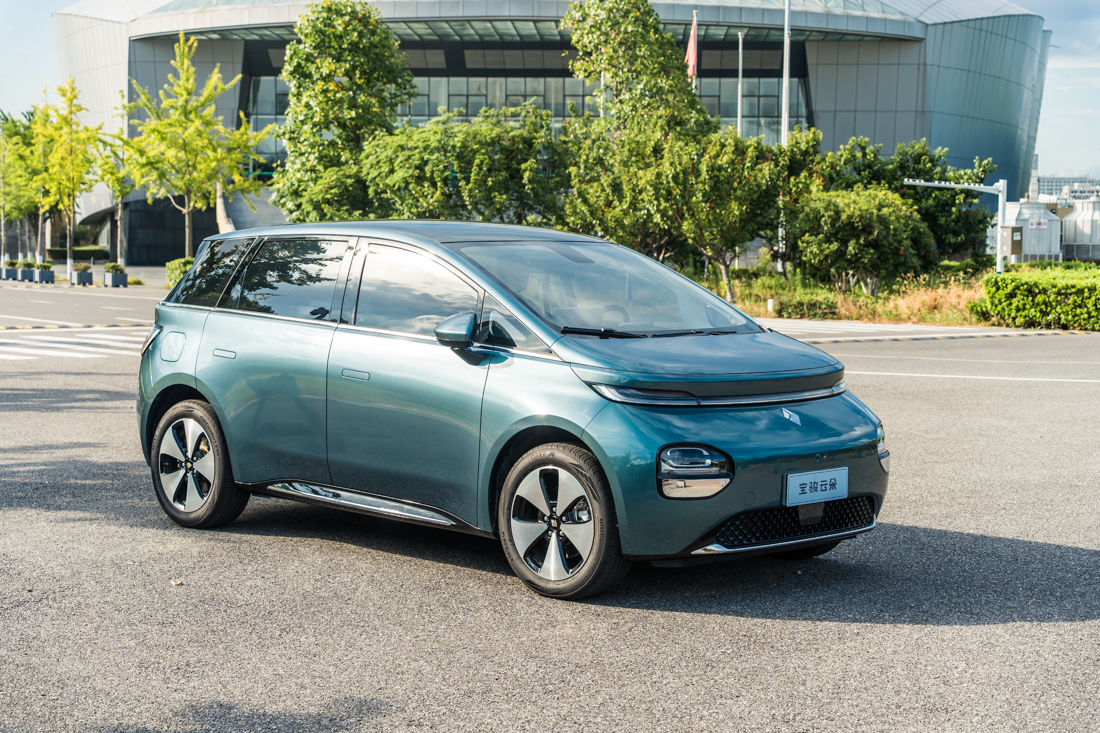 The smooth lines are futuristic in a way that brings to mind stunt cars from Hollywood blockbusters. I've said the same about vehicles like the HiPhi Z, but whereas that EV looks like something the hero of the film would drive, this looks like the type of affordable transportation that would populate the roads around them. A bubble-like pod for transporting workers to their 9-5 job at the rocket factory.
The EQ100 is currently Baojun's largest vehicle, measuring 4.295m. Keeping the French theme, that length makes it just a bit shorter than a Citroen Berlingo. That doesn't stop it from having an impressive amount of space, particularly in the rear. Like it's joint venture sibling the Wuling Bingo, the EQ100 has a large rear cargo area, including a storage space below the rear floor that's so deep and wide it could nearly double as a bathtub.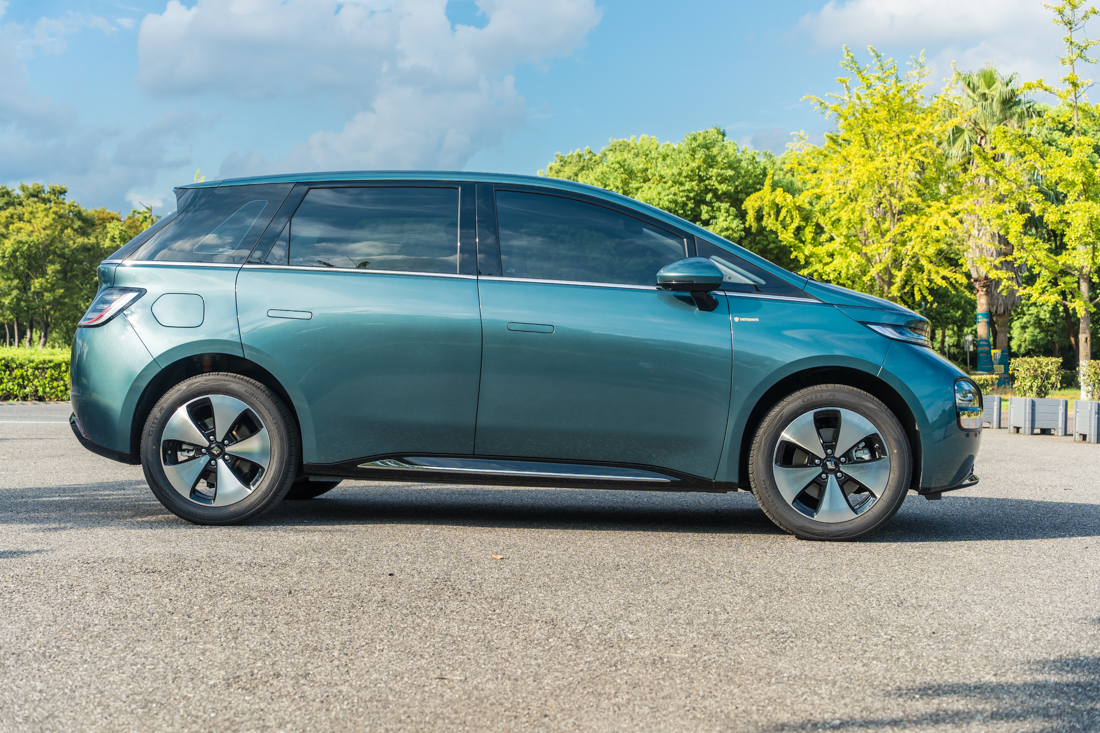 Tortoise shell candy cane
The extra height of the EQ100 over it's rivals (1.652m vs. the 1.57m of the BYD Dolphin), gives it an interior that feels pleasant and airy. That effect is only enhanced when you check the box for the glass panoramic roof, which lets in loads of natural light. That light falls on a very simple design, dominated by a large, 15.6-inch screen that's standard on all but the cheapest version of the EQ100. That handily outdoes the 12.8-inch screen of the Dolphin, as does it's 8.8-inch digital cluster (vs. the 5 inches of the Dolphin).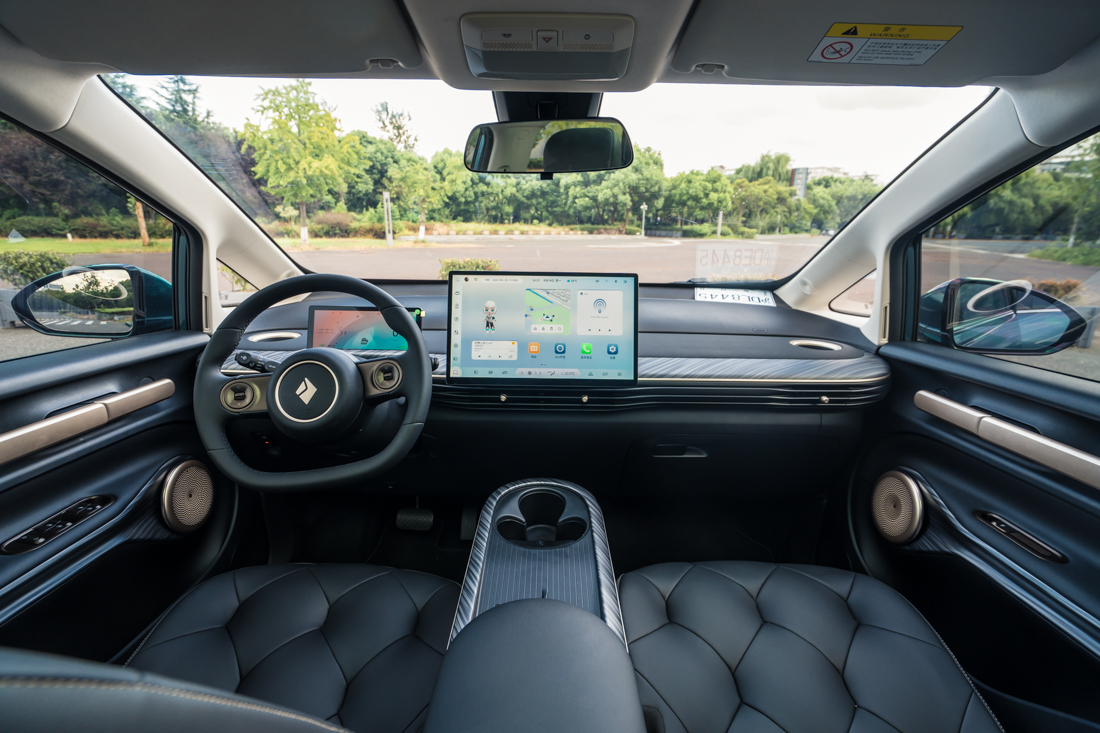 Where the Baojun falls behind the BYD is in terms of UI and UX. The home screen on the central display can be customized, but it still looks a bit low-rent. Click through to the menus, and things get even worse. For some reason, Baojun decided to reinvent the wheel by layering the submenus from left to right, as opposed to simply arranging them all of the left side and then letting you scroll through each submenu. I hate to be that guy, but just copy Tesla like everyone else, at least when it comes to the menu logic.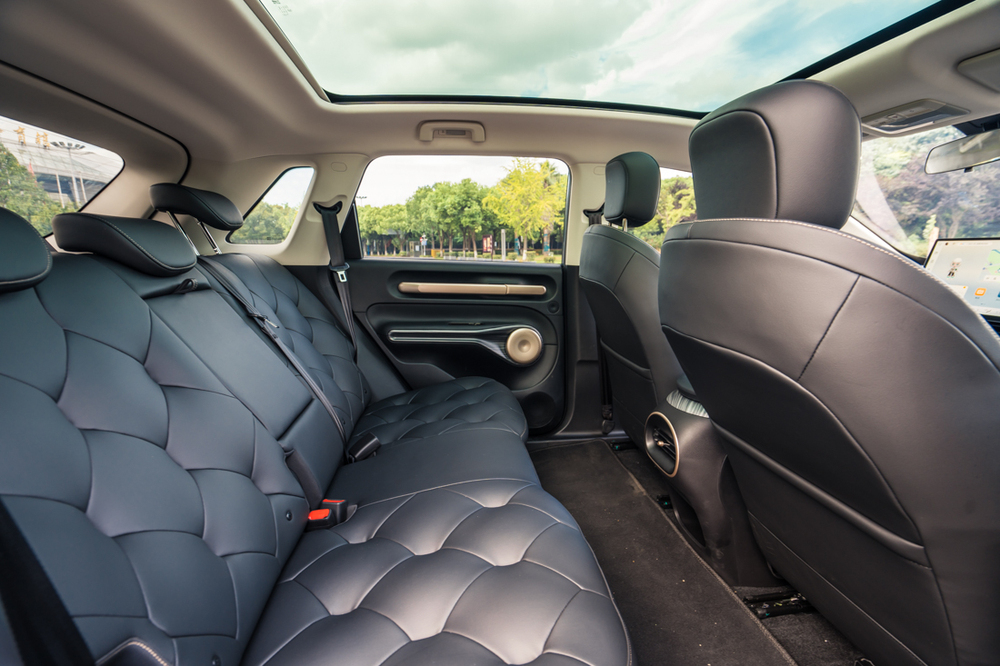 The retro aesthetic falls more in line with the Wuling Bingo than other Baojun models like the Yep. The surfaces are smooth and soft, a deep contrast with the sharp angles of the two LCD screens. The color pallete on our test car was a deep green that mixed well with the white seats, even if said seats were already looking dirty after just a few thousand kilometers. The dash and steering wheel were inlaid with a deep bronze color that looked surprisingly premium, but the star of the interior was certainly the fascinating striped material that could be found throughout. I find it hard to describe it as anything other than a tortoise shell candy cane. Is it tasteful? No, but it works.
Seats both front and rear have a quilted pattern to them, and they're just as soft as they look. Rear seat comfort gets decent marks, because while the seats are flat and unsupportive, and they can be leaned back far enough to be considered lounge chairs. Headroom front and rear is also very good, as one would expect from an MPV.
Smartest kid in class
If there's one thing that electric vehicles from the SAIC-GM joint venture brands have in common, it's driving dynamics that are just this side of a golf cart. That's perfectly acceptable on a car like the MINI EV, which starts at less than 4,000 USD, but the EQ100 is playing against some strong competition, including the aforementioned BYD Dolphin. Luckily, the EQ100 is in a different league from its smaller siblings thanks to a longer wheelbase of 2.7m. That matches that of the Dolphin, but I would go so far as to say that the EQ100 rides slightly better, with much softer tuning.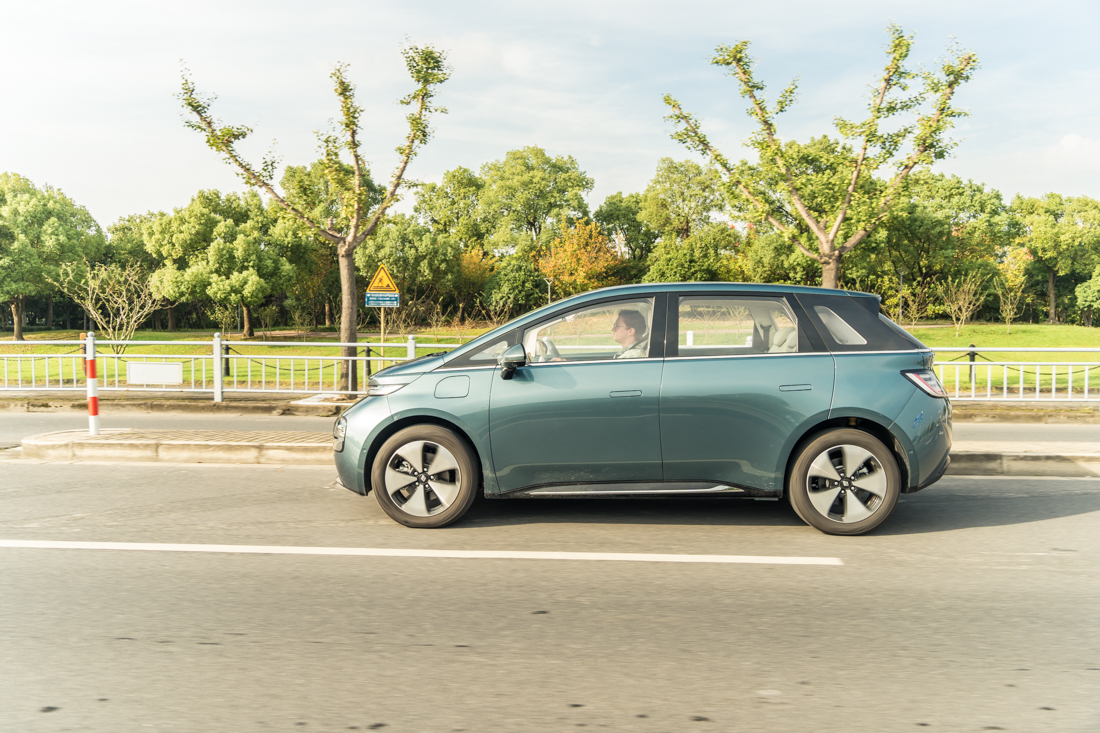 That soft tune doesn't do it any favor in the corners, where it rolls over like a well-trained dog. The Dolphin is far from a hot hatch, but the EQ100 makes it look like a real performer. That's true in terms of straight-line speed as well. The EQ100 uses a single front-mounted electric motor making 100 kW and 200 Nm of torque (136 hp, 148 lb-ft), a number that puts it right between the entry-level Dolphin (70 kW) and the "performance" version (130 kW). Baojun doesn't offer up an official 0-100 km/h time, but thanks to the added weight and fewer kilowatts, it's certainly slower than the more powerful Dolphin.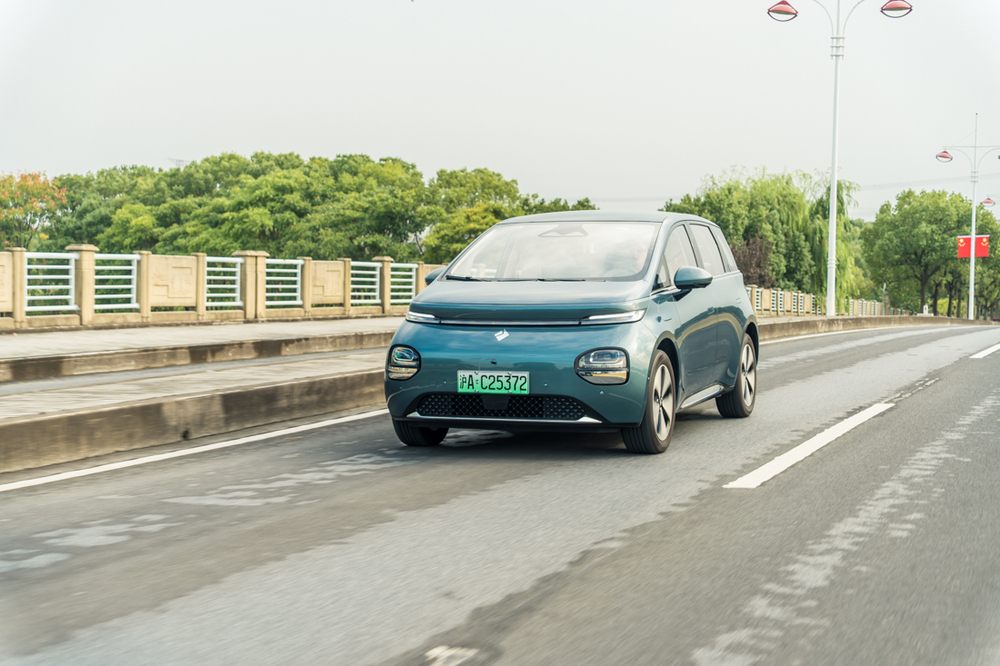 The EQ100 can be had with either a 38- or 51-kWh lithium iron phosphate battery pack delivering 360-460 km of range on the CLTC cycle. Both batteries are capable of fast charging, and can go from 300-80% in 35 and 30 minutes, respectively.
Much like the Baojun Yep, the EQ100 is available with a suite of driver assistance features from DJI. That suite includes things you might reasonably expect at this price point, like blind spot monitoring, but also lane keep assist, automatic emergency braking, forward collision warning, adaptive cruise control, lane centering, automatic lane changing, automatic parking, valet park assist, and highway navigation on auto pilot. Here, I will remind you that this vehicle only costs 18,500 USD.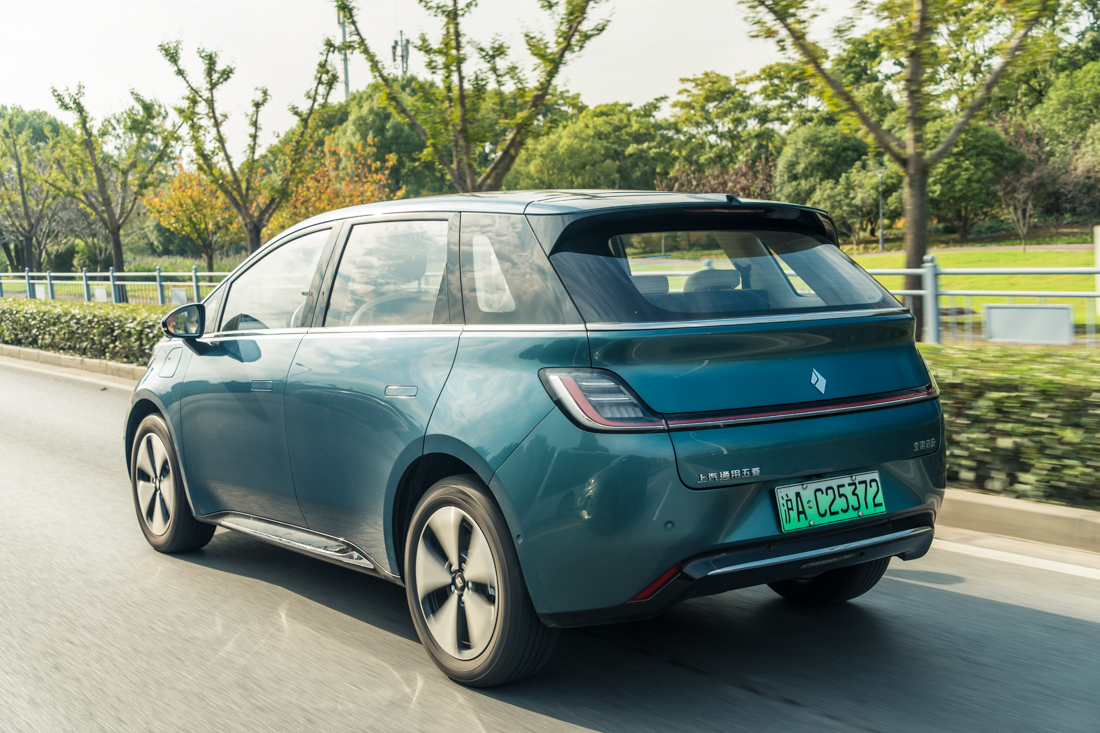 Takeaway
The Baojun EQ100 seems like a very high value, and it would be if it were considered within the context of other markets. But here in China, it has struggled to reach the number of sales that one might expect. Why? It's too expensive. Customers looking for a simple, cheap electric MPV are more likely to go for the simpler, cheaper AION Y, and those looking for a more traditional hatchback will turn to the BYD Dolphin. Unlike BYD, Baojun lacks the brand power needed to pull off selling a car this size for this much money.
Specifications
Baojun EQ100 460 Max
Motor: Front-mounted
Power: 100 kW, 200 Nm
Battery: 51-kWh
Range: 460 km CLTC
Size: 4295*1850*1652
Wheelbase: 2700 mm
CDM Price (as tested): 18,500 USD
More Pics