What is it?
The Lynk & Co 03 is the brand's compact sedan, and the 03+ is its performance version. This is actually the second time we've reviewed a 03+, having first driven it back in 2020. Since then, they introduced the Cyan trim level and then a mid-cycle refresh that included a new design front and rear.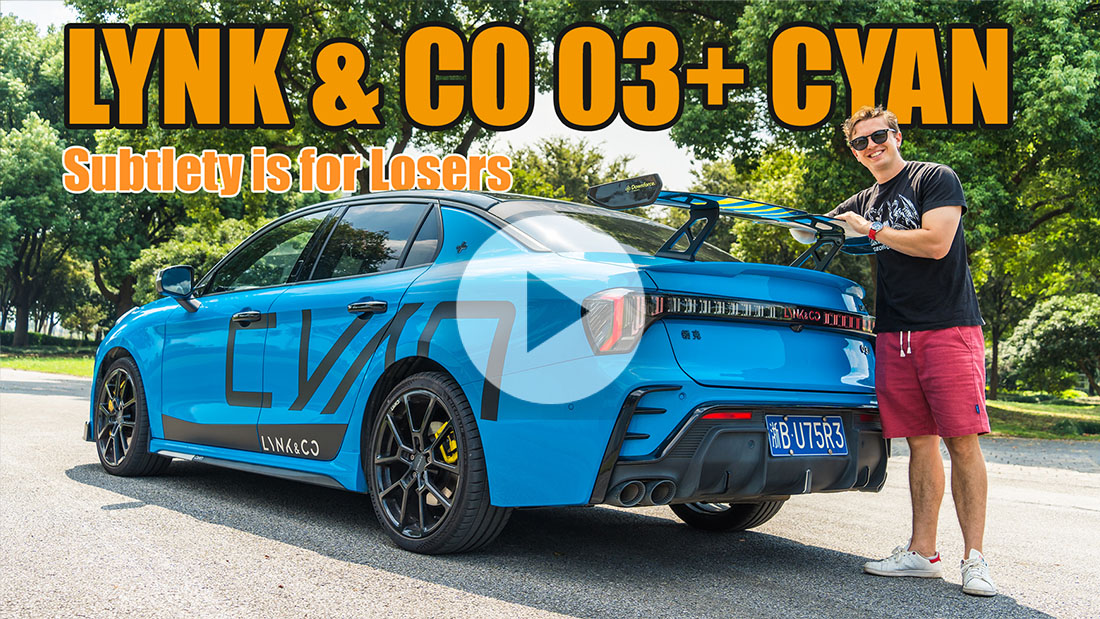 Subtlety is for losers
Some performance cars like to keep their performance potential under wraps, a subtlety flared fender or growly exhaust note being the only indicators that they're a breed apart from more pedestrian models. Others, they like to shout it out loud with big wings and flashy graphics. I think you can guess which category the Lynk & Co 03+ Cyan falls into.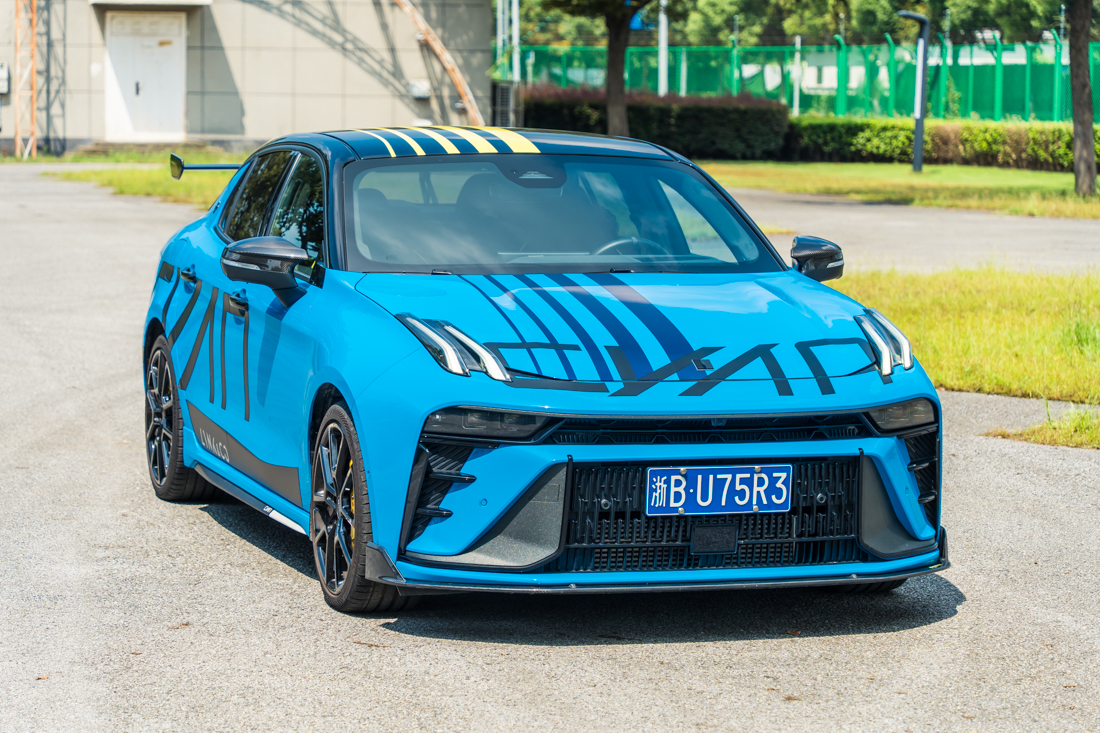 The refresh that came last year leaned even farther into the fish mouth, frog-eyed look of the first 03. If you liked the look of the last 03+, as I did, then you're probably going to like this one. If you didn't, then you're going to hate it even more. And that's before we get to the Cyan of it all. This car is absolutely smothered in the four-letter word, like flyers on a light post. I counted 12 of them.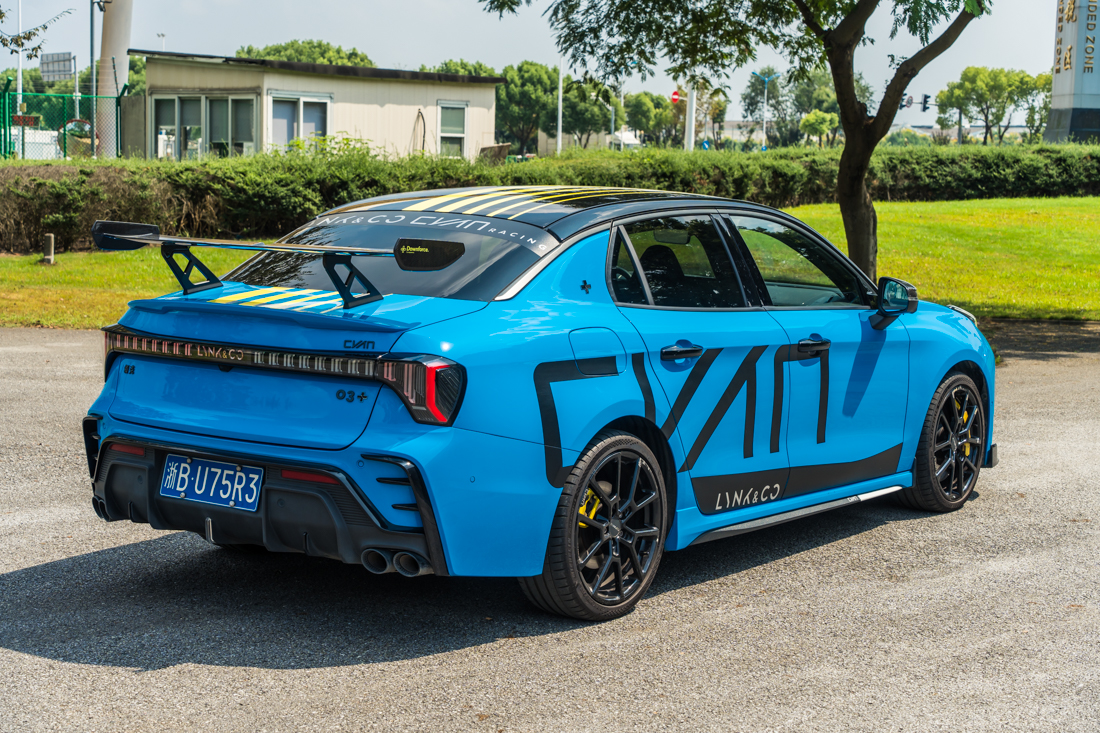 But what is Cyan? Remember how Polestar used to be the official motorsports partner for Volvo, then Geely bought Volvo and then Volvo bought the performance road car division of Polestar and turned that into a whole new brand? What remained of the Polestar racing team then became the official motorsports team for the Geely group and renamed itself Cyan. Or at least that's what the Wikipedia says.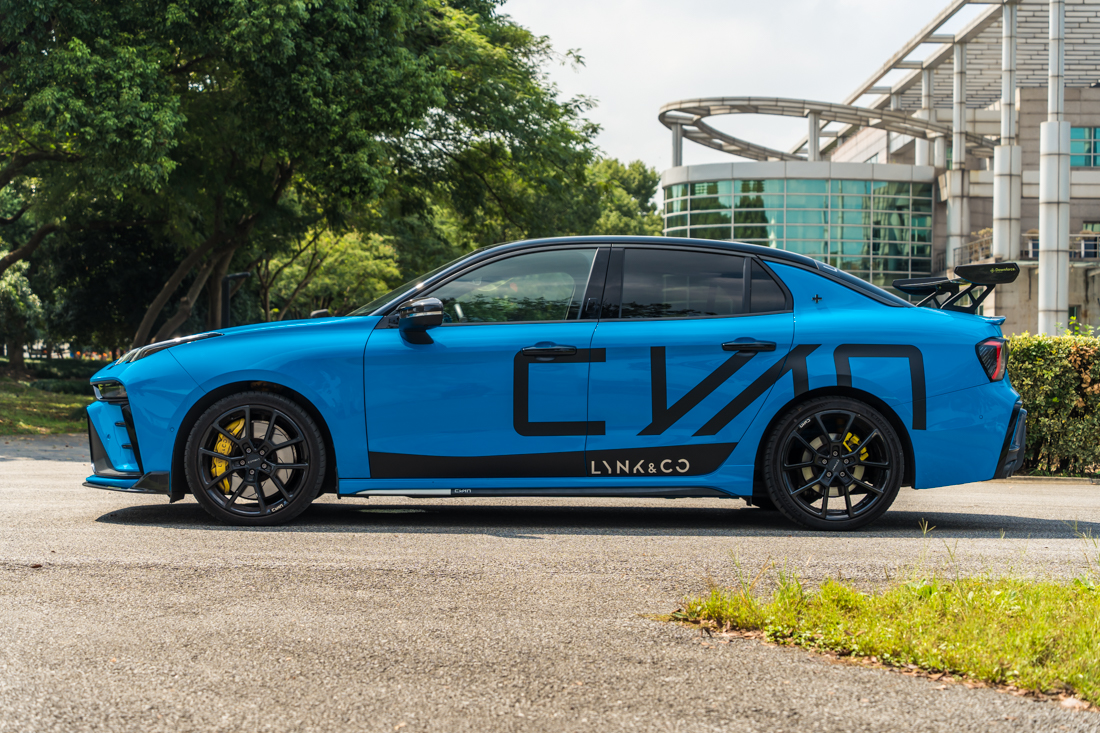 All these graphics are optional, the only thing you can't avoid with the Cyan edition is this paint color, which is the only one available. Speaking of options, the carbon fiber wing, which provides a claimed 163 kg of downforce, is optional, is part of a sports appearance package that adds 2,700 USD to the Cyan's base price of 32,500 USD. The adjustable carbon fiber front splitter and rear-view mirrors are also included in the package. On the side of the wing, they've written downforce, just like they did on the last 03+, just in case you forgot what it's for.
Acres of microsuede
The interior designers for the pre-facelift 03+ seemed to have a hair trigger when it came to picking materials. It had chrome, camouflage patterns, piano black plastic, and tons of microsuede. It was, in a word, overwhelming. The interior of this facelifted model is, blessedly, a different story. There is still enough microsuede to cover a medium-sized cornfield, but the other materials are kept to tolerable level of diversity. It all feels much more focused and mature.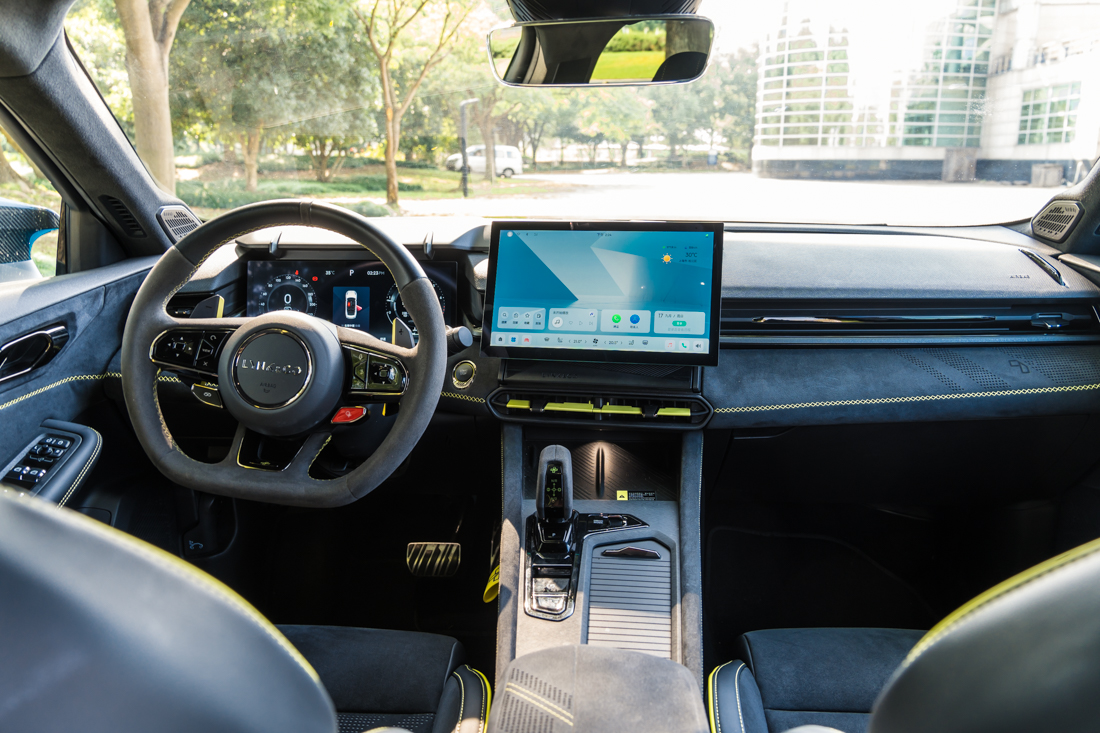 The facelift also added an extra 2 inches to both the instrument cluster and center screen, which now measure 12.3- and 12.8-inches, respectively. The center screen can also move up and down at the touch of a button, allowing you to perfect your view. But moving it to its lowest position actually blocks the air vents, so perhaps a little more time could have been spent on development.Cyan models get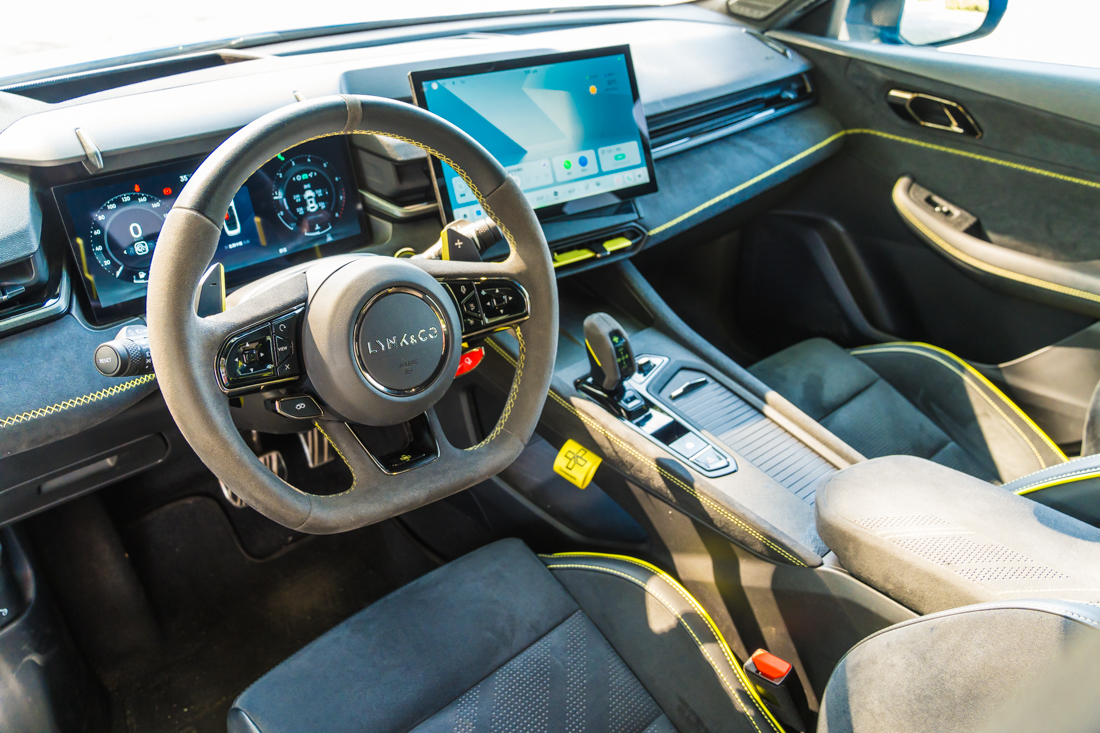 This thing's got the fizz
Under the hood of the 03+ Cyan is the same 2.0L turbocharged 4-cylinder as the 2020 model that we tested, but thanks to a small power bump, it now makes 195 kW and 380 Nm of torque (265 hp/281 lb-ft). But that power bump applies to all versions of the 03+, so what exactly do you get for paying an extra 1,100 USD for a Cyan? The answer is, a lot! Cyan edition cars get front and rear adjustable Bilstein dampers, forged 19-inch wheels wrapped in Michelin Pilot Sport 4S tires, and 4-piston Akebono brake calipers. And here I was thinking it was just a snazzy blue paint job…
A lot has happened since I drove the last 03+, not the least of which is that I've driven dozens of very fast EVs. The 03+ Cyan, with its 0-100 km/h time of 5.7 seconds, would get walked by those in a straight line. But frankly, I don't care, because straight line speed is only a small part of what makes this car so fun to drive. In short, this car has got the fizz.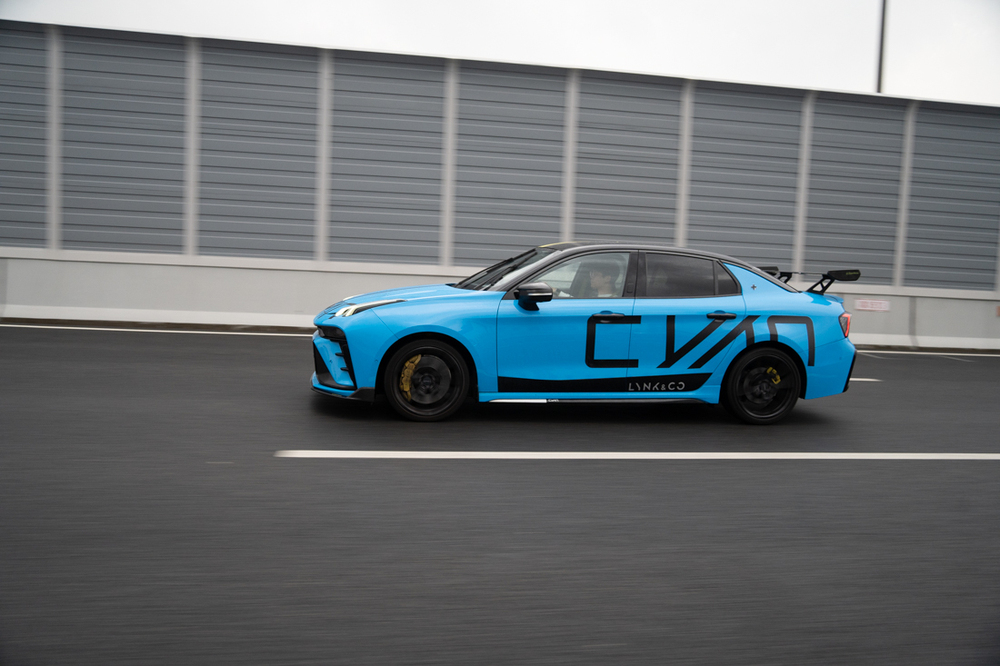 The Cyan has improved on the 03+ formula in almost every way. It uses the same BorgWarner AWD system as the last car, but the addition of PS4S tires means it has limits of grip that I had a hard time approaching on public roads. The Bilstein dampers make the car feel even more planted as you transition from corner to corner. Note that I left those dampers in their stock settings. I believe Lotus founder Collin Chapman was right when he said, "Give them an adjustable suspension, and they will adjust it wrong."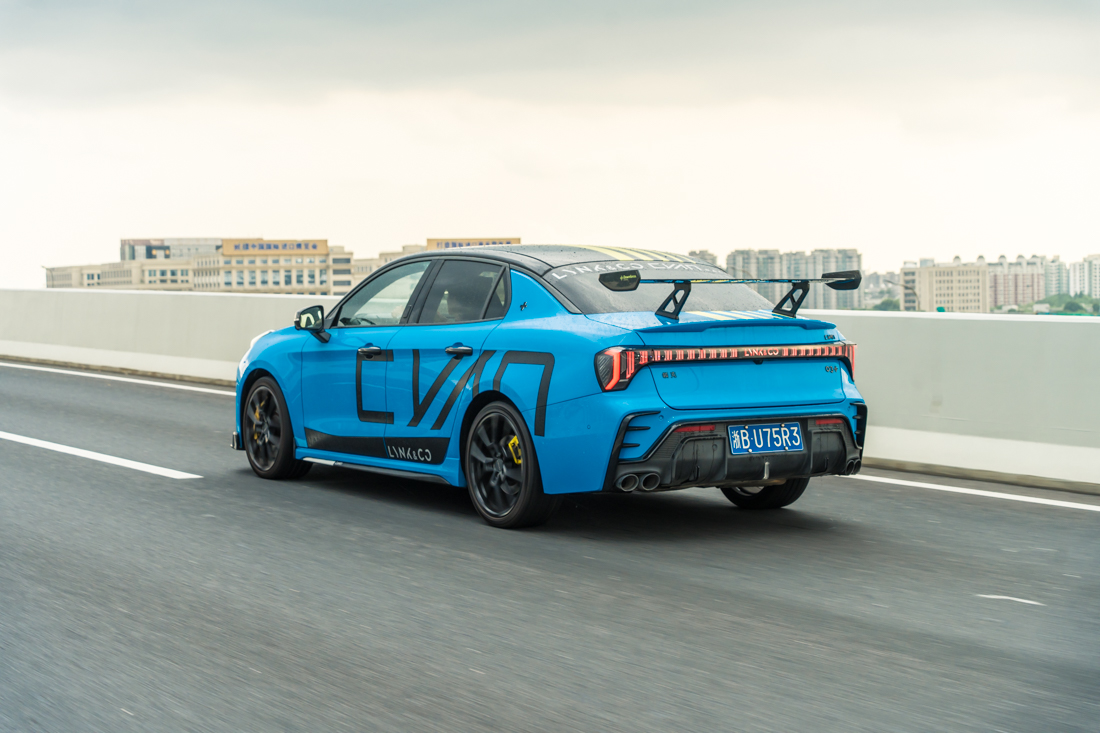 The Aisin eight speed was a weak point of the previous generation, smooth around town, but when driven in anger, it tended to respond to shift commands very slowly. The tuning in this refreshed 03+ is improved and it's now noticeably faster and more satisfying to use.
Does that mean everyone should get a Cyan instead of the standard 03+? Considering the price difference is so small, I think the answer is a resounding, yes. At the same time, if you're looking for a track weapon in the compact sedan category, the Hyundai Elantra N is probably a better option. It's a bit more precise, even if it is front-wheel drive.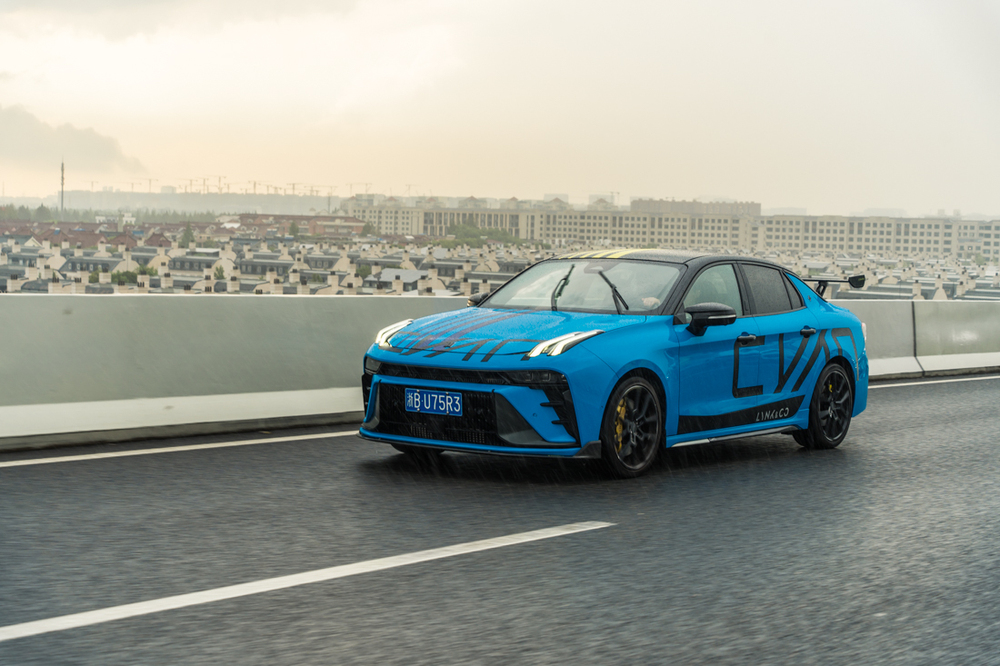 Takeaway
The 03+ Cyan is the best driving Chinese car I've ever experienced. The way it handles, sounds, and feels is enough to add a bit of fizz to every commute, which is precisely what an affordable performance sedan is supposed to do.
Specifications
Lynk & Co 03+ Cyan
Engine: 2.0L Turbo 4-Cylinder
Transmission: 8-speed Automatic
Power: 195 kW, 380 Nm (265 HP/281 lbs.-ft)
Fuel Consumption: 8L/100 km (WLTC)
0-100 km/h: 5.7-seconds
Size: 4684*1843*1460 mm
Wheelbase: 2730 mm
CDM Price (as tested): 35,750 USD
More Pics