What is it?
The midsize sedan segment is full of practical, efficient, reasonable options like the Toyota Camry or Honda Accord, but what if were looking to stand out instead of blend in? Then you re an ideal candidate for the 2023 Hongqi H5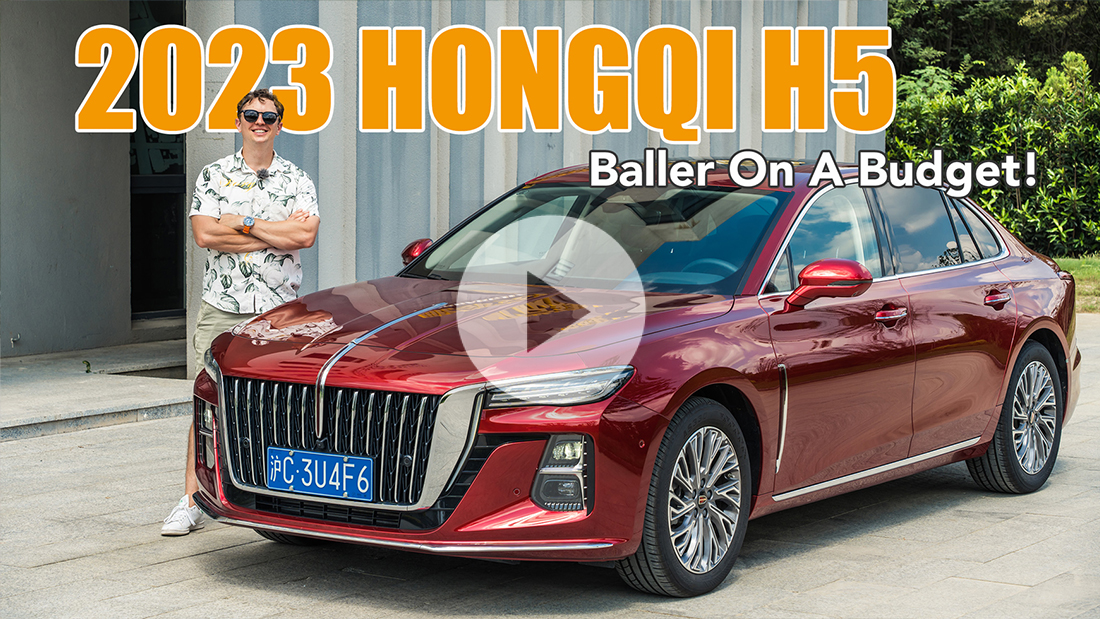 More than vanilla
Stylistically, midsize sedans tend to be the white noise of the automotive world. Their "responsible middle-aged person" vibe just kind of fades into the background. They're vanilla, and there's nothing wrong with vanilla, I love vanilla, but clearly the people at Hongqi do not.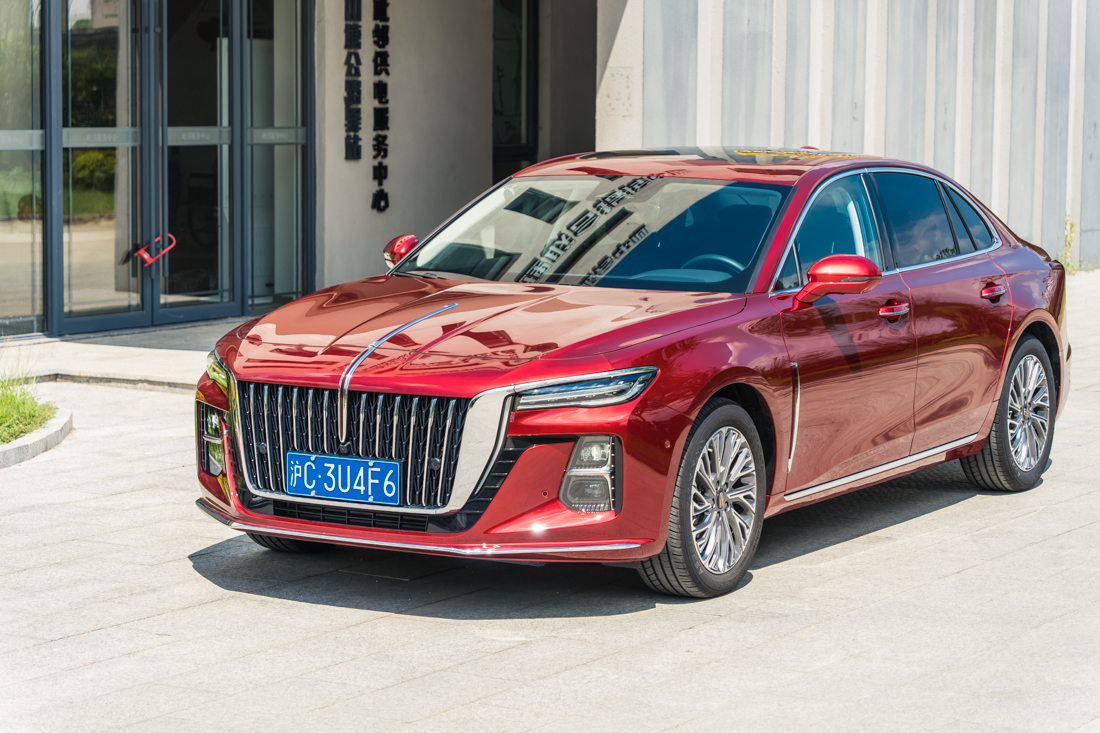 The vibe of the Hongqi H5, well, that depends on who you ask. Some will see it and think, "That's a little knock-off Rolls-Royce." While others will say, "That thing looks like a Rolls-Royce, I love it!" The truth is, they're both right, and since the H5 only costs 21-32,000 USD, the people in that second category might actually be able to afford one.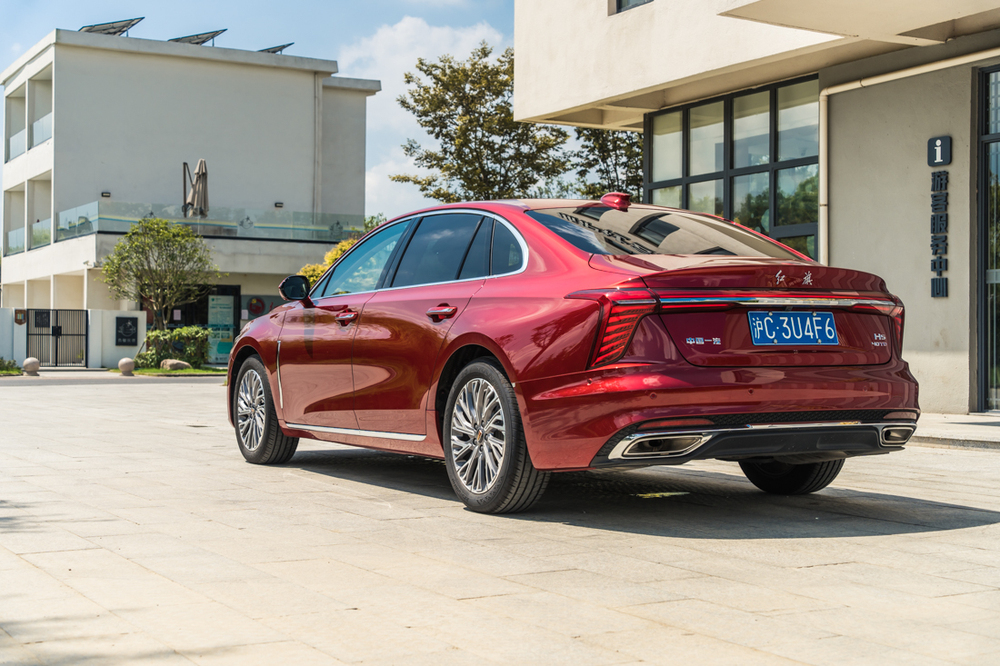 I say "little" knock-off Rolls-Royce, but that's only a relative term. The H5 measures just a hair short of 5m, making it ever so slightly longer than the Camry and Accord. That applies to the wheelbase as well, which, at 2.92m, stretches a bit longer than the Japanese sedans.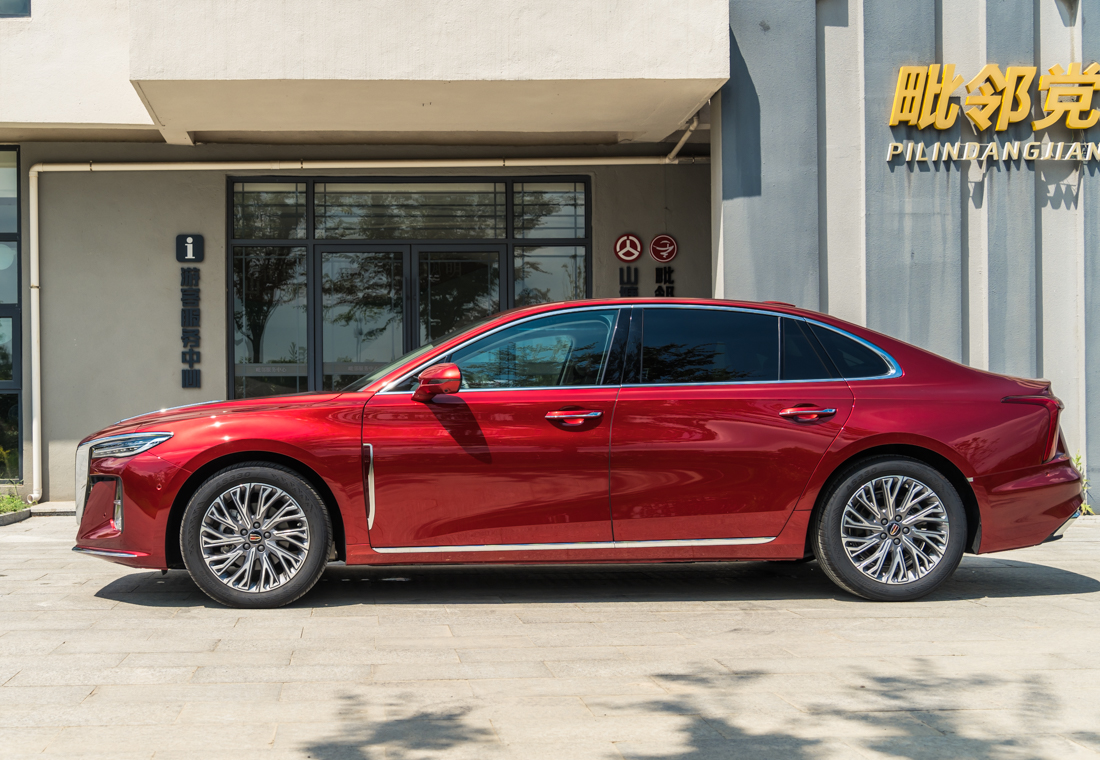 That length gave the design team at Hongqi plenty of space to work with, and they put it to use by covering the H5 in chrome and red design elements. You can find them on the hood, the front quarter panel. These are meant to elicit a red flag, because the name Hongqi means Red Flag. Considering the fact that this color is called Hongqi Hong (红旗红), that means this is a Red Flag, covered in red flags, the color of a red flag. Thematic!
Tippity-top spec
The interior of the H5 clearly takes inspiration from modern electric vehicles, including the standard tablet-style center screen. It measures 12.6-inches, which is relatively small, at least by the ridiculous standards of the Chinese EVs that I usually review. In this context, however, it's more than large enough.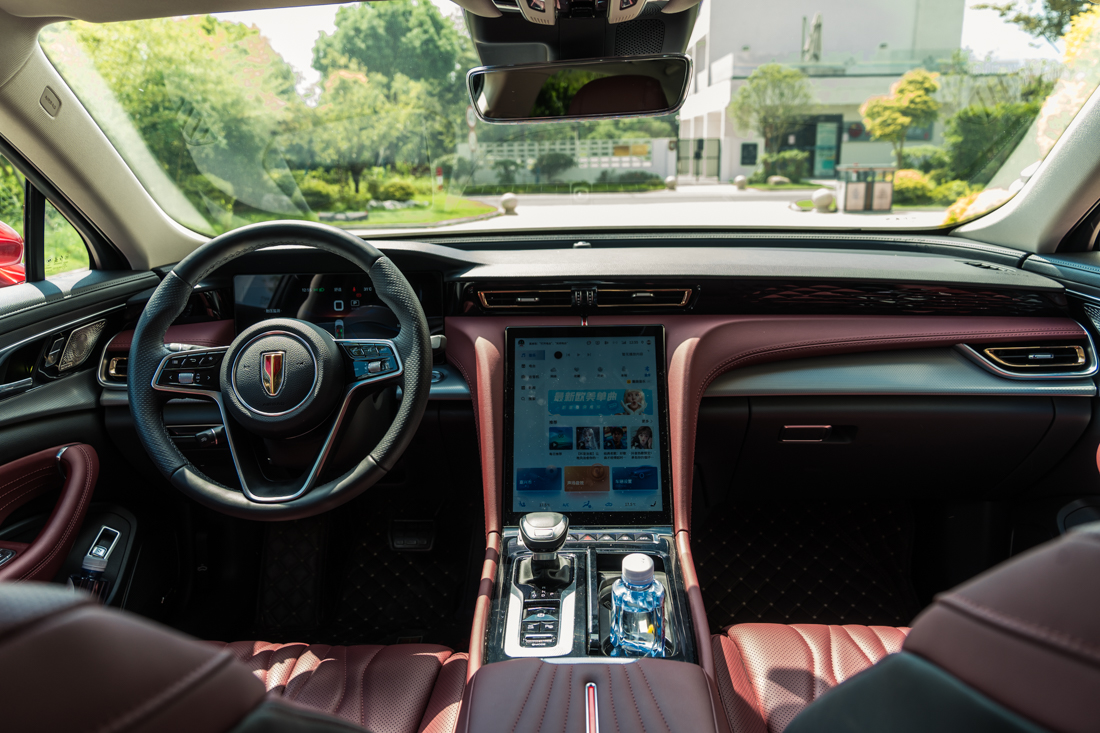 The car we borrowed for this review was the tippity top-spec, so it had slew of features that lower spec cars do not. That includes, but is not limited to: real leather seats with heating, cooling, and massaging, a 12-speaker Dynaudio sound system (as opposed to the 6- or 8-speaker systems in lower spec models), an augmented reality heads up display, and double pane front row glass.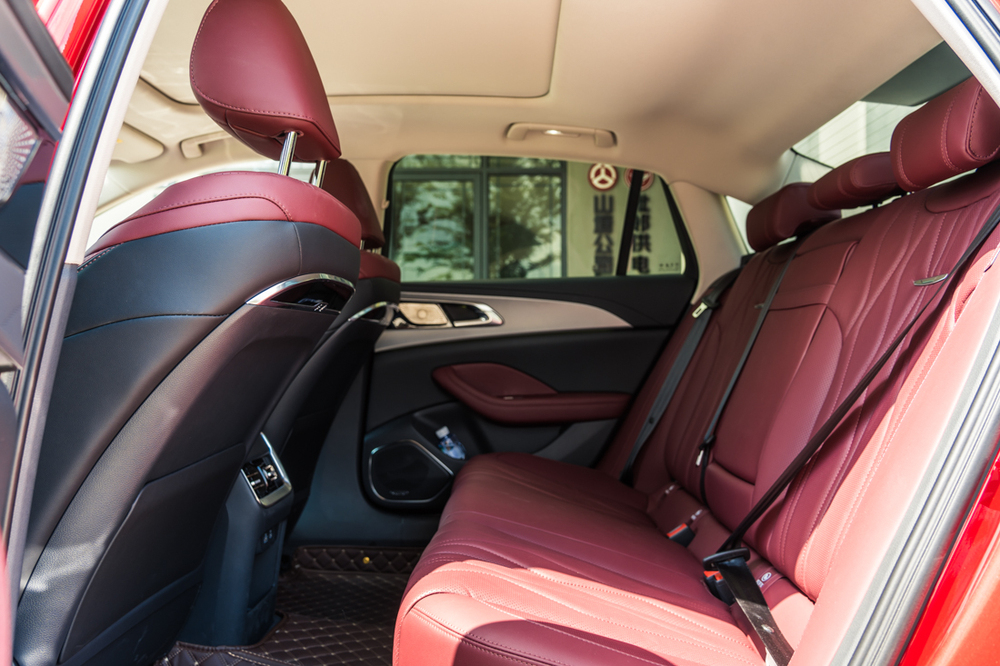 The Hongqi H5, for all its features, is a 32,000 USD vehicle, and interior materials are commensurate with that price. There is soft-touch areas where you need it, such as the center console, and door panels, but also some hard plastics. I want to give special attention, however, to the air vents. I quite like the use of gold trim, but I'm not so sure about the silver. One of the first things you learn in fashion and if you watch our videos, you'll know I know fashion, is that you don't mix silver and gold accessories. I would have gone with the pure gold or pure silver.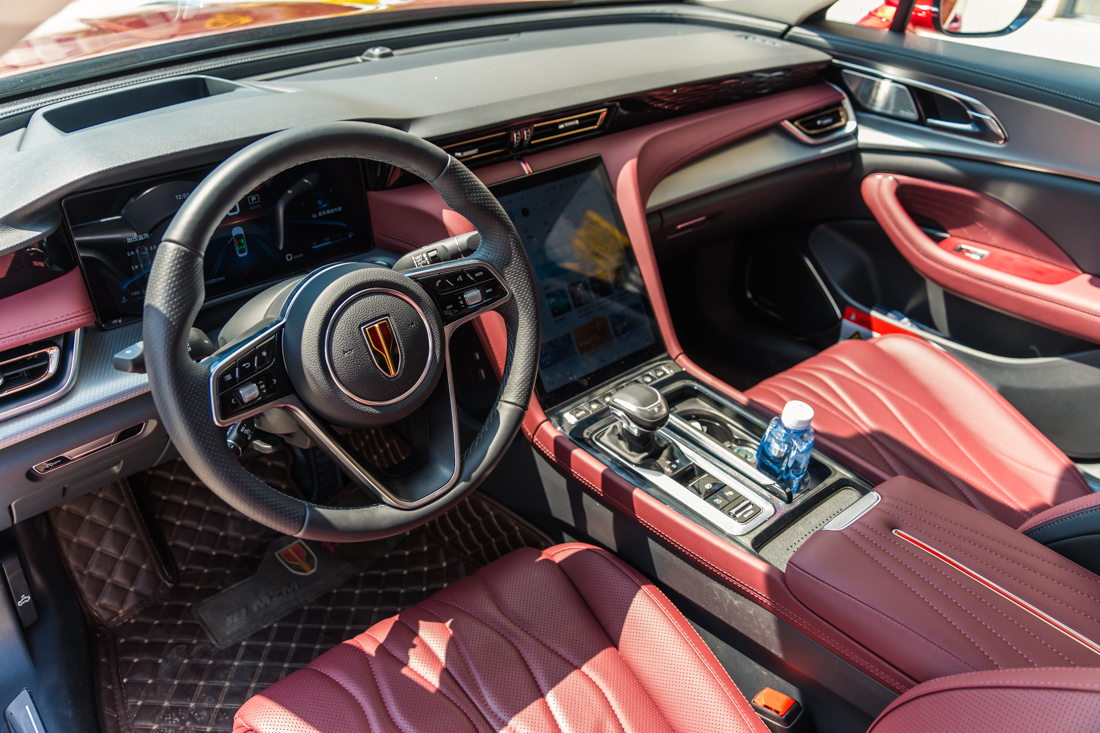 No double pane glass for rear passengers, but they do get heated seats on this trim level. With this wheelbase, you would expect tons of legroom, and you would be correct. Hongqi hasn't released an official number for cargo space, but it looks to be about the same as a Camry. One of the more unique features of the H5 are the pull switches in the trunk that allow you to unlock the rear seats so you can lay them down. In most cars, this is accomplished via a switch near the rear headrest, but this way, you can do it right from the trunk.
Unexpected sportiness
The H5 is available with a 1.5L turbo four, as well as a hybrid version that adds a front-mounted electric motor, but this one we're in right now is the most powerful option, the 2.0L turbo making 165 kW and 340 Nm of torque. That's backed by an 8-speed Asin automatic, giving this car an official 0-100 km/h time of 7.8 seconds. That isn't amazing power or performance, but it's more than enough to get by.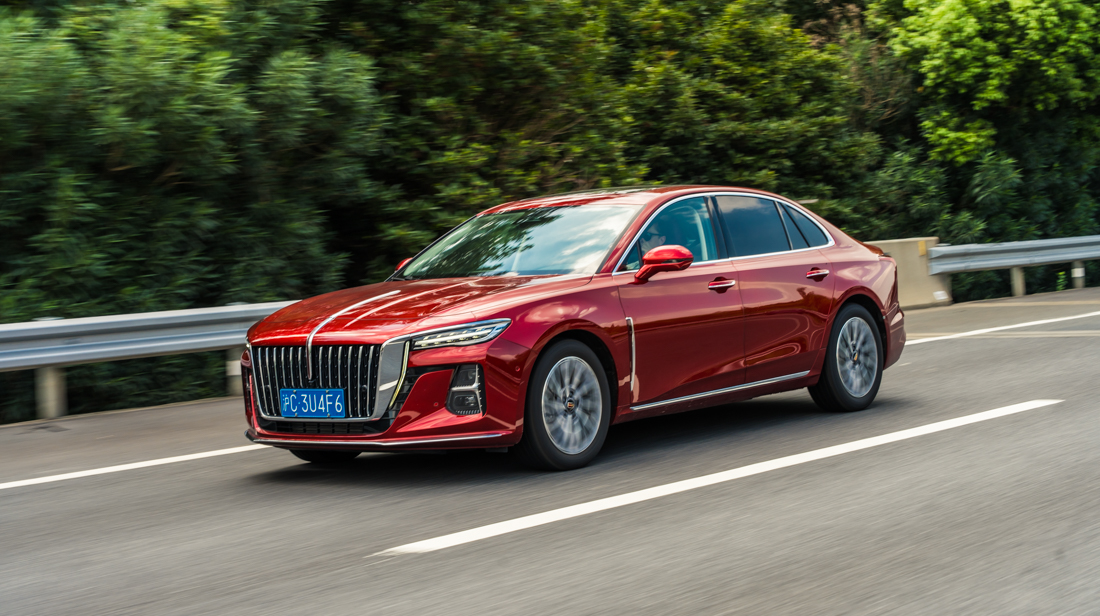 The last Hongqi I reviewed, the gargantuan E-HS9 electric SUV, had an extremely soft suspension, and I had every reason to believe that the H5 would have at least some family resemblance. But despite what the front-end design woul have you believe; this is not another land yacht. In fact, it has a much sportier suspension than I expected.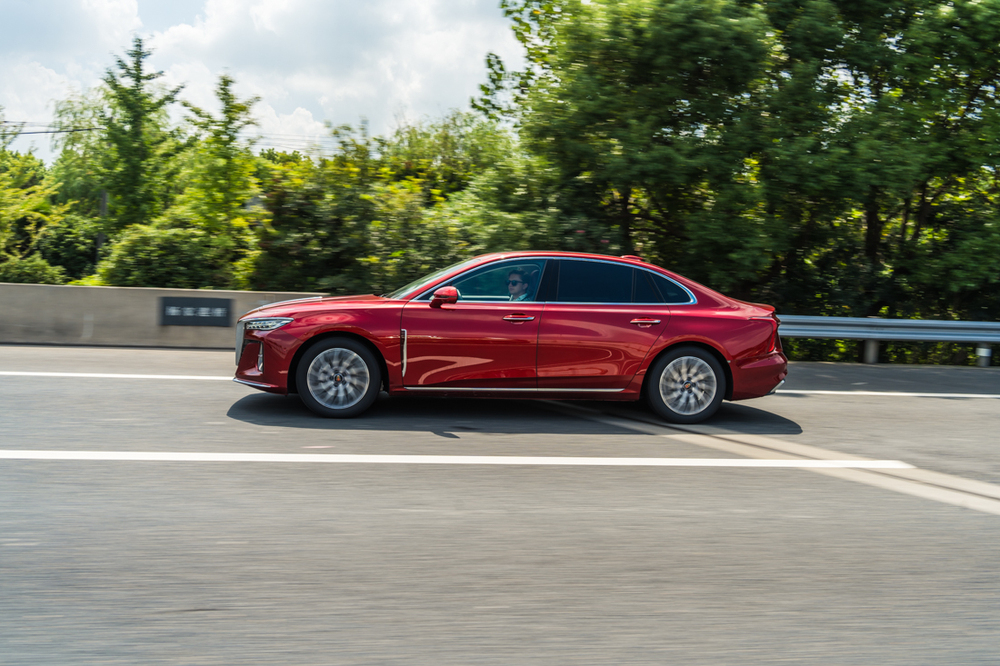 Don't misquote me here, I'm not saying that this is a sports sedan, but the ride, the steering, the turn-in, it all feels tighter than I would have predicted. There's no steering feel to be found, and the power levels aren't mind-blowing, but the 8-speed is smooth, and the H5 can hustle its way through a corner without falling on its face.
But I'm a bit torn as to whether that's a good thing. I loved the other Hongqis I drove, because they delivered the wafting experience that I would expect to accompany their big, domineering designs. You could engage their adaptive cruise control, and just glide down the highway. The H5 has the adaptive cruise control part down, but not the gliding.
This can be blamed in large part to the H5's simpler and cheaper McPherson strut front suspension, but even the way the salesperson at the Hongqi dealership talked about the car made me think they intended it to feel sportier. I'm all about changing with the times, but I hope future Hongqi models don't lose that land yacht vibe that I so enjoyed.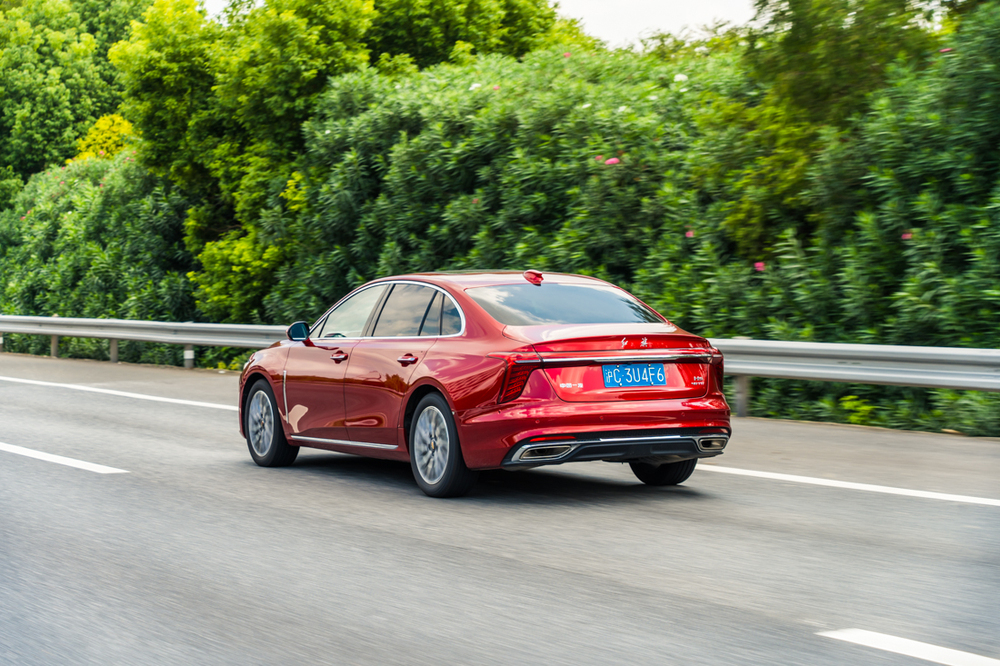 Takeaway
Love it or hate it, the Hongqi H5 is a midsize sedan that allows those of modest income to drive something that doesn't completely fade into the background, all while providing an interior that brushes right up against premium.
Specifications
Hongqi H5 2.0T
Engine: 2.0L Turbo 4-Cylinder
Transmission: 8-speed Automatic
Power: 165 kW, 340 Nm (220 HP/ 250 lb-ft)
Fuel Consumption: 6.4 L/100km WLTC
0-100 km/h: 7.8-seconds
Size: 4988*1875*1470
Wheelbase: 2920 mm
CDM Price (as tested): 30,000 USD
More Pics