What is it?
MG, a brand that was just this side of dead not too long ago, has been making a serious resurgence by offering the practical, affordable electric vehicles that many people have been asking for. This strategy has worked wonders for them, but if you're any kind car enthusiast, you don't think of electric hatchbacks when you hear "MG". After nearly 30 years, the brand is finally returning to what they're really known for; charming roadsters. The MG Cyberster is the brand's first roadster in the electric era, and it's one-of-a-kind, the only soft-top convertible EV sports car you can get from any manufacturer.
MG had yet to announce much information about the Cyberster when we drove it, including pricing, charge times, and availability.
First thing first
What you're wondering, though, is whether this is really an MG sports car in the traditional sense. You know, agile, engaging, charming, words that you don't normally use to describe most modern electric vehicles.
Well right off the bat, there's one thing that separates this car from its ancestors, and that's speed. Old MG sports cars are many things, but fast in a straight line is not one of them. The Cyberster, on the other hand, is frighteningly quick. The dual motor version, with 400 kW and 725 Nm of torque (536 HP/535 LB-FT) will dash to 100 km/h in just 3.2 seconds. Even the rear motor version, which makes a more modest 220 kW (295 HP) will embarrass any classic MG sports car in a drag race.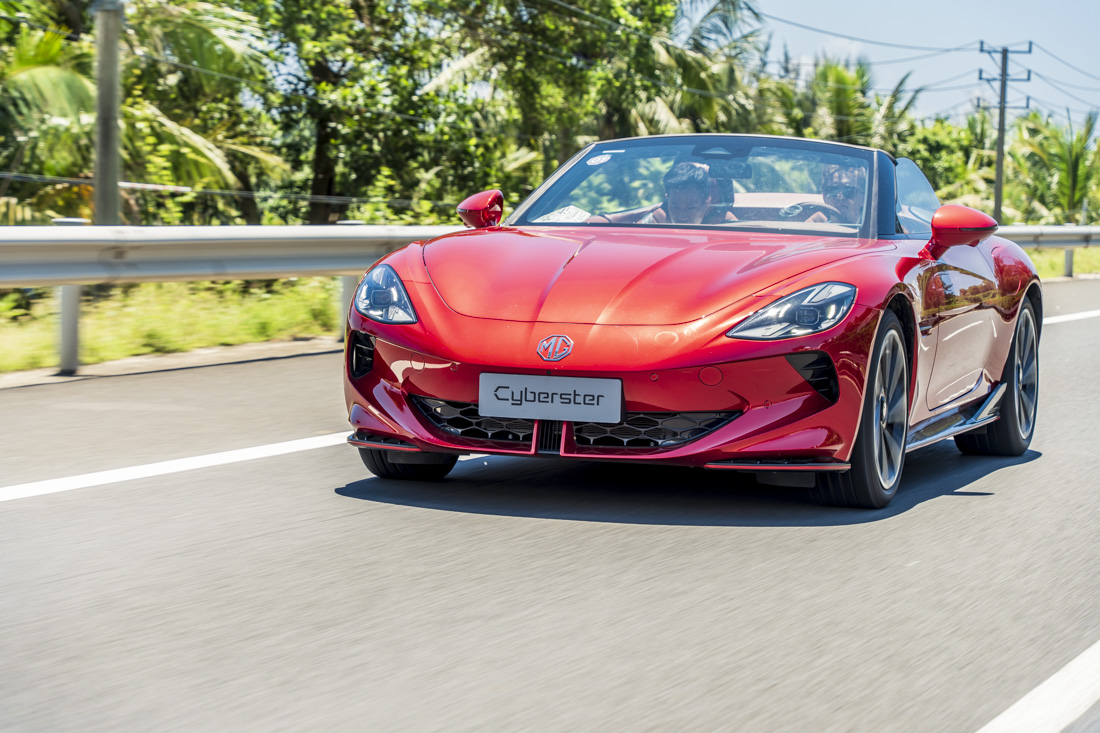 But here's the thing, I couldn't care less. If you haven't noticed, speed is cheap in the EV era. Throw a couple electric motors in just about anything and it will be faster than a scalded cat. What's much, much rarer is the pure driving pleasure that comes from a car that's engaging, and that's what MG sports cars used to provide. So, does the MG Cyberster deliver on that level?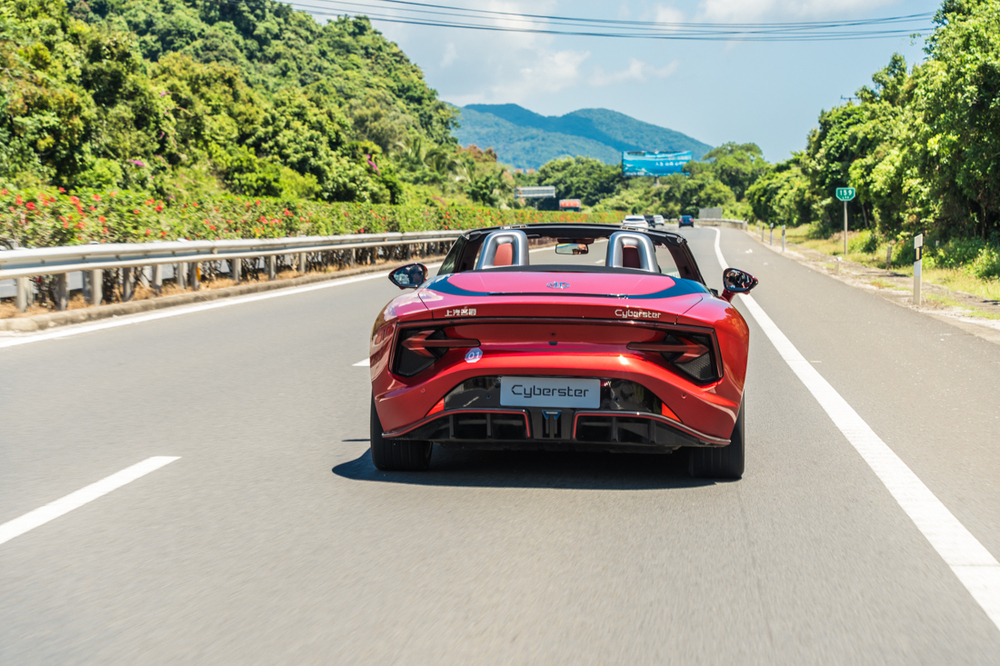 Long story short, no, it does not. The Cyberster is not without charms, but being agile and engaging is not among them. As mentioned, it's levels of performance, particularly in a straight line, are cartoonish. I haven't been pinned into my seat this hard by any Chinese EV that I've driven, and I fully believe that the 3.2-second 0-100 time is accurate. Given that there is a noticeable delay between accelerator application and any change in velocity, I'd be willing to say that a faster time is easily achievable. Can you say, MG Cyberster XPower?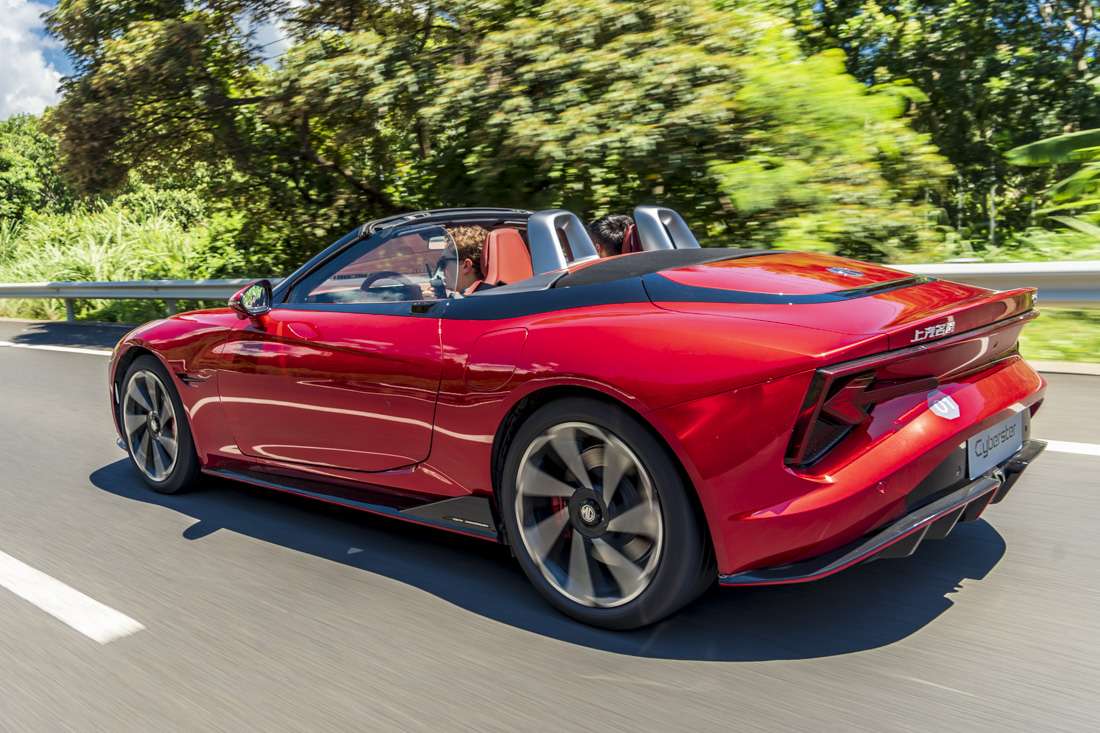 The double wishbone front suspension and multi-link rear are very well damped, easily absorbing potholes, speed bumps, and uneven pavement. With the top up, the cabin is surprisingly free of wind, tire, and electric motor noise. Drop it, which takes less than 10 seconds, and you get the perfect wind-in-your-hair roadster experience.
But physics remains a constant in our world, and this is not a light vehicle. With a driver on board, it weighs more than 2000kg, and you feel that when you throw it into a corner. Driving quickly through the long, sweeping coastal roads, it felt fast, but numb. The best way to put it is that the Cyberster isn't a car that begs to be driven hard on a mountain road, let alone on a race track. Consider it more of a convertible GT, a car built for staying comfortable on long trips that can also handle a turn or two. That might not be exactly what the MG faithful were hoping for, but it's still a tremendously enjoyable experience.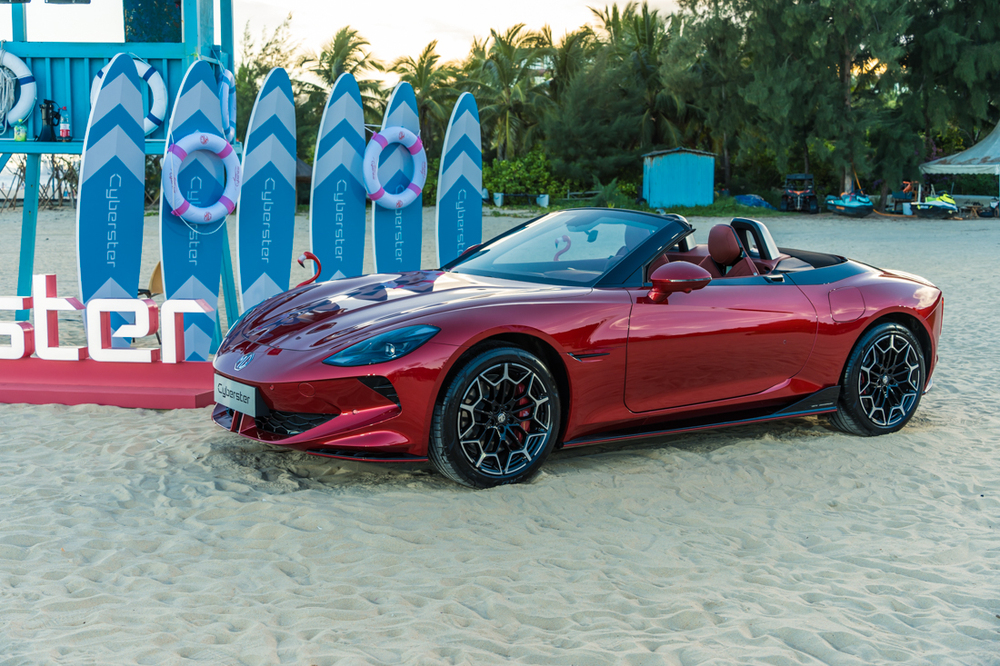 Bad name, good look
Let's start here: if the scissor doors didn't give it away already, this is not a retro design in any way, shape or form. MG didn't take much inspiration from their back catalog when designing this car, otherwise they probably would've named it MGE instead of Cyberster. Cyberster is, let's face it, a bad name. It sounds like it was chosen by 60-year-old men trying to guess what would appeal to a teenager.
Silly name aside, the Cyberster is beautiful. It doesn't just look like a standard sports car; it looks like a supercar. The front end is smiley, yet aggressive, and the taillights, while goofy, are also very fun. In between, though, is what brings it all together; a lithe, athletic body that manages to look good both with the top up and down.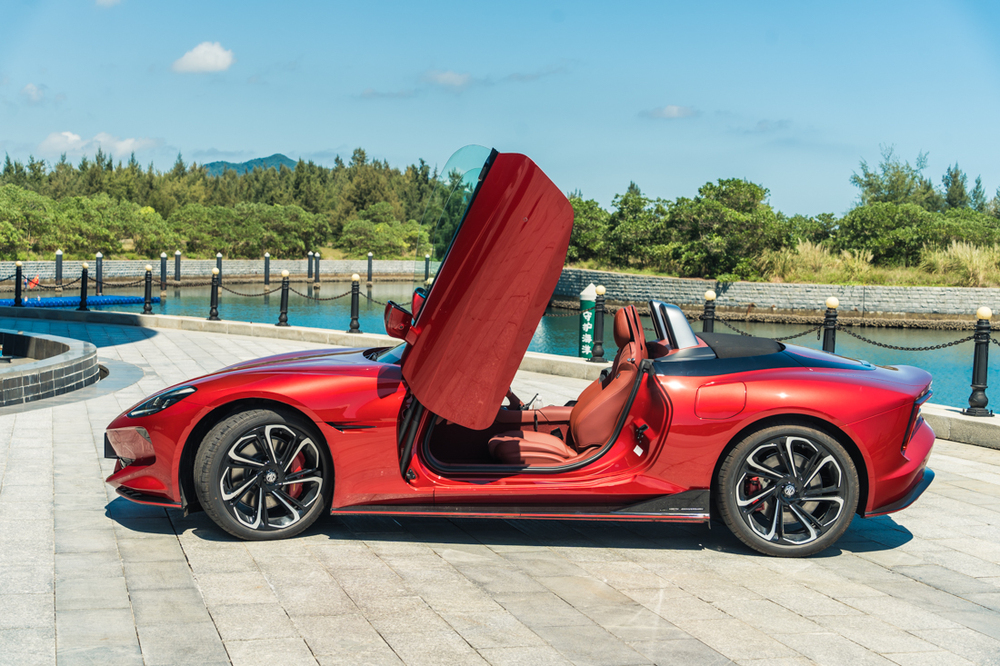 The Cyberster is not a small car, or at least, not as small as you might expect. It's about 20 cm longer than a BMW Z4. You won't be able to tell that through your screen, however, because MG had made some very clever design decisions. First and foremost, is the liberal use of black plastic trim pieces on the A-pillar and lower body to visually shrink the design.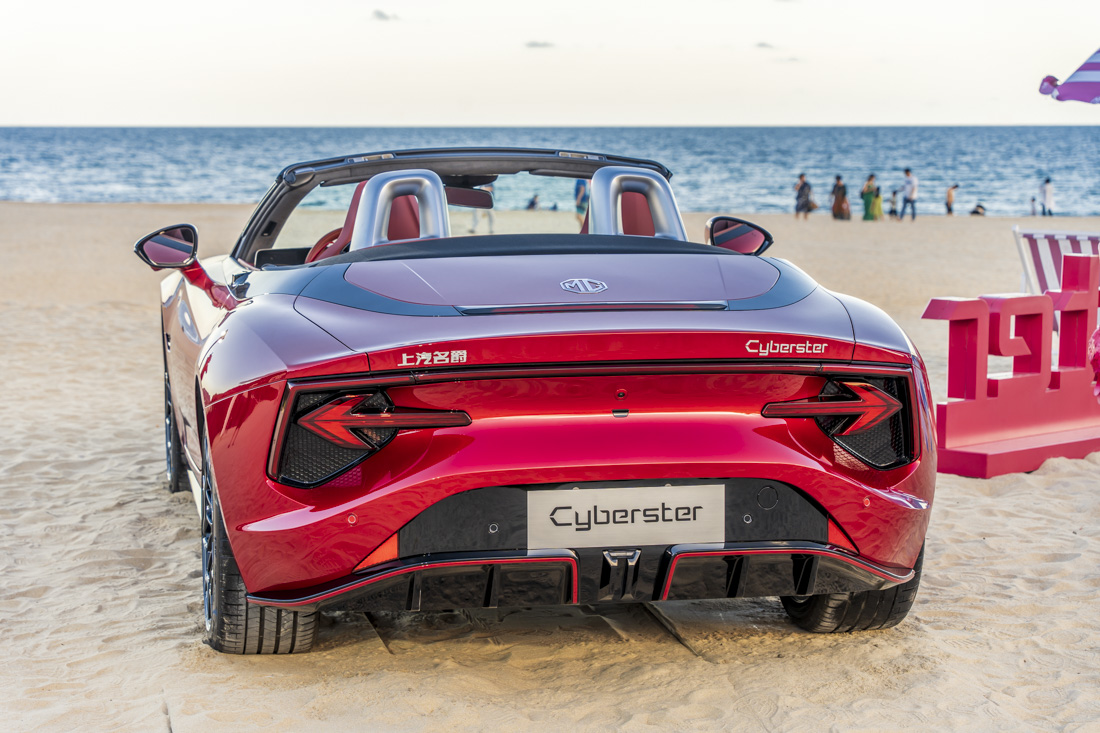 The battery pack located underneath the passenger compartment measures either 64 or 77 kWh. Single motor models with those packs get a claimed CLTC range of 501 km and 580 km, respectively. Dual motor models only come with the 77-kWh pack, netting them a claimed range of 520 km.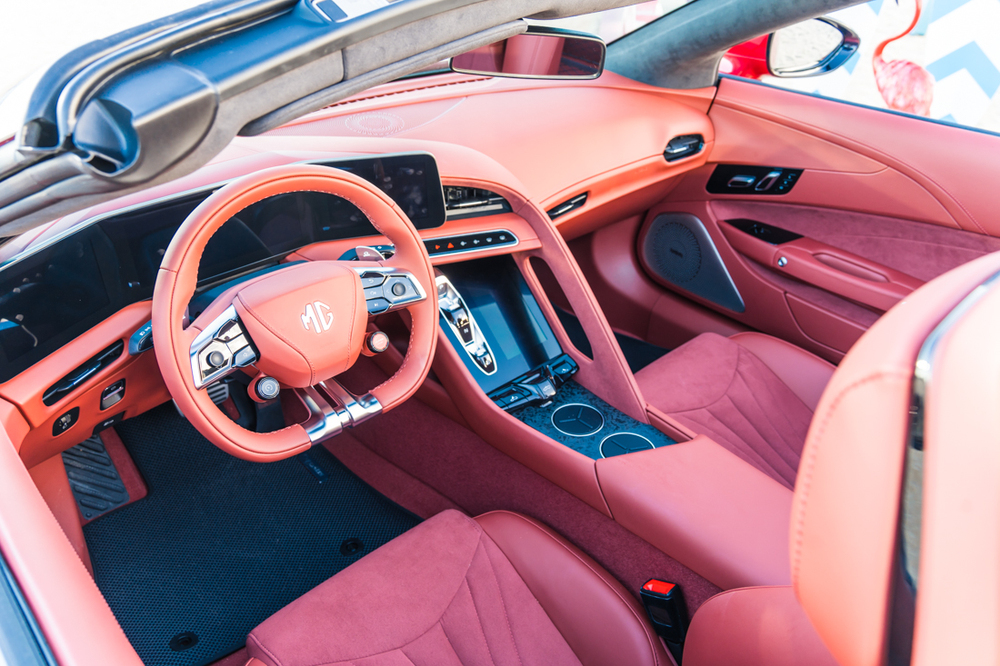 Cosseted cockpit
The interior of the MG Cyberster is far more cockpit than passenger compartment. Seemingly every screen, button, and surface is tilted towards the driver, with the passenger further blocked from accessing the controls due to the large grab handle. The attitude seems to be, "Who cares about the passenger? If they want to adjust the air conditioning on a Cyberster, they can buy their own!"
The Cyberster's cockpit bucks current convention by not having a massive center screen. Instead, it spreads information and functions across four different screens. The center console screen is where you find functions like air conditioning, battery settings, and vehicle settings, such as lights and driver assistance.
All the information pertinent to driving is on the three screens ahead of the driver. I have two issues with this design, the first being that it feels rather cheap. If you wanted to achieve a truly "wraparound" experience, why not develop a single, curved screen? the large black areas between the screens ends up looking like cost saving.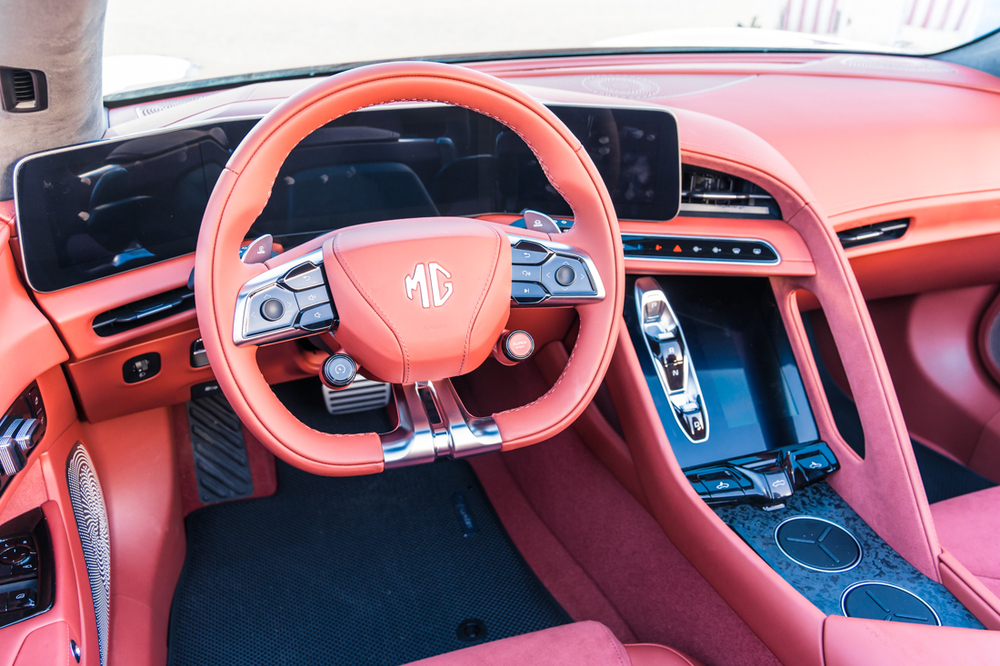 The larger issue, however, is the fact that the entire design seems to be built around a yoke steering wheel that doesn't exist. As it is, the wheel and your hands block 40-60% of the right and left screens. Preproduction versions of the car had a yoke, but it seems like they bailed on that idea with the production version.
One doesn't buy a roadster for practicality, but the Cyberster manages to provide a reasonable amount of storage. Behind the seats is enough space for a couple soft bags, and the trunk is long and wide enough to fit more than enough luggage for a week on the road. That's good, since the Cyberster doesn't have a frunk, likely a sacrifice made to keep the hood long and low.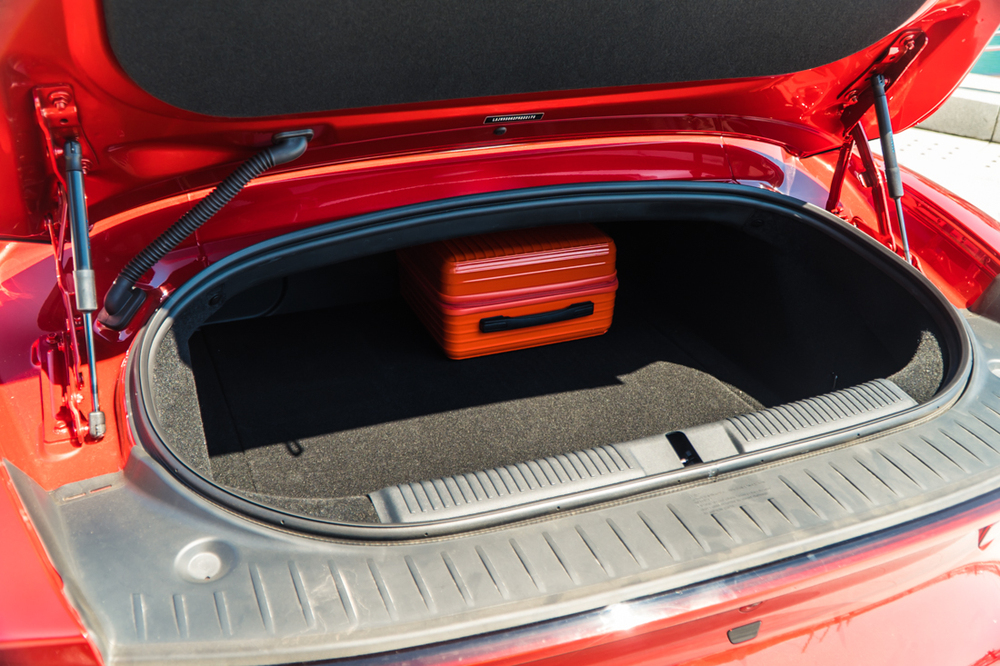 Takeaway
There's a certain character to a good sports car. Call it the fizz, call it charm, call it that certain je ne sais quoi that comes from being one with a vehicle. It's a joy much deeper than the cheap thrill of being pinned to your seat. The Cyberster, frankly, doesn't provide that level of joy. Instead, it is a fast, competent, beautiful convertible GT, the kind that simply doesn't exist anywhere else. At least for now.
Specifications
MG Cyberster Dual Motor
Motor: Front + Rear-mounted
Power: 400 kW, 725 Nm
Battery: 77-kWh
Range: 520 km CLTC
0-100 km/h: 3.2 seconds
Size: 4533*1,912*1,328 mm
Wheelbase: 2689 mm
CDM Starting Price: NA
More pics