What is it?
Denza, the once unloved joint venture between Mercedes and BYD, is now in the midst of a potential renaissance. Their last model, the D9, was impressive, but now it's time to find out if that was a one-off, or a new trend, by checking out their latest model, the N7 electric SUV. The N7 is the brand's latest and most important model, a mid-sized SUV that's going to be taking on the likes of the NIO ES6, Avatr 11, and maybe even the HiPhi Y. Prices for the N7 range from 42-53,000 USD, before options.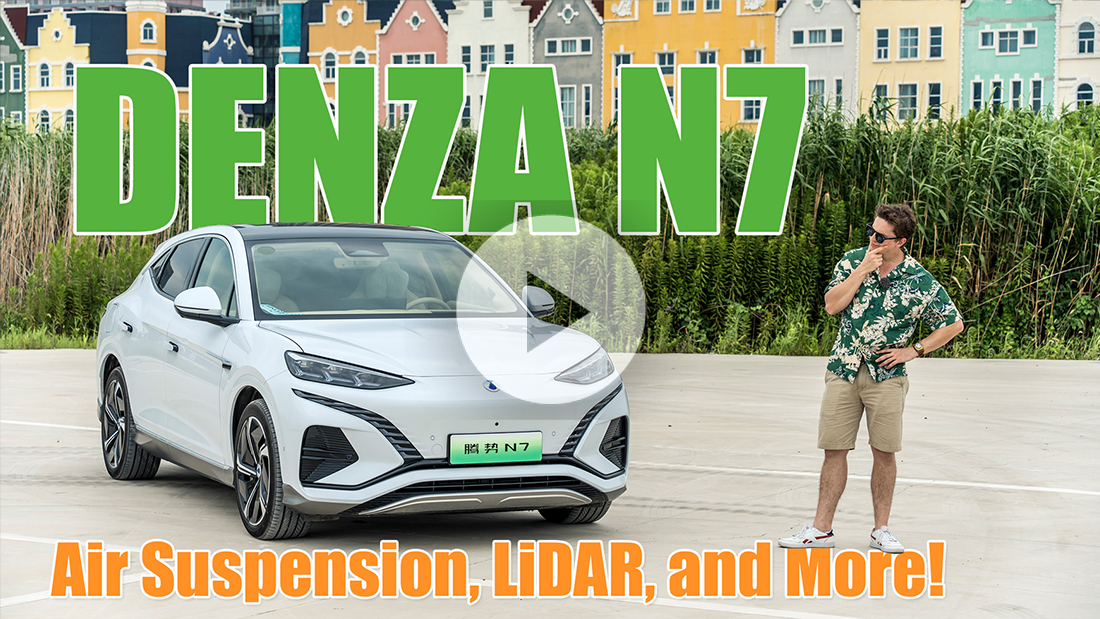 Pi-Motion Face
The Denza design language is called Pi-Motion, like the mathematical concept. Note that is not my translation of the original Chinese, they've just chosen to use an English name. I think it's fair then to refer to the front-end design as the Pi-Motion face. I was very lukewarm on the looks of the N7 when I first saw it earlier this year, but having had some time to process it, and spending more time with the vehicle in person...I'm still lukewarm. It's unique, I'll give them that, but it remains a bit droopy looking.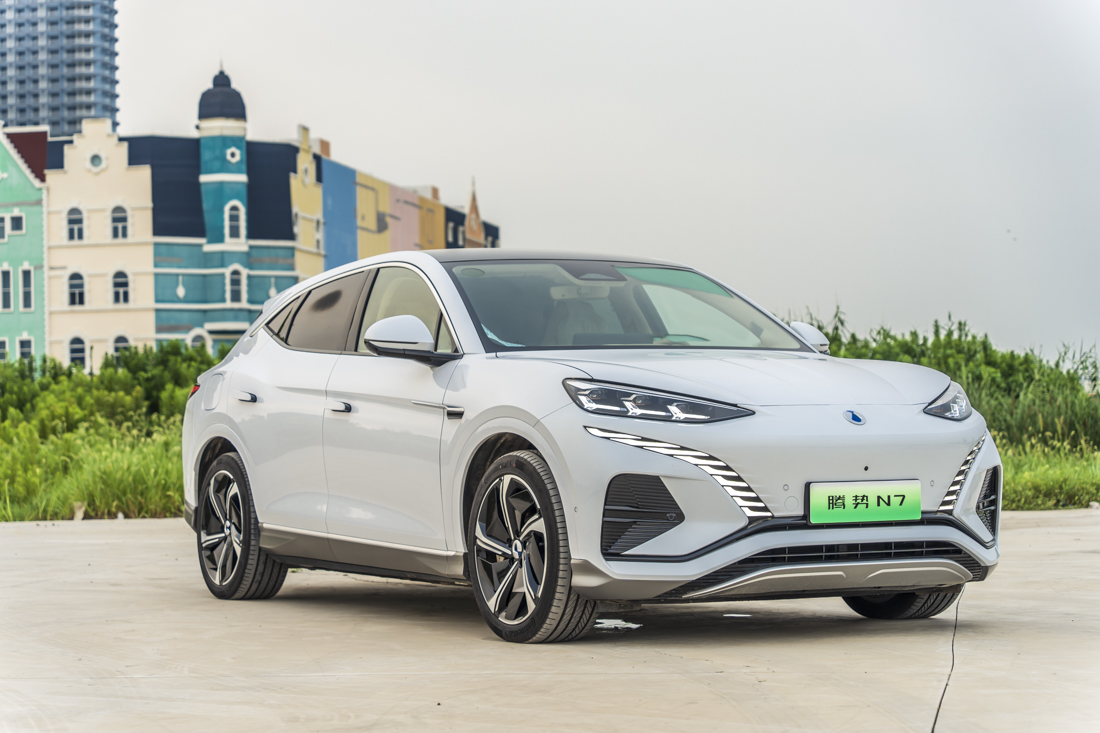 If you're looking for a more attractive angle, I'd point to the rear three-quarter view, as it shows off the cars relatively low stance. Denza refers to the N7 as a shooting brake in its English press materials, but I think that's stretching the truth to the point of breaking. This is an SUV, and it's better off that way, because SUVs are what mainstream buyers want.
The N7 has available air suspension, which automatically lowers when you open the trunk, giving you better access to the 480L rear cargo area. That's noticeably less space than the NIO ES6, likely due to steeply raked roofline of the Denza.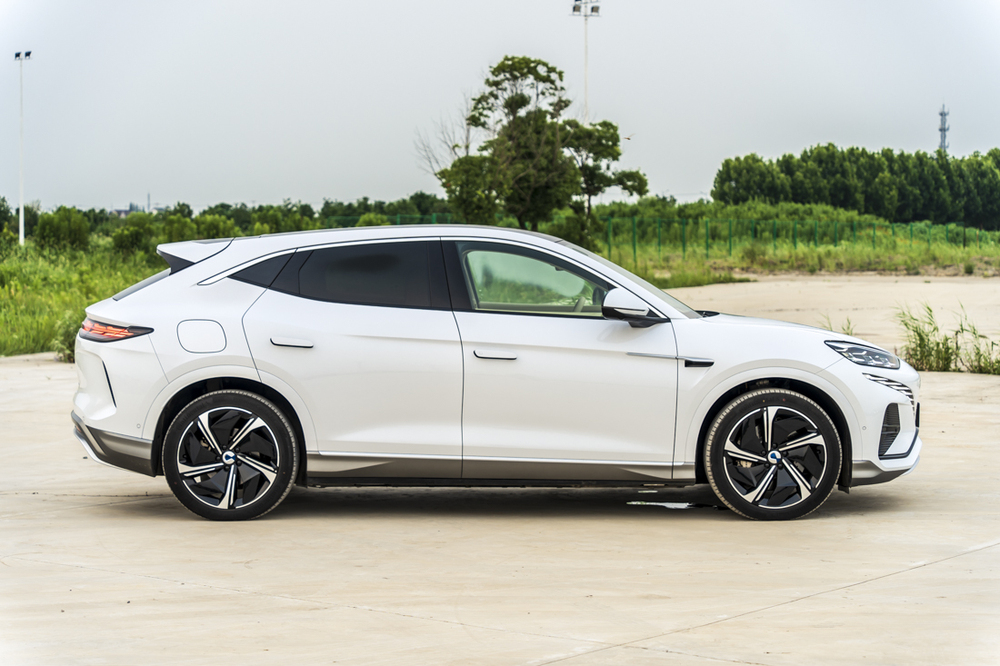 The N7 has vehicle-to-load capability, allowing you to power external devices like a refrigerator at up to 6 kW. Not only that, you can also charge another electric vehicle at up to 60 kW. But the plot thickens when you realize that there is a second fast charging port on the left side of the vehicle, meaning you can fast charge from either side of the car.
But in the case of the N7 it also means you can fast charge from both sides of the car at the same time. In fact, if you want to achieve the N7's maximum charging power of 230 kW, you have to charge from both sides at the same time, otherwise you're only going to be able to charge at 150 kW. At max charging power, Denza claims that the N7 can charge up to 100 km of range in just 4 minutes, and 350 km of range in just 15 minutes.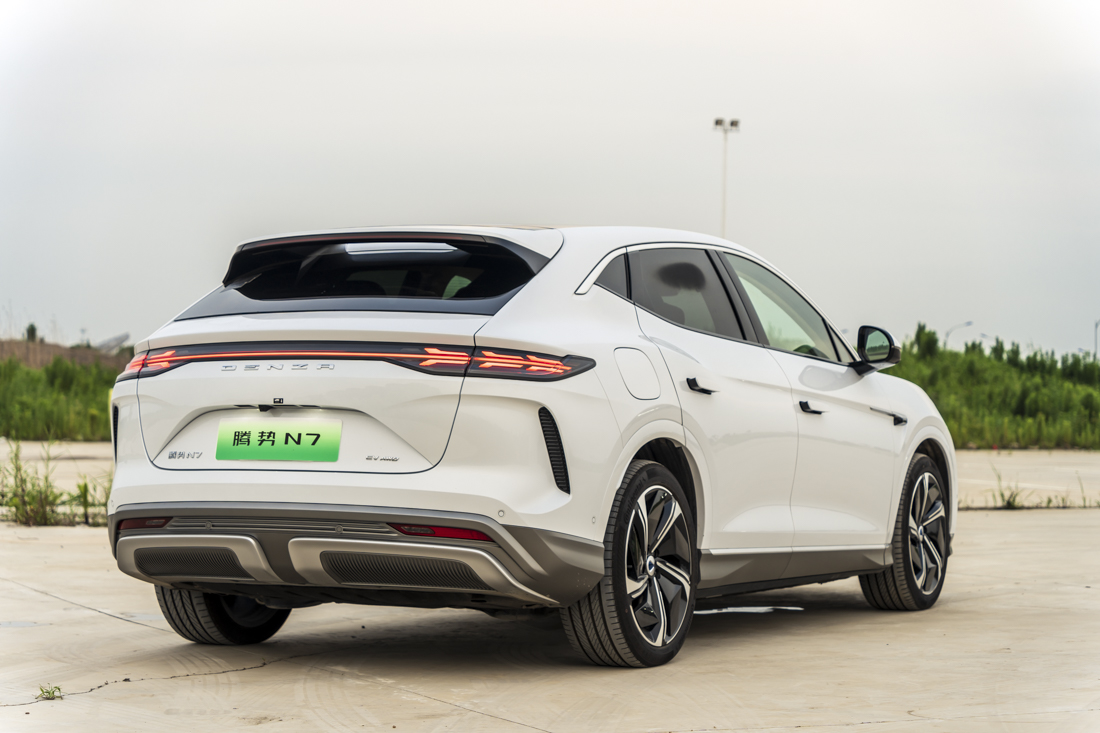 Invisible interior
The interior of the N7 feels every bit like a premium vehicle should, including very impressive material quality throughout. The standard leather seats have heating, cooling, and massaging functions up front, and heating in the rear. There's also real wood trim, not the incredibly fake plastic wood found in the Denza X.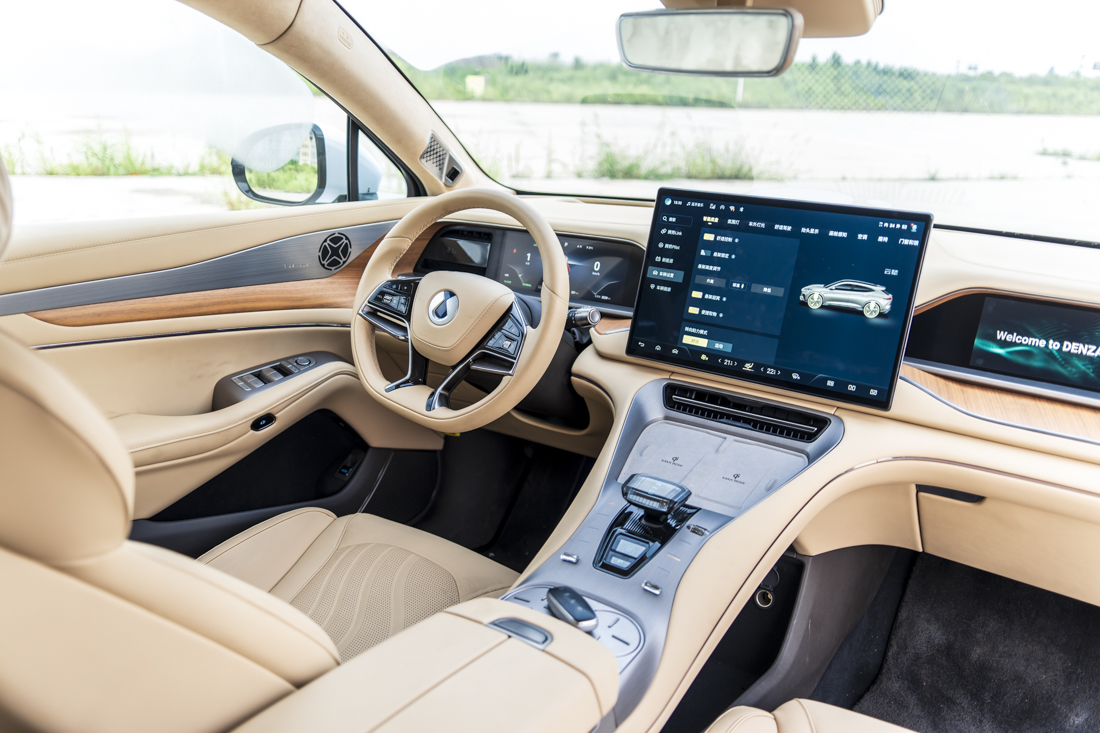 The N7 has an augmented reality heads up display as standard, as well as a 10.25-inch digital instrument cluster. The 2.5K center screen measures a massive 17.3-inches, and has an operating system not unlike the Harmony OS from Huawei, at least at first glance. Dig a little deeper, and it starts to look more and more like the system on BYDs, but that's not a bad thing.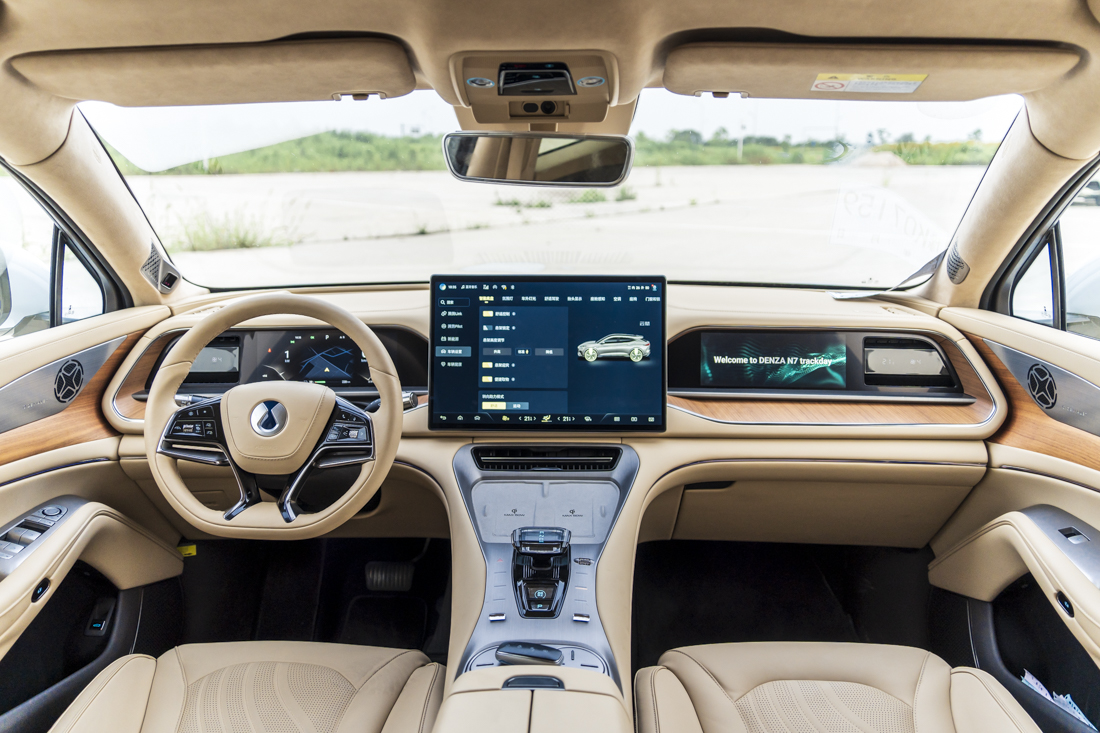 There is also a 10.25-inch passenger screen, which is nice to have, but it feels a bit under-sized when compared to the 15-inch monitor in the HiPhi Y, a similarly-sized albeit more expensive competitor. Watching a feature-length film on it feels a bit like going to see your favorite band, but getting tickets that are just a few rows farther back than you wanted.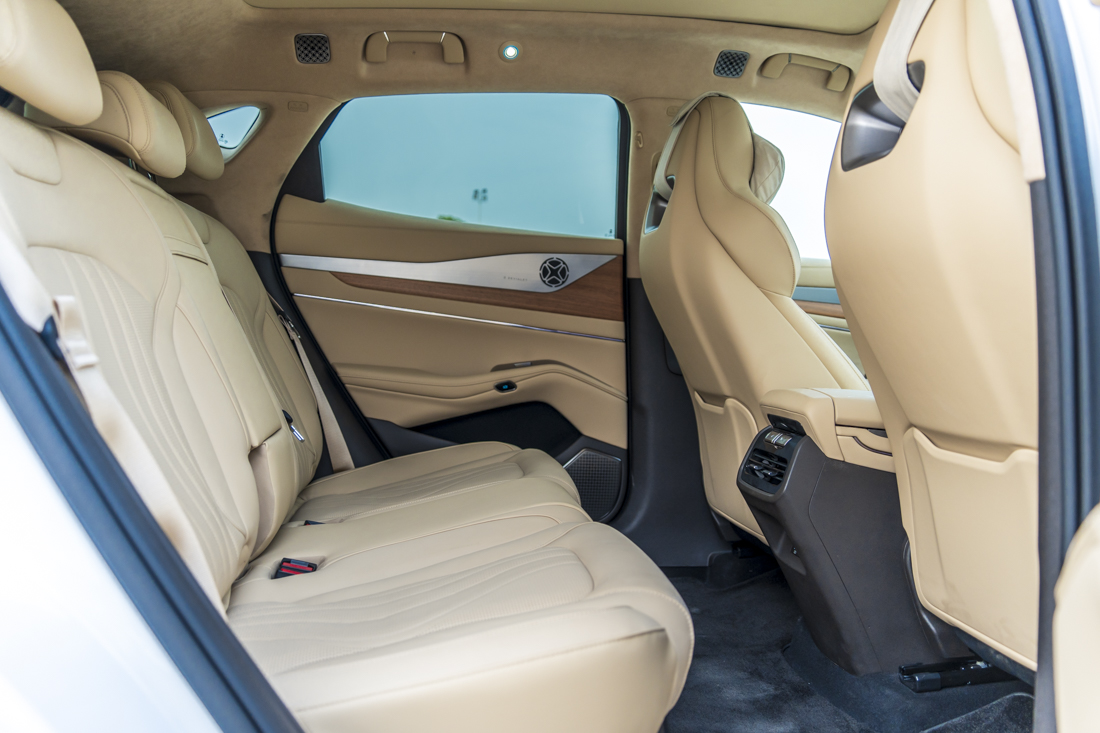 This being a BYD product, they are committed to the haptic touch buttons on the center console, no matter how many angry letters I write. They're essentially invisible under direct sunlight, but they're nowhere near as bad as the ones embedded into the wood on either end of the dashboard. Mounted directly below small negative display screens that show the current temperature and fan speed for the driver and passenger climate zones, they allow you to adjust fan speed and temperature, and open and close the vents. They, like the center console, look great at night, but during the day, they might as well not exist at all.
The N7 is the first mass produced vehicle to feature a sound system from French hi-fi brand Devialet. It has 16 speakers, which is notably fewer than you get in cars like the ES6 and the HiPhi Y, which have 20+. No surprise then that it doesn't feel quite as all-encompassing as the systems in those models, but the bass is among the most powerful I've ever experienced.
Room for improvement
The N7 comes with but a single battery option, a 91.3-kWh lithium iron phosphate blade battery that has a claimed CLTC range of 702 kilometers in the rear motor version, and 630 km in the dual motor. It utilizes the exact same powertrains as the BYD Seal sedan, meaning that rear motor version pumps out 230 kW and 360 Nm (323 hp/266 lbs-ft), while the dual motor makes 390 kW and 670 Nm (530 hp/496 lbs-ft). The rear motor will get you to 100 km/h in 6.8 seconds, which is adequate. The dual motor does the same deed in a claimed 3.9 seconds, which is more than adequate.
The N7 is the first model from any BYD brand to feature optional lidar units. According to the company, those units will not only aid in providing a much-improved driver assistance system, long a weak point for BYD brands, but can also scan the road ahead and preemptively adjust the air suspension in response to road conditions. The ADAS system on our preproduction test car was not activated, and it was not equipped with the optional lidar.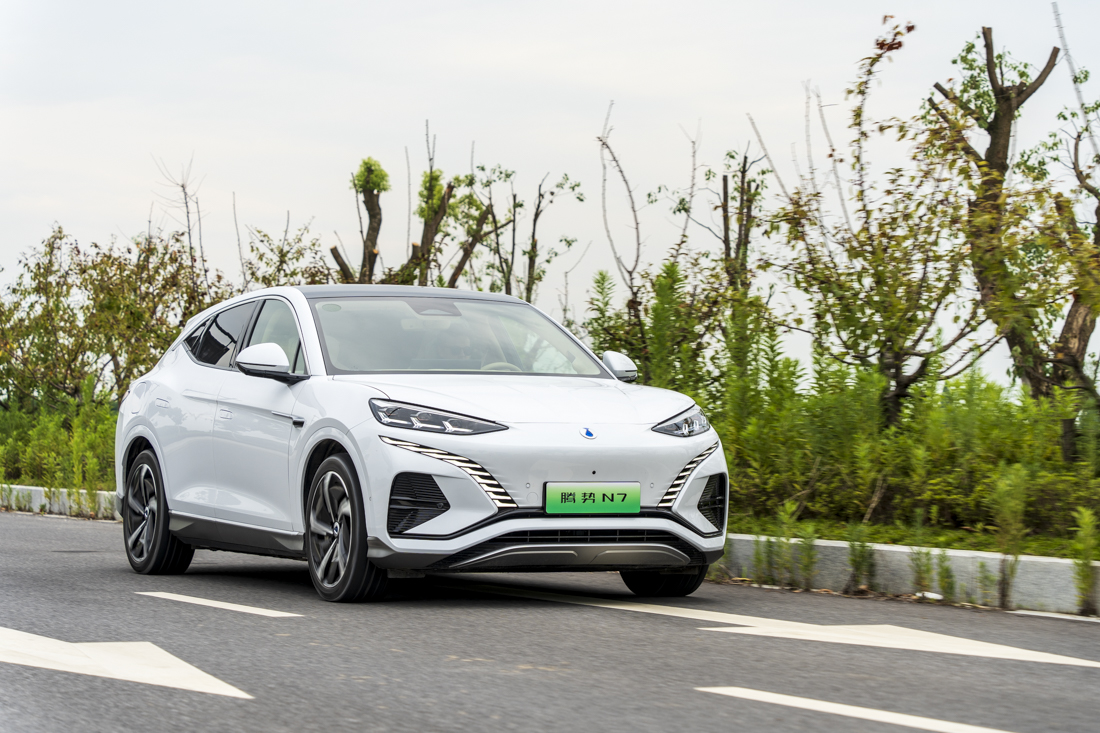 But we can talk a bit more about that air suspension. Referred to as DISUS-A, is also the first of its kind on from any BYD brand. Combined with standard CDC (continuous damping control), I had high expectations for the N7. The Denza D9 rode very well without DISUS-A, and I figured adding air ride was going to take the N7 to a whole new level of comfort and poise. But truth be told, there is room for improvement in this first attempt. The suspension transmits some harsh vibrations when going over road imperfections, and I don't just mean huge potholes and speed bumps. It's soft, but not especially isolated.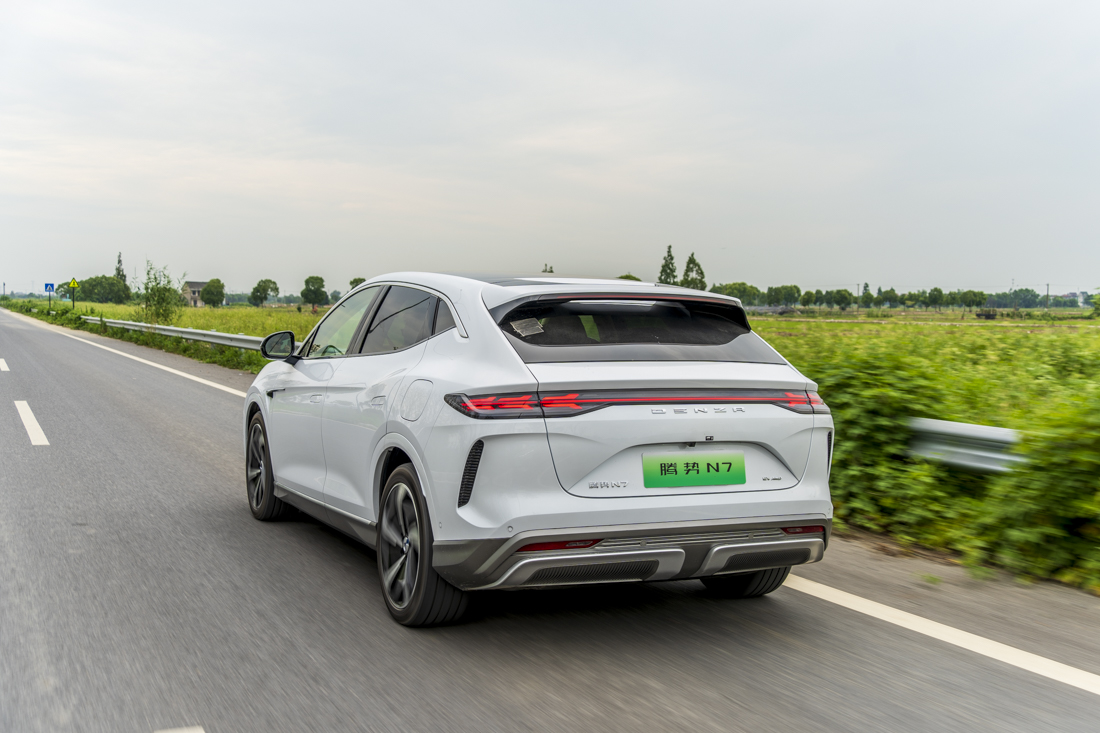 That's all well and good if the N7 compensates you with engaging driving dynamics, but I'm afraid that's not the case. Denza markets this as a sporty SUV, even giving it a special drift mode, but while it can pass just about anything else on the road when you put your foot down, and even do massive power slides, inputs, including steering and braking, are light and numb, just like almost every other Chinese electric SUV. Overall, the actual driving experience isn't particularly thrilling unless you're at the limits.
In other words, despite some impressive attributes, it feels like they failed to nail the compromise between comfort and sportiness. You know who does achieve that balance? Mercedes Benz, and they still have a 10% stake in this little joint venture. Might be worth reaching out to see if they had any advice.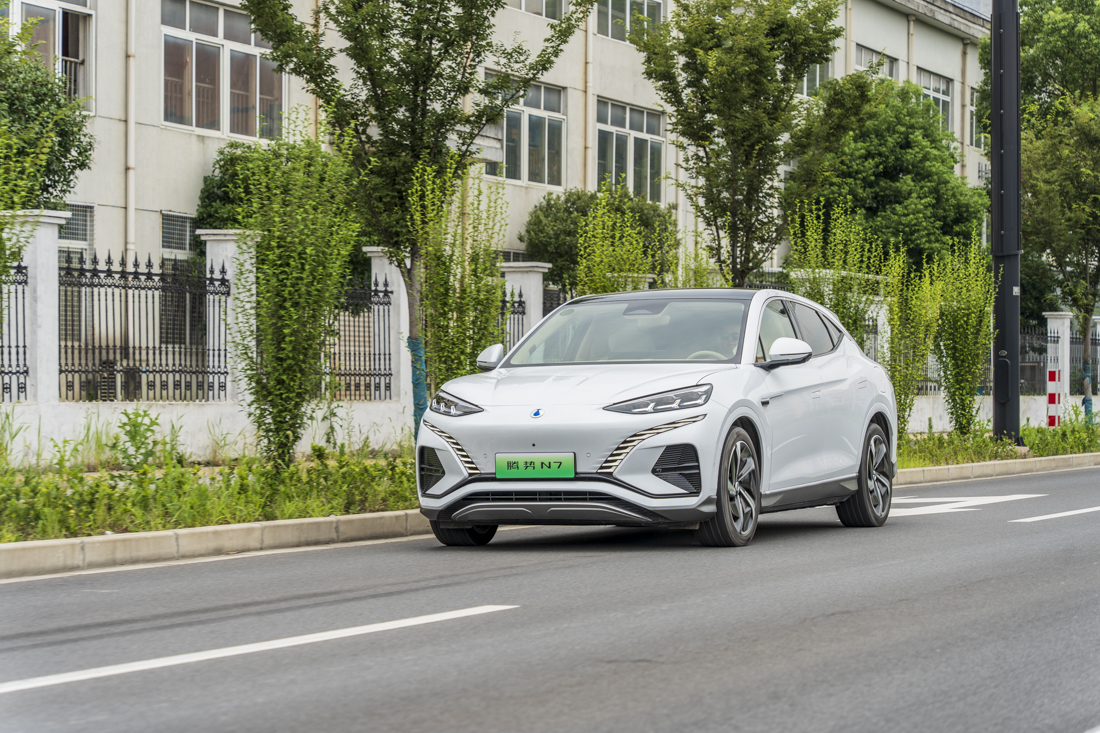 Takeaway
So, is the N7 good enough to maintain the momentum of the Denza renaissance? Yes, I think it is, but take it as a sign of how much I think the brand is truly capable of accomplishing when I say that there is still room for improvement. The air suspension is soft, but not particularly sophisticated, and marketing this as a sporty SUV is just downright confusing. Pick a lane, Denza!
Specifications
Denza N7 Dual Motor
Motor: Front + Rear
Power: 390kW, 670 Nm
Battery: 91.3-kWh
Range: 630km CLTC
0-100 km/h: 3.9 seconds
Size: 4860*1935*1602mm
Wheelbase: 2950mm
CDM Price (as tested): 53,000 USD

More Pics