What is it?
Based on the same Global Small Electric Vehicle platform as the Wuling MINI EV, Bingo, and Air EV, and produced by SAIC-GM joint venture Baojun, the Yep is undoubtedly one of the least comfortable, least practical, and most expensive, tiny electric vehicles I've ever driven. And yet I want one, I want one really bad.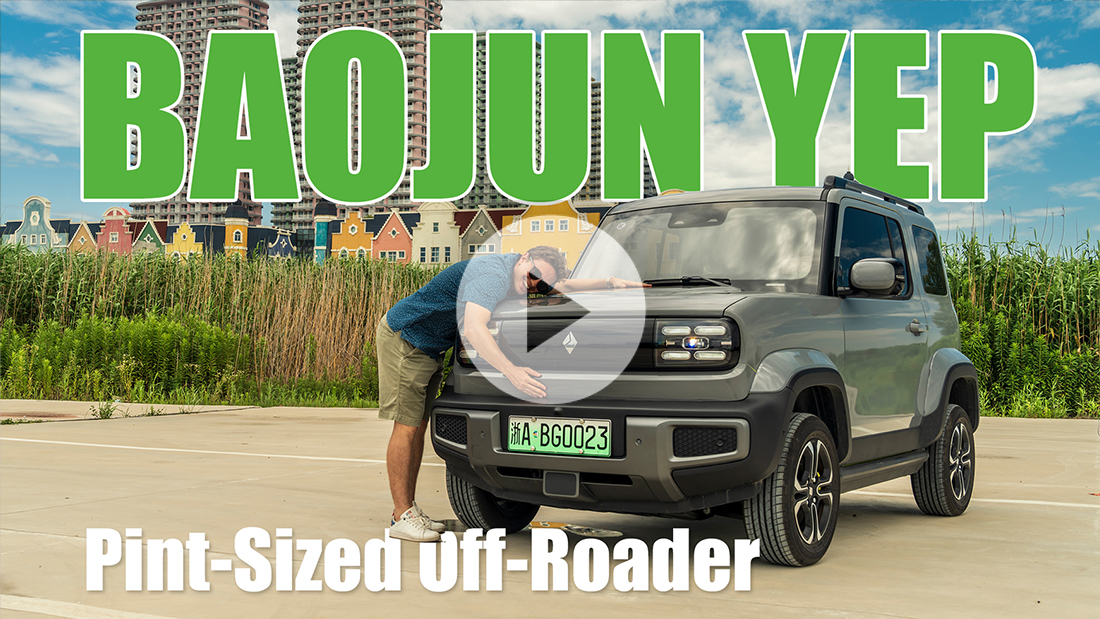 Cuter Jimny
When I say the Yep is tiny, I really mean tiny. At just under 3.4m (134 inches) in length, it's a full 45cm (18 inches) shorter than a modern Mini Cooper. Its styling is reminiscent of many boxy off-roaders, but none more so than the Suzuki Jimny. The square corners, the big fender flares, even the look of the front end makes one think of a cuter, less aggressive Jimny. It looks even more like a Jimny in its original highlighter green color, but this press car was wrapped by the manufacturer.
I think this thing is ripe for modification, and so does Baojun because they're offering optional all-terrain tires and a roof rack. I'd add a huge metal brush guard to my personal Yep, even if I know all those things together would absolutely murder the claimed CLTC range of 303 km from the 28-kWh battery. Luckily, the Yep supports fast charging, and Baojun says it can go from a 30 to 80% state of charge in about 35 minutes.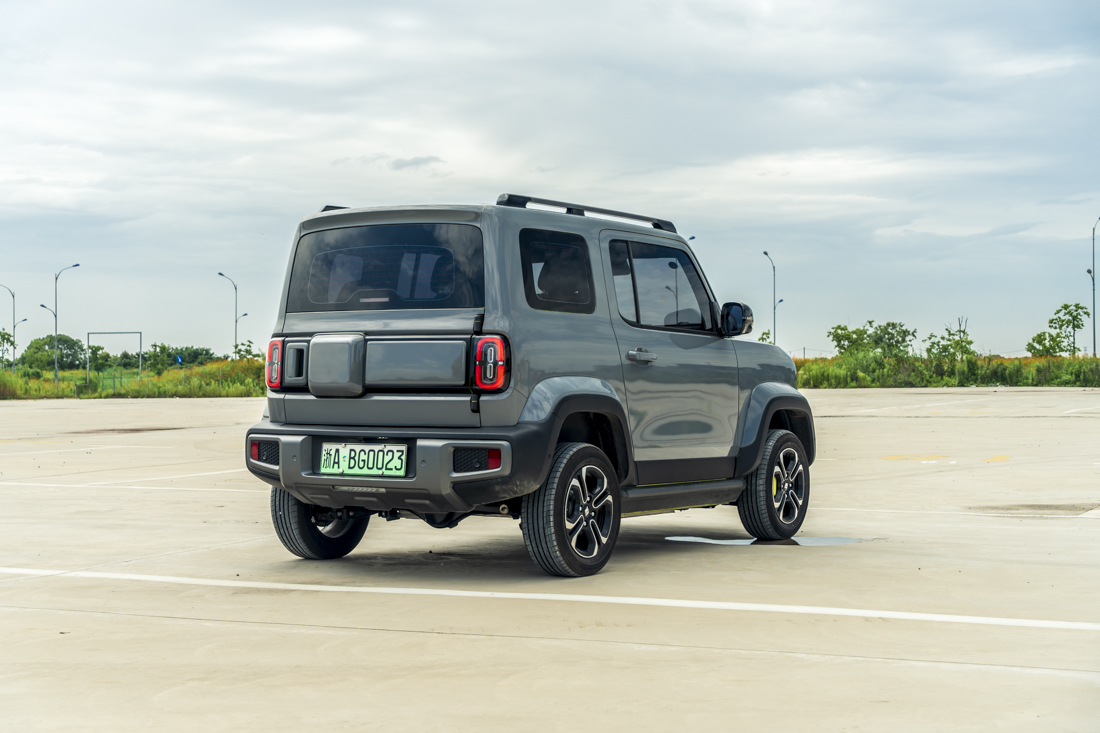 But boxy fender flares are about as close as the Yep gets to being a true off roader. It does have 15 centimeters of ground clearance, which is more than other cars on this platform, but doesn't really have any upgrades to the suspension to take advantage of that. Four-wheel drive? No. Locking diffs? Definitely not. Skid plates? Well, kind of. There's a plastic one here and it's very thin. Might as well point out that this thing has a single rear mounted electric motor.
But what the Yep lacks in true off-roadability, it more than makes up for in gadgetry. That includes the Car-watch, an optional LED panel mounted on the rear tailgate that looks like a smart watch. It can be used to display text and images. Our car doesn't have one of those, nor did it have the dealer-installed heated and cooled 35-liter frunk space.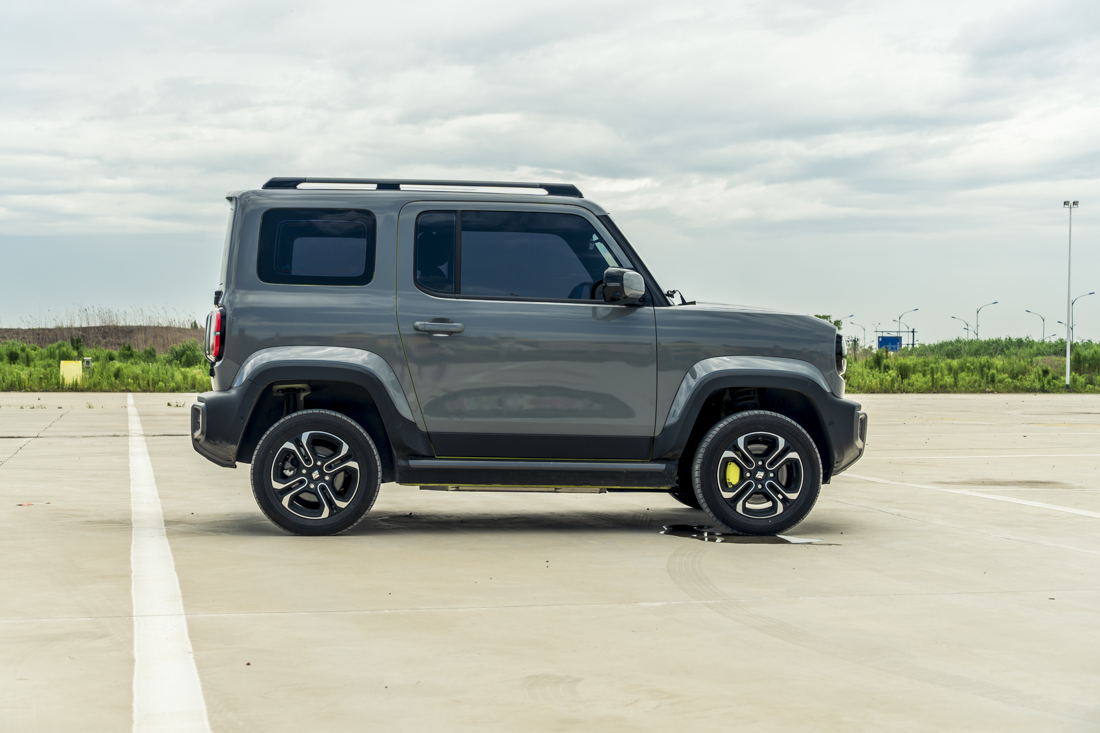 The JoyBox
Baojun calls the interior of the Yep the JoyBox, and it is surprisingly packed with tech and features. That includes twin 10.25-inch LCD displays that are available on both trim levels. The infotainment screen runs on the KiOS operating system, and includes all the features you would expect, like navigation media as well as Bluetooth calling and audio. There are also voice commands for everything from the windows to the air conditioning to the navigation.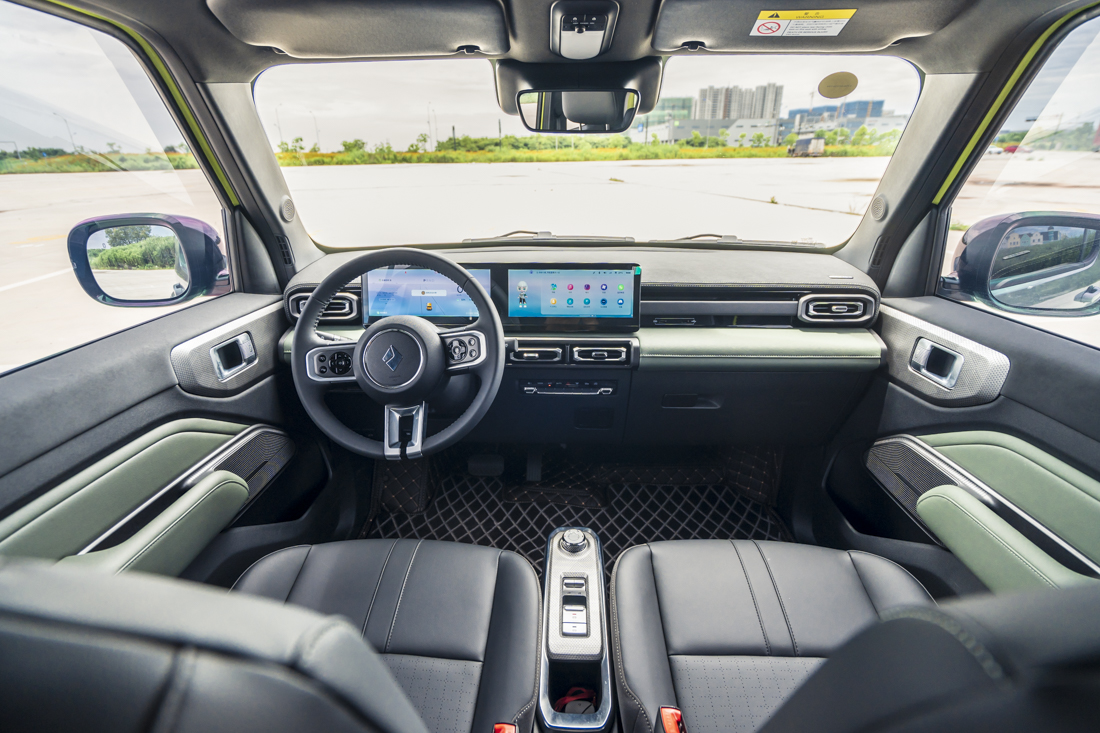 Comfort features like auto hold and a 360-degree camera are also available.* But the most surprising by far is the L2 ADAS system developed by DJI. Yes, DJI, the creators of the drone that your neighbor uses to spy on your through the window while you change clothes.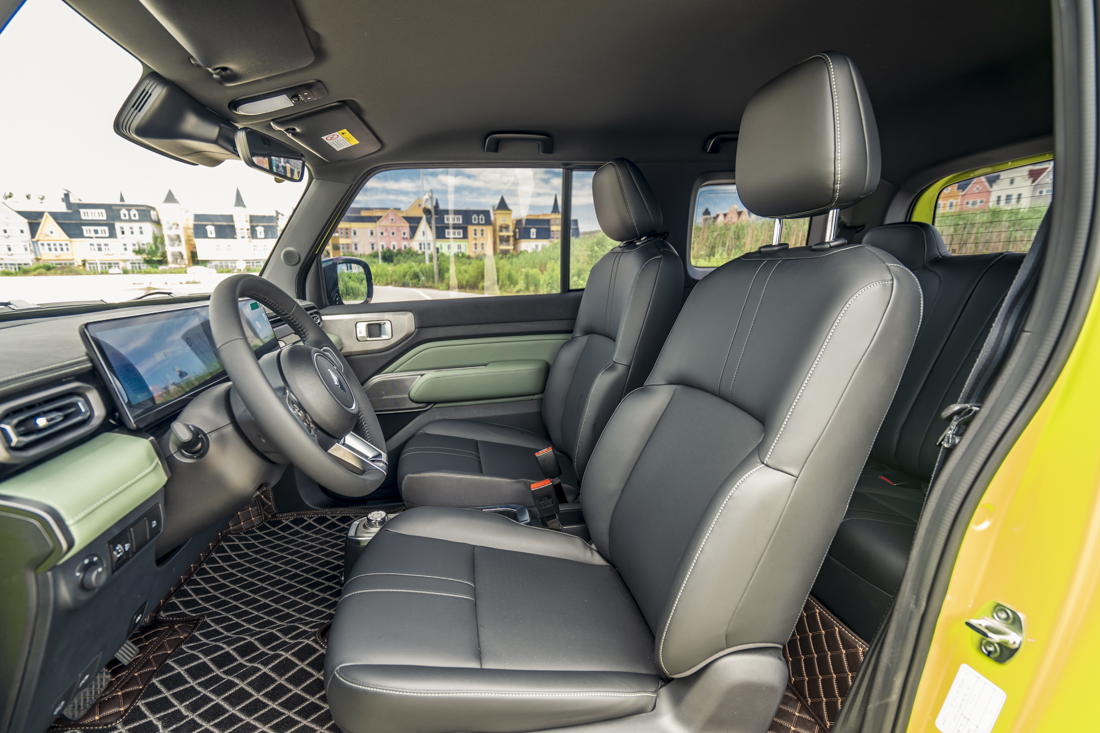 If you've seen inside any other Wuling mini electrics, the overall layout of the Yep's interior will feel very familiar. As will material quality, though they do a decent job mixing the colors and patterns enough to keep you from realizing that it's all pretty cheap plastic.
The Yep's wheelbase is ten centimeters longer than the MINI EV, and that shows when it comes to rear seat legroom. As for headroom, the boxy shape means there is plenty to spare. Until Baojun manages to master pocket dimensions, however, they're never going to be able to fit much of a trunk in these tiny EVs. The Yep's rear cargo area is tiny with the seats up, but expands to 715-liters when the rear seats are folded down.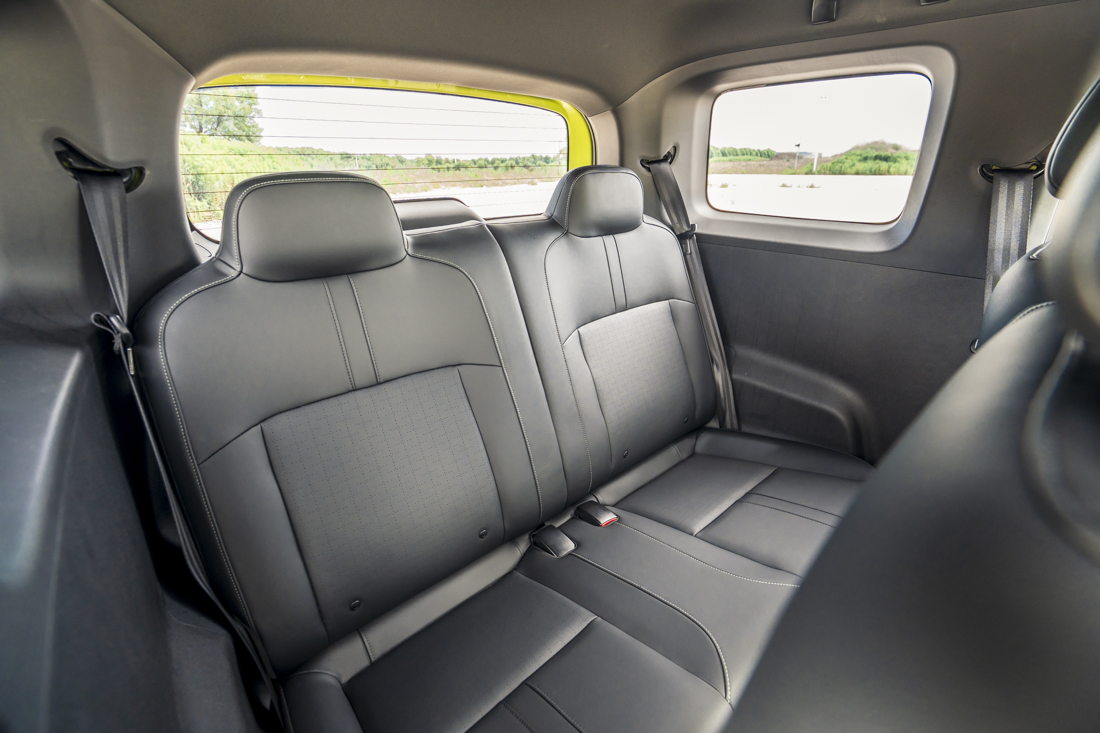 Abusive grin machine
Despite riding on the same Global Small Electric Vehicle platform as the Wuling MINI EV, and even sharing its McPherson strut front suspension and non-independent multilink rear, the Yep somehow manages to set a new low for comfort. It would seem that, in order to counteract the body roll that would have come with the raised ride height, they stiffened the suspension. That means that the bucking that you get over bumps in the Wuling MINI EV is even more exaggerated in the Yep.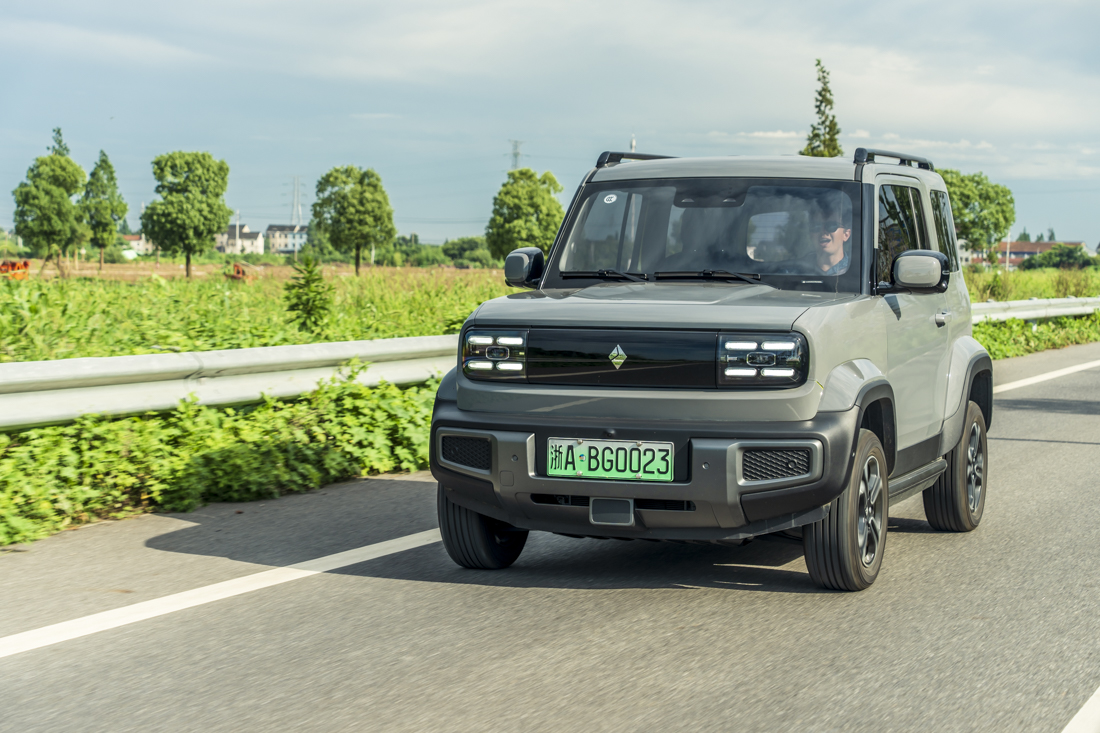 NVH in the Yep car is noticeably worse than the larger Wuling Bingo, which also features a better ride thanks to its much longer wheelbase. Motor noise, wind noise, and tire noise are all very apparent at anything past boulevard speeds. At least it changes direction willingly, which it should considering it has a wheelbase only slightly longer than a bicycle. But I would advise against pushing it to its handling limits, as it feels like it might tip over whenever you throw it into a corner with any real speed.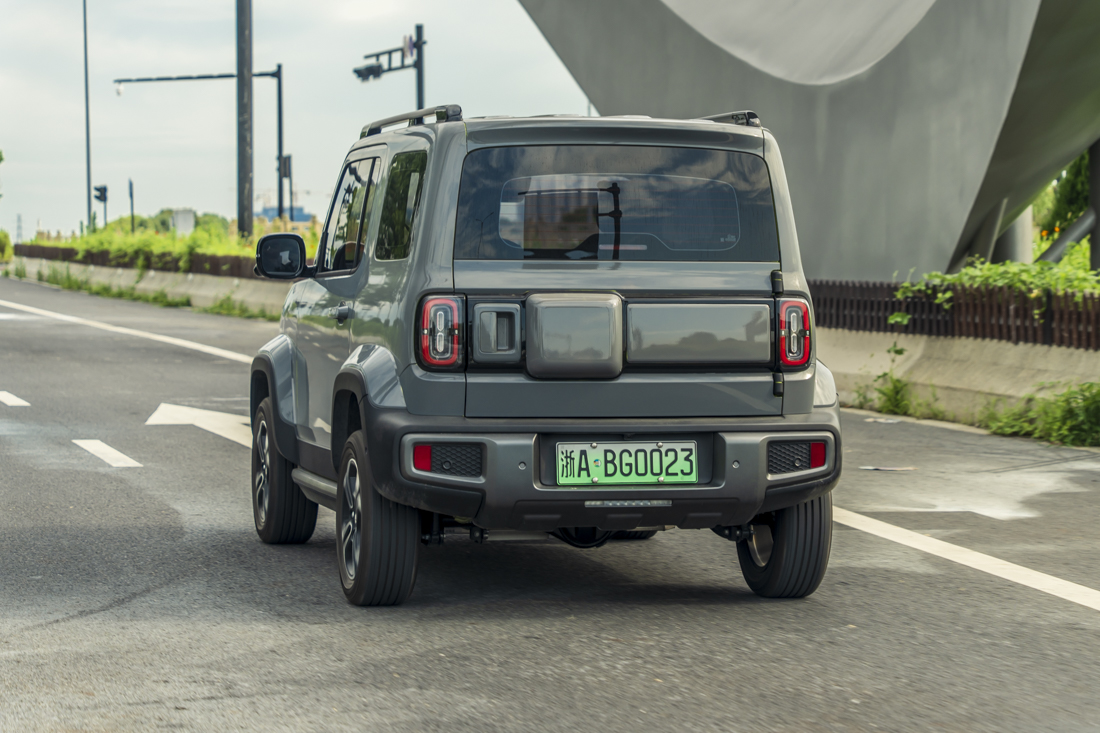 Luckily, real sped isn't the Yep's forte. The single rear mounted electric motor makes 50 kilowatts and 140 Newton meters of torque, enough to propel it to an electronically limited 100 kilometers per hour. With a top speed that slow, I have to wonder when exactly you'll be utilizing the DJI-developed driver assistance system. The system in question is actually quite impressive, featuring both lane-keep assist, and lane change assist (i.e., automatic lane changes activated via the turn signal).
The safety features on the Yep are impressive, at least by the low standards of the electric mini segment. Not only do all models have electronic stability programming and front row airbags, but top spec cars with the DJI driver assistance suite also have active safety systems, like forward collision warning and automatic emergency braking.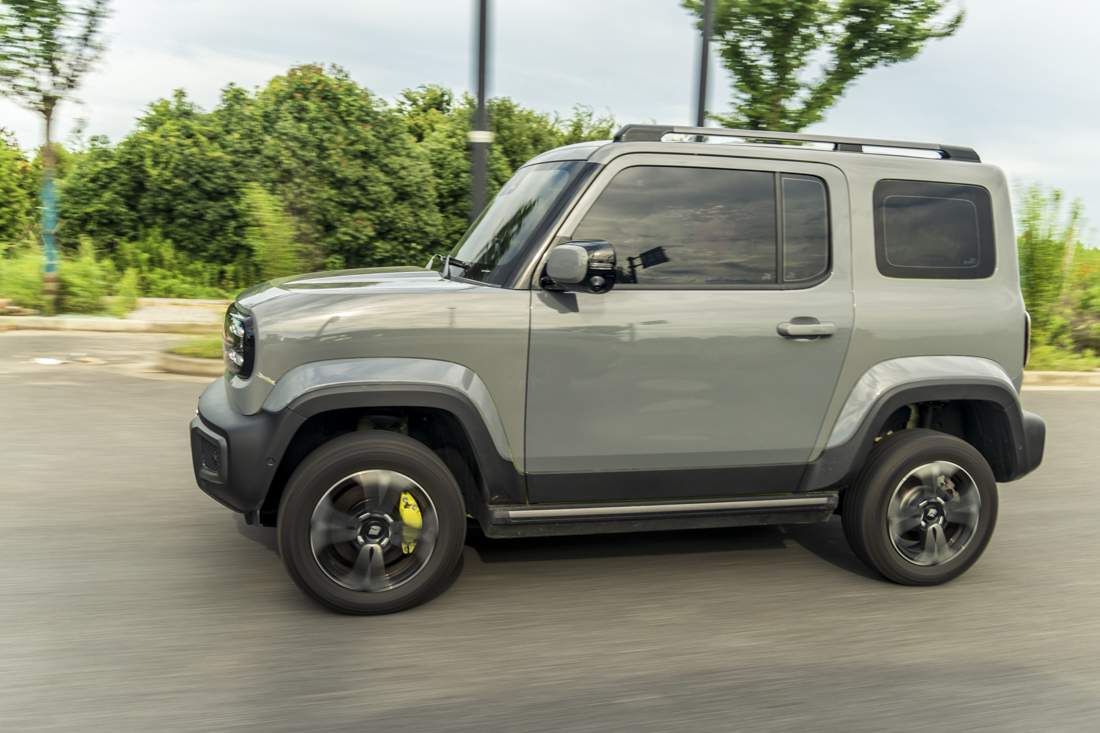 Takeaway
The Baojun Yep is not comfortable, the Baojun Yep is not practical, and even at this price the Baojun Yep. isn't that great of a deal. What it is, though, is fun. Even as its suspension was nearly beating me to death on the road, I could not wipe the grin off of my face. If you had this much money, you would be way better off buying a Wuling Bingo. But honestly, your heart and mine, they belong to the Yep.
Specifications
Baojun Yep
Motor: Rear-mounted
Power: 50 kW, 140 Nm
Battery: 28.1-kWh
Range: 303 km CLTC
Top Speed: 100 km/h
Size: 3381*1685*1721
Wheelbase: 2110 mm
CDM Price (as tested): 12,400 USD
* If you need a 360-degree camera to park this car, you probably shouldn't be driving.